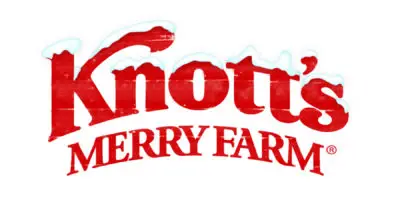 Knott's Berry Farm brings back the annual Knott's Merry Farm tradition this 2018 winter season!  This year a lot of new seasonal decorations will gleam amidst the great rides and shows available.  And this season will bring favorite entertainment to make some Christmas memories.  Here is what is available from November 16 to January 6, 2019…
Holiday Show Favorites
Merry Christmas, Snoopy! is the great ice show at the Charles M. Shultz Theatre.  It is back again on certain dates from November 16 to January 6.  The Peanuts gang ice skates along with world-class skaters with some great tunes.  It's the Merriest Christmas Show Ever, Charlie Brown is a newer classic that takes place on the Calico Stage.  The show focuses on the Peanuts gang as they try to put on a Christmas show.  It will be performing at night on select dates during the Merry Farm season.  Over in Camp Snoopy, A Peanuts Guide to Christmas is an adorable show geared for the younger audience featuring Snoopy and the gang.  It's got some great humor and songs that will entertain even the parents.
Santa!
Over at the Wilderness Dance Hall, the holidays will transform it into Santa's Christmas Cabin.  Inside will be great decor and a chance to meet Santa himself!  An assortment of holiday treats and drinks will be available for purchase.  I recommend the great milk and cookies combo or the dipped cheesecake on a stick, which will have peppermint sprinkled on the chocolate coating.
Snowy Ghost Town
In good ol' Ghost Town there will be the nightly Snow and Glow experience to light up the sky.  A different song each hour will let the snow dance.  This will start after a nightly tree lighting ceremony in Calico Square featuring a very tall Christmas tree.  Throughout the town will be a Christmas Crafts Village that will let guests purchase unique gifts.  Over at the Bird Cage Theater, A Christmas Carol and A Gift of the Magi will be performed on select dates during the day.  On select night will be the fan favorite Krazy Kirk and the Hillbillies!  They will take over the Bird Cage Theater again, so it's best to get there early as there aren't as many seats as their usual Wagon Camp stage.
Knott's Merry Farm has great traditions to make it a wonderful stop during the holiday season.  It's best spent with a Season Pass as there is so much to see and do at the park during this time.  And it's a warm treat for the Christmas time to experience again and again.  Below is the official press release with much more information!
Holiday Spirit Shines even Brighter at Knott's Merry Farm this Year

Celebrate the Season with All-New Festive Decor, Classic Holiday Shows and so much more!

 

BUENA PARK, CA. (November 2018) – Starting November 16 through January 6, guests can experience Knott's Merry Farm's largest Christmas display ever, with a full park transformation including all-new seasonal décor. A classic winter wonderland awaits park goers with a landscape of thousands of twinkling lights, miles of themed garland, oversized snowflakes and a variety of picturesque holiday settings, all created as a backdrop to capture timeless holiday memories.

 

Charming holiday shows remain at the core of the Knott's Merry Farm experience and continue to delight guests of all ages. Merry Christmas, Snoopy!, the beloved ice show starring the famous beagle, the Peanuts Gang and a cast of world-class ice skaters returns as a Merry Farm tradition. In this fan favorite musical spectacular on ice, Snoopy and his friends enjoy all of the best parts of the season including trimming the Christmas tree, awaiting Santa's arrival, and attending the Christmas Ball! Showing select dates, November 16, 2018 – January 6, 2019, at the Charles M. Schultz Theatre.

 

The Merry Farm musical, It's the Merriest Christmas Show Ever, Charlie Brown takes audiences behind the scenes with the Peanuts Gang as they plan their holiday extravaganza; showing select dates, November 16, 2018 – January 8, 2019.

Families visiting Camp Snoopy can also enjoy seasonal entertainment geared for little ones with A Peanuts Guide to Christmas, performing daily at the Camp Snoopy Theater. The Peanuts Gang offer their take and unique wisdom on surviving the holidays while singing a mashup of their favorite holiday tunes.

 

The streets of Calico play host to the merriest of Christmas traditions starting with the sound of holiday tunes performed by live Christmas Carolers. Holiday shoppers will have the opportunity to stroll through Ghost Town's Christmas Crafts Village featuring dozens of local artisans selling their handcrafted gifts. Also available in Ghost Town at the historic Bird Cage Theatre, Knott's melodrama company will bring to life Charles Dickens' A Christmas Carol and O. Henry's A Gift of the Magi. Performances will be available on select dates, November 16, 2018 – January 6, 2019. The Bird Cage Theatre will also host the toe-tappin', hand-clappin' comedy and bluegrass of Krazy Kirk and the Hillbillies who will continue their Knott's Merry Farm residency this holiday season on select nights.

 

Visitors can also retreat to Santa's Christmas Cabin—a transformed Wilderness Dance Hall in Ghost Town that features twinkling Christmas lights, classic holiday decor and the opportunity to take photos with Santa Claus himself. It's also home to an array of holiday treats, including roasted nuts and a cheesecake "tree" on a stick, dipped in chocolate and sprinkled with crushed peppermint.

 

When the sun sets, Ghost Town lights up with a nightly tree lighting ceremony and a special Snow and Glow experience that takes place every hour from sunset until the park closes. The magical snowfall and Ghost Town lights dance to a different song each hour, offering the perfect ending to a fun-filled day at Knott's Merry Farm.

 

The perfect stocking stuffer is now on-sale. A new 2019 Season Pass includes one free visit to enjoy Merry Farm in 2018, unlimited visits in 2019 with no blackout dates, discounts on select food and merchandise, and access to exciting year-round seasonal events. A Regular Season Pass includes unlimited admission in 2019 to Knott's Berry Farm and a Gold Season Pass includes unlimited admission in 2019 to both Knott's Berry Farm and Knott's Soak City Waterpark with no blackout dates. Now at the lowest price of the year, Regular Season Passes start at just $95.00 or eight easy payments of $10.00 after initial payment and Gold Season Passes are $115.00 or eight payments of just $12.00 after initial payment. These offers end January 6, 2019.  Applicable taxes and fees apply online. Payment plans are only available at knotts.com.

For more information about Knott's merry Farm please visit knotts.com or download the Knott's Berry Farm app for your smartphone. Join the festive conversation using the holiday hashtag #MerryFarm.