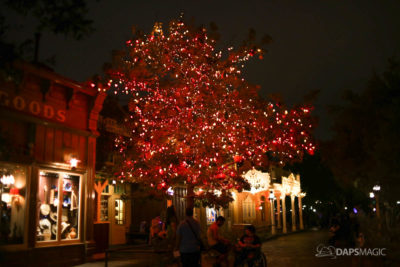 Spookiest greetings to all this Halloween season! A big part of our fall-time traditions on the DAPSmagic team is visiting the Disneyland Resort and enjoying the wonderful seasonal decorations and experiences.
But there's one special Halloween tradition at Disneyland we are especially fond of: The Halloween Tree!
There's a good chance you've seen it if you've visited the parks around fall- just outside the Golden Horseshoe Saloon in Frontierland, covered in twinkling lights festively-painted pumpkins, but there's a lot more than simple decoration to it! Read on to learn its storied history, and how you too can snap the perfect pic to share the tradition yourself!
Tell the Tale
Before having a home in Walt's park, "The Halloween Tree" a novel by famed author Ray Bradbury (1). In his story, a group of trick-or-treaters are swept up in an adventure to rescue a friend, which takes them to important Halloween historical locales like Greece, Ireland, and Mexico. At the center of the tale is the tree itself, covered in jack-o-lanterns, representing the merging of so many cultures and traditions to make the holiday we know today.
Friends and Storytellers
Bradbury, well-known for works like "Fahrenheit 451," actually did a fair share of work for Walt Disney over his career, including contributions to Walt Disney World's "Spaceship Earth," and penning a couple screenplays for the company (2).
His love of Halloween and all things spooky actually began with Walt Disney- the 1929 Silly Symphony short "Skeleton Dance" was very influential on the author in his youth. Later in life, Bradbury would befriend Walt himself, and become strong collaborators.
Taking Root
In 2007, on the 35th Anniversary of Bradbury's novel, the official Halloween Tree in Disneyland was dedicated. The author himself was in attendance and is credited as saying, "I belong here in Disneyland, ever since I came here 50 years ago. I'm glad I'm going to be a permanent part of the spirit of Halloween at Disneyland." (3)
The tree is now decorated every year, adding a charming touch with a good taste of history. Year round, the dedication plaque can be found near the tree, explaining its origins and purpose.
Getting the Shot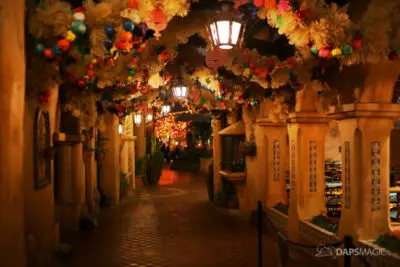 The Halloween Tree is a shutterbug's dream subject, with so many fun elements to focus in on, and a stunning silhouette in a beautiful setting. Still, it can be a bit tricky to get the perfect picture. Here are a few tips and tricks from our resident photog-expert, Mr. DAPs!
First off, use a tool that you are comfortable with and be patient. While you can get some beautiful pictures with your smartphone, you can get even more creative with a DSLR camera. I'm currently using a Canon 6D (4) and love what I can get from it. I have also used a Canon T3i as well and gotten beautiful pictures of the Halloween Tree. Then it is just a matter of playing with the camera's settings in

manual

mode.
If you want a REALLY great picture, wait until later in the evening and you can get a shot with fewer (or no) people in it.
Be creative with how you take the picture. Try taking the picture from a different angle than you normally would. I took this picture from the entrance of Rancho del Zocalo and love how you can see the Halloween Tree in the background with this walkway acting as a frame for it.
***
We would love to see your pictures! Use the hashtag #HeyDAPs when sharing on Instagram so we can appreciate your unique perspective, and share your work with our community. Happy Halloween, everyone!
(1) https://en.wikipedia.org/wiki/The_Halloween_Tree
(2) https://disneyparks.disney.go.com/blog/2014/10/the-halloween-tree-at-disneyland-park/
(3) https://d23.com/the-legend-of-disneylands-halloween-tree/
(4) https://www.usa.canon.com/internet/portal/us/home/products/details/cameras/eos-dslr-and-mirrorless-cameras/dslr/eos-6d