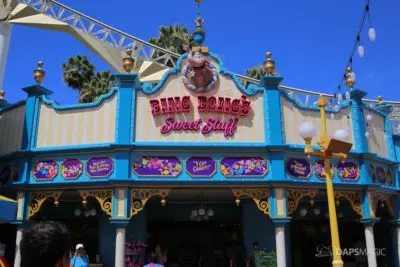 Bing Bong's Sweet Stuff is now open on Pixar Pier in Disney California Adventure. This new shop has a collection of both candy and merchandise. While not completely finished, this store is sure to be a fan favorite very quickly. Both the sweet stuff and the merchandise collection are all screaming to be posted on Instagram… and they already are.
The sweet stuff in Bing Bong's Sweet Stuff is found on the left side of the store when entering. There is a healthy collection of taffy, candy, and cold drinks that are both delicious and photogenic. There are five different Memory Refreshers that are $6.49 each. These are both delicious and will be what people will be photographing for Instagram. Along with Memory Refreshers, there are two cases full of fresh treats. The highlights here will most likely be the Bing Bong candied apple, Luxo ball candied apple, and perhaps the Incredibles 2 crisp. There are several other offerings as well.
Two-thirds of the store is devoted to Pixar merchandise. This includes Inside-Out merchandise as one would expect. It also includes Finding Nemo/Finding Dory, Coco, Up, Monsters University, and Incredibles 2. There are plenty of t-shirts, mugs, plush characters, and more to enjoy. In the center of the store, Bing Bong will be making his appearance. However, he currently hasn't completely arrived and only his trunk is there physically. The rest of his display is surrounded by a curtain with Bing Bong drawn on it.
Bing Bong's Sweet Stuff is a simply adorable store. There are details that are from Inside Out throughout the store. Some highlights definitely can be found in the carpet. While it isn't solely a candy store, it definitely will be a popular stop. There is some merchandise that will most likely be popular, and I am guessing the Memory Refreshers and themed sweet treats will be popular with those looking for an afternoon snack or just a fun photo op.
What do you think of Bing Bong's Sweet Stuff? What treat do you most want to try? What is your favorite part of the store? Let us know in the comments below!