The village on the planet Batuu in Star Wars: Galaxy's Edge now has a name. Last night at Star Wars: Galactic Nights, it was revealed that this is the Black Spire Outpost. During a panel discussion, Imagineer Margaret Kerrison shared about this outpost. The discussion also covered the history of the village along with how it is closely connected to the geological formations around it.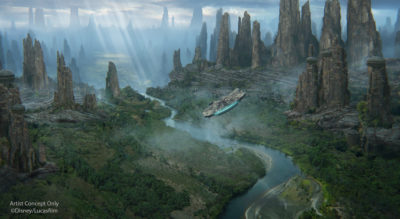 Black Spire Outpost is the largest settlement on Batuu. This is the planet revealed to be the destination of those visiting Star Wars: Galaxy's Edge. It is an infamous destination for smugglers, adventurers, and traders (scoundrels really) looking to do business without being as noticed. It has become known for housing some of the Galaxy's most colorful and notorious characters. Geologically the planet, and in particular Black Spire Outpost, is known for the geological spires that surround it. They are the remains of trees that once towered over the planet. Now petrified, they were where original settlers came to build the original outpost in the midst of.
Batuu and Black Spire Outpost have already been connected to the larger Star Wars galaxy. The newest Star Wars film, Solo: A Star Wars Story, makes reference to the outpost at one point through Lando Calrissian's droid. Batuu will be appearing in the upcoming book, Thrawn: Alliances. It also currently appears in Star Tours – The Adventures Continue now visits the planet.
Star Wars: Galaxy's Edge will be coming to Disneyland and Disney's Hollywood Studios in 2019. Each will allow guests to experience the Star Wars galaxy. There will be two attractions, one which will allow guests to fly the Millennium Falcon, the other will put guests in the midst of a battle with the First Order!
Subscribe today to DAPS MAGIC to never miss news on the Star Wars: Galaxy's Edge! What are you most looking forward to with Black Spire Outpost? What do you think of the name? Let us know in the comments below!