Main Street USA is a cornerstone of Disneyland.  It's a view of Walt's childhood.  Ever since the opening of Disneyland, there has been some version of Main Street in every magic kingdom park.  For the purposes of ranking these lands, I'm including a couple that aren't actually called Main Street.  But, they are definitely of that genre.  To figure out the rankings I'm thinking through Theme – how well it tells the hometown story, or whatever story it has, Size – the floor plan of the land and even how the buildings scale, and Entertainment – what there is to do and see to occupy time (but not counting parades).
So, here are the Main Streets around the world ranked.
6. Hong Kong Disneyland's Main Street USA
Theme: 4
Hong Kong Disneyland may be a bit "cookie cutter," but I think their Main Street improves upon the original.  There are details like brick streets, a gazebo, and some styles of the shops and restaurants that make it a good version of the original.  Some of these elements are found in other Main Streets, but I think Hong Kong incorporated it a lot better.
Size: 2
Out of all the Main Streets the Hong Kong one is probably smallest, or at least feels that way.  It does have the forced perspective buildings, but just the length of the street seems small.  There is a large hub plaza, but it doesn't quite help the size of the street.  It also doesn't provide much room for shops and restaurants.
Entertainment: 3
As small as it is there are still some things to do here.  Shopping and dining are some great features.  There's a great restaurant called the Corner Café that is a more quaint version of Magic Kingdom's Plaza Restaurant.  Actual attractions include the common Main Street Vehicles and Disneyland Railroad.  One unique attraction is the Art of Animation that includes an Animation Academy.  It's right as you enter the park and usually has a chance to meet a character or two.  It's even where the Toy Story zoetrope from Disney California Adventure ended up.  But, that's roughly about it.  It's easy to get through it all in the first half hour of the day (with the exception of eating).
Total: 9
It's size is probably the weakest link in the land.  It is one of my personal favorite Main Streets, but I'll admit it doesn't have a lot in it because of the smaller size.  Saying that, it's still an excellent place to visit.  There's great things to experience and the style is lovely.
5. Tokyo Disneyland's World Bazaar
Theme: 3
World Bazaar is probably the most bizarre Main Street out of them all.  It takes after the Disneyland and Magic Kingdom Main Street but with a big difference: it's under glass.  The turn of the century street is under a large glass canopy that shields the land from rain.  Where it's a neat feature to help with the common inclement weather, it's a little jarring to still have a town right underneath it.  The steel beams that intersect the street make it look more like a model than a neighborhood.  Still, the amount of detail to make it still feel like a midwest hometown is terrific.
Size: 4
Even though it's under glass, the buildings still are full sized.  There's enough room here to have a Club 33 and a special cross street that provides a shortcut between Tomorrowland and Adventureland.  The street is long enough to accommodate some great shops and restaurants, but it's the building sizes that help the most.
Entertainment: 3
Compared to the other Main Streets there isn't much to do here.  There is an Omnibus that travels through, but not other vehicles.  There's no Disneyland Railroad.  There's a Club 33 which isn't open to the public and a Disney Gallery.  It's the shopping and the dining that is the main feature here.  These actually are great features as Tokyo Disneyland is known for its merchandise and food.  But, this is more of a refuge for rain and a themed entrance for the rest of the park.
Total: 10
It's the size of the land (which I'm considering the hub to be part of it) that pushes it up the list.  The full-sized buildings and large area it takes up are great considering it needs to fit many who try to escape the rain.
4. Magic Kingdom's Main Street USA
Theme: 4
It's not too different from the original, but Magic Kingdom has added some elements to make this Main Street feel more like a real town.  The train station, for example, has a layout that makes it seem more like an actual transportation hub.  The eateries, like Casey's Corner, have that small town quaintness and detail that almost gives a history lesson.
Size: 3
I would consider the size to be a small weakness.  Having run through it twice for races it's a little long.  But, what makes it a little more intimidating is the size of the buildings.  They may not be full sized, but they're still large looking.  It's not as small of a hometown feeling.  I do know they would look so tiny in comparison to a large castle at the end.  But, it does make guests look small.  I don't have it down a lot because some like the size of it.  But, I think if it's going to be a midwest small town it should feel a bit more like that.
Entertainment: 4
Magic Kingdom's Main Street has a lot to partake in.  The Disneyland Railroad station is here.  Next to it is the Main Street Theater where you can visit "Talking Mickey" and Tinkerbell.  Across the way is Sorcerers of the Magic Kingdom – one of the hidden gems of the park.  There are Main Street Vehicles and lots of opportunities to shop and dine.  It's a good amount that can take up a couple of visits to really check out everything here.
Total: 11
One of the better Main Streets, but the size is what keeps it in the middle of the pack.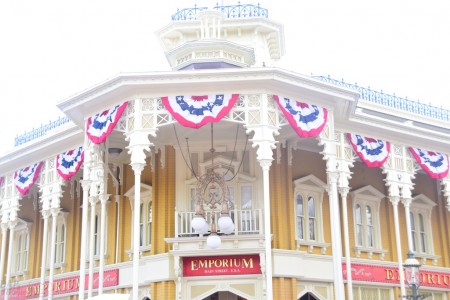 3. Disneyland's Main Street USA
Theme: 4
The Imagineers took great care in creating this Main Street.  And it was the one that Walt Disney oversaw.  It has that great Walt Disney hometown feel with the details that have been mainstays in the other parks.
Size: 4
For both buildings and length of the street, it has a good size.  The buildings are not too big, and neither is the street.  And, the length is enough to fit a lot during fireworks.  And thanks to forced perspective the buildings look two stories, but not in an intimidating way.  It's still small in comparison to others and thus packs in everything in sometimes close quarters.
Entertainment: 5
Where I'd say it has the usual Main Street Vehicles and Disneyland Railroad, it is the one that started those.  It has one of the better Railroads, for one thing.  And besides these two attractions, there's the Main Street Cinema.  Why that's great is it brings in that connection to Mickey Mouse, complete with the cartoons that started it all.  It's Great Moments With Mr. Lincoln that sets it apart from others.  It's a unique Main Street attraction to this park.  And it is another Walt Disney original that has his touch still in it.
Total: 13
The original Main Street has the hometown charm and great detail.  It's got the fun things to do and see but is a bit packed.
2. Shanghai Disneyland's Mickey Avenue
Theme: 5
I would say this is a cross between Main Street and Toontown.  It's the Main Street that Mickey built.  It is supposed to be a town where the toons live and play.  Unlike Toontown, it's still set in the real world instead of in a cartoon world.  The amount of detail in this land is amazing.  I know I did not discover everything after spending two days at the park.  I barely scratched the surface.  The land is intricately weaved into the history of Disney animation.  Yet, it still appears as a functioning town.
Size: 5
Mickey Avenue is a big land.  It doesn't seem that way on the first appearance.  In fact, it seems like the smallest Main Street because of its length of the main street.  Where the length isn't long, it makes up for it in width.  From the main boulevard are small "side streets" that hold shops and eating places.  Even the eating locations go deep into the sides to provide some area of exploration.
Entertainment: 4
If this were more personal I would give a 5 to this category.  There were so many things to see and explore within Mickey Avenue.  Mickey and Pals Market had Disney cartoons playing, which ups the entertainment value too.  It's beautiful to take pictures in and of.  But, there is one attraction: Mickey's Film Festival.  It's an upgraded version of the Main Street Cinema.  It's a great theater, but not a big stop in the park.  Mickey Avenue just needs a little more for the average guest.  For big Disney fans, it's a buffet of Disney animation delight.  You could spend a whole day perusing the details on buildings!
Total: 14
It doesn't quite get the top spot because of the lack of attractions compared with the number one…
And for photos of Mickey Avenue, check out this post here.
1. Disneyland Paris' Main Street USA
Theme: 5
Paris expands on the original Main Street not just in detail and size, but even time frame.  It is a little past the turn of the century judging from the types of vehicles that are used and more use of electricity.  It's that kind of detail that makes this a very immersive Main Street, moreso than those that came before it.
Size: 5
Paris has a bit of a grand scale like Magic Kingdom's and Tokyo Disneyland's.  But, the way it is laid out makes it not as overwhelming.  The streets aren't as wide as Magic Kingdom's, for example.  It helps to make it feel more of that small hometown.  It is another "just the right size."  Nothing is too crammed together.  It's just right.
Entertainment: 5
There are the standard vehicles and Disneyland Railroad, and those two versions are in the top out of all of the parks.  Other than those two are the Liberty and Discovery Arcade.  These are more passageways than actual attractions.  But, they are great things to take a look at.  It is a unique feature of this Main Street, and if you're a Disney fan they are great to go through and behold all the detail among them.  Shopping and dining are among the great things in this land.  Walt's is one of the best Disney park restaurants around.  There are places to explore and attractions to ride which gives it the top score as compared to Mickey Avenue.
Total: 14
Mickey Avenue and this Main Street were neck and neck.  But, Paris having actual attractions puts this at the top spot.
What do you think of the list?  Do you agree or disagree?  Let us know in the comments below!