Who Holds Infinity? Find Out With the INFINITY CIRCUIT!
New York, NY—February 8th, 2018—Separately, they're all-powerful. Together, their power is limitless. To help you prepare for the biggest Infinity epic yet, Marvel is excited to present INFINITY CIRCUIT: the guide that will make YOU the master of the Infinity Stones, just in time for INFINITY COUNTDOWN #1!
Serving as a handy guide designed to show which stones our mighty Marvel heroes currently hold at the start of INFINITY COUNTDOWN #1, the INFINITY CIRCUIT also provides a description of their specific power, detailing how they can be used to rule the universe. Mini-posters will be available in comic shops along with the release of INFINITY COUNTDOWN #1 on March 7th, but fans can download the INFINITY CIRCUIT right now, and get started mapping out the power! (Retailers can find a file on the Diamond retailer page.)
Nebula, Thanos, Drax and a Wolverine are currently in possession of some of the galaxy's most powerful stones…but will they still be holding them in the end? As the race to collect the remaining stones gets underway, there is nothing our heroes will stop at to achieve unlimited rule over the universe! To keep readers on their toes, versions of this cosmic guide will appear in each issue of the series, updating fans on who holds the stones as the story progresses.
It all leads into the mega Infinity tale and battle that will change the balance of infinite power. Download Marvel's INFINITY CIRCUIT today, or pick up a copy at your local comic shop and don't miss out on all the action in INFINITY COUNTDOWN #1, coming this March!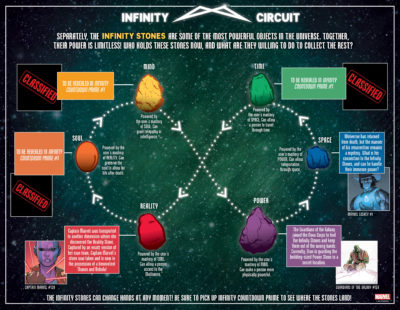 Captain Marvel, Daredevil and Darkhawk Control The Stones?!
Announcing the INFINITY COUNTDOWN TIE-IN titles
New York, NY — February 8, 2018 — The race to wield infinite power kicks into high gear across the Marvel Universe with INFINITY COUNTDOWN (PRIME and ADAM WARLOCK) from mastermind writer Gerry Duggan! And starting in May, you cannot miss the newly announced INFINITY COUNTDOWN TIE-IN titles: brand new, can't-miss one-shots and limited series from all-star creative teams that will reveal the fate of the stones —  and who possesses them!
First up, Gerry Duggan and Black Panther artist Chris Sprouse bring their streetwise expertise to Hell's Kitchen in DAREDEVIL #1, as Matt Murdock encounters the Mind Stone in the New York underworld. Of course, the stone is bound to fall into mysterious yet unlikely hands…but can Daredevil keep an Infinity Stone's power from wreaking havoc on the city?
In CAPTAIN MARVEL #1, don't miss the story from Jim McCann (New Avengers: The Reunion) and Diego Olortegui (Ms. Marvel) as they help Carol Danvers cross the borders of reality for a mind-bending, cross-time adventure into Infinity Stone lore! Continuing the journey that's taken her to another dimension into the clutches of Thanos and Nebula, Captain Marvel – in the possession of the Reality Stone – returns to Earth, having contacted the Marvels of many worlds along the way…
And finally, following the event of DARKHAWK #51, we see the return of DARKHAWK in a four-issue series from Chris Sims, Chad Bowers and Gang Hyuk Lim! Spinning out of the war with the Fraternity of Raptors for the Power Stone, "The Hawk" is back to fight for justice for both New York and the world!
Don't miss the first wave of INFINITY COUNTDOWN TIE-INS coming to comic shops in May!
INFINITY COUNTDOWN: DAREDEVIL #1
Written by GERRY DUGGAN
Art by CHRIS SPROUSE
Cover by CLAYTON CRAIN
INFINITY COUNTDOWN: CAPTAIN MARVEL #1
Written by JIM MCCANN
Art by DIEGO OLORTEGUI
Cover by INHYUK LEE
INFINITY COUNTDOWN: DARKHAWK #1 (of 4)
Written by CHRIS SIMS & CHAD BOWERS
Art by GANG HYUK LIM
Cover by SKAN
YOU ARE DEADPOOL: Which Path Will You Choose?
You're in control…someone's got to be!
New York, NY—February 7, 2018—The fourth wall has been broken – by you, because this May, YOU can be Deadpool! The merc with the mouth is your guide as he takes you on a fantastic ride that doubles as a role playing adventure in this new five-part weekly miniseries where adventure…danger…and the future…all rests in YOUR hands!
Written by Al Ewing (Avengers: No Surrender) with art by Salva Espin (Deadpool) and Paco Diaz (Avengers: No Surrender), YOU ARE DEADPOOL is an interactive narrative that lets readers control Deadpool's story by rolling dice, keeping track of their scores, and making smart (or disastrous) decisions. And be prepared to meet some classic and unique guest stars as you travel through time as Deadpool in a whirlwind adventure!
"YOU ARE DEADPOOL is a five-part adventure gamebook in the classic tradition of FIGHTING FANTASY, LONE WOLF and DICEMAN — where YOU, and the cut-out-and-keep DEADPOOL DIE, control the action! Every week brings a COMPLETE single-player adventure — where you encounter glamorous guest-stars like HULK, GHOST RIDER, GRASSHOPPER, DAREDEVIL and ANOTHER GRASSHOPPER — that form an EPIC QUEST the like of which you've NEVER SEEN, unless you have!" teases series writer Al Ewing. "And there's more! Fight END-OF-LEVEL BOSSES! Manage your inventory by STEALING background objects! Explore FIVE DIFFERENT TIME ZONES in NEARLY ANY ORDER! Play the TUTORIAL LEVEL! Enjoy UNIQUE MINIGAMES about BAR FIGHTS, BEAT POETRY and SNEAKING THROUGH LEVELS! LAUGH! CRY! CHEAT! It's all waiting for YOU — because YOU ARE DEADPOOL!"
It's a series unlike anything Marvel Comics has ever done – new and seasoned readers alike will get their chance to play this May, when YOU ARE DEADPOOL hits your local comic shop!
YOU ARE DEADPOOL #1 (of 5)
Written by AL EWING
Art by SALVA ESPIN (issues #1, 3, 5) & PACO DIAZ (Issues #2, 4)
Covers by RAHZZAH
On-Sale 5/2/18
Marvel and Stitcher release trailer for 'Wolverine: The Long Night'
Trailer now streaming here: www.WolverinePodcast.com
New York, NY – February 6, 2018 – Marvel New Media and top podcast listening service and content network Stitcher ("Heaven's Gate," "Katie Couric," "The Paris Review") today released the trailer for "Wolverine: The Long Night," Marvel's highly anticipated first-ever scripted podcast. The 10-episode series airs weekly beginning March 12, 2018 exclusively on Stitcher Premium. It will see a wide release across all podcast platforms in fall 2018.
Watch trailer for "Wolverine: The Long Night" here: www.WolverinePodcast.com
The "Wolverine: The Long Night" story is a captivating hybrid of mystery and the larger-scale fantasy of the Marvel Universe. It follows agents Sally Pierce (Celia Keenan-Bolger) and Tad Marshall (Ato Essandoh) as they arrive in the fictional town of Burns, Alaska, to investigate a series of murders and quickly discover the town lives in fear of a serial killer. The agents team up with deputy Bobby Reid (Andrew Keenan-Bolger) to investigate their main suspect, Logan (Richard Armitage). Their search leads them on a fox hunt through the mysterious and corrupt town.
In addition to Armitage, the show's cast includes notable actors Scott Adsit ("30 Rock"), Bob Balaban ("Moonrise Kingdom") and Brian Stokes Mitchell ("Mr. Robot").
Also cast in the series are actors Zoe Chao, Chaske Spencer, Jordan Bridges, David Call, Michael J. Burg and Lannon Killea. Chris Gethard, host of the popular "Beautiful Stories from Anonymous People" podcast, also will make a cameo appearance.
Stitcher and Marvel have assembled a writing and production team of veterans from both the comic book world and the podcasting industry. "Wolverine: The Long Night" is written by award-winning comic book author Ben Percy ("The Wilding," "Red Moon") and directed by Brendan Baker (formerly a producer for Radiotopia's "Love & Radio"). Chloe Prasinos (formerly a producer for Gimlet's "Reply All") oversees sound design. The series is produced by Daniel Fink of Marvel and Jenny Radelet of Stitcher.
For more information, visit www.WolverinePodcast.com.
MARVEL UNLIMITED EXPANDS THIS FEBRUARY
Digital Subscription library continues to grow with latest updates
New York, NY—February 7th, 2018—Marvel Unlimited, Marvel's digital comics subscription service, offers members unlimited access to over 20,000issues of Marvel's classic and newer titles, delivered digitally through your desktop web browser and the Marvel Unlimited mobile app. With classic and newer issues added every week, here are some of the amazing Marvel titles coming to Marvel Unlimited this month:
Week of 2/5
ALL-NEW GUARDIANS OF THE GALAXY #7
AVENGERS #10
BLACK BOLT #4
CHAMPIONS #11
DARTH VADER #4
GENERATIONS: BANNER HULK & THE TOTALLY AWESOME HULK #1
BRUCE BANNER. AMADEUS CHO. Both have carried the curse of the Hulk. Now they come face-to-face at last – but will they meet as friends or foes? Fan-favorite Hulk scribe GREG PAK is joined by red-hot artist MATTEO BUFFAGNI (X-MEN BLUE) for a time-bending tale that will finally answer the question on everyone's minds: WHO IS THE STRONGEST ONE THERE IS?
HAWKEYE #9
IMMORTAL IRON FISTS #1   FIRST TIME IN MU!
A unique entry-point that's perfect for new fans and longtime readers alike! Danny Rand has been a lot of things: an orphan, a billionaire, a hero for hire, and the Immortal Iron Fist. He holds the ancient mantle and power of the Iron Fist that has been passed down through the generations but now he faces his most difficult challenge yet: being a mentor and teacher to Pei, a monk from K'un-Lun and the youngest person to ever bear the mark of the Iron Fist. While Pei tackles the trials of training and high school, Danny discovers there's another threat on the horizon, one that might take more than one pair of Iron Fists to defeat!
IMMORTAL IRON FISTS #2
IMMORTAL IRON FISTS #3
IMMORTAL IRON FISTS #4
IMMORTAL IRON FISTS #5
IMMORTAL IRON FISTS #6
IRON FIST #6
JESSICA JONES #11
MARVEL UNIVERSE AVENGERS: ULTRON REVOLUTION #12   FINAL ISSUE!
MARVEL'S THOR: RAGNAROK PRELUDE #3
NICK FURY #5
SPIDER-MAN #19
SPIDER-MAN/DEADPOOL #20
STAR WARS: ROGUE ONE ADAPTATION #5
THE UNSTOPPABLE WASP #8   FINAL ISSUE!
VISION DIRECTOR'S CUT #3
X-MEN: GOLD #9
Week of 2/12
ALL-NEW WOLVERINE #23
AMAZING SPIDER-MAN #31
CAPTAIN AMERICA #25
DEADPOOL KILLS THE MARVEL UNIVERSE AGAIN #3
DEFENDERS #4
EDGE OF VENOMVERSE #4
GENERATIONS: PHOENIX & JEAN GREY #1
Teenage Jean Grey is willing to do whatever it takes to avoid the fate that befell her predecessor. But when Jean is cast through time and comes face-to-face with the newly possessed Phoenix, will she find the key to saving herself – or learn that her fate is sealed?
HULK #9
INHUMANS: ONCE AND FUTURE KINGS #1
SOMEDAY, ALL OF THIS WILL BE YOURS! A king in training. A brother destined for madness. These are the early days of the Boltagon legacy. When the king of the Inhumans is attacked, Black Bolt and Maximus spring into action to save their leader! But when Black Bolt loses control, what are the consequences for his future kingdom – or his own family? Plus: A two-page backup (in every issue!) starring Lockjaw, as told by UNBEATABLE SQUIRREL GIRL writer Ryan North and artist supreme Gustavo Duarte!
JEAN GREY #5
MARVEL UNIVERSE GUARDIANS OF THE GALAXY #21
MARVEL #21
OLD MAN LOGAN #27
ROCKET #4
SECRET EMPIRE #8
SECRET WARRIORS #5
STAR WARS: DOCTOR APHRA #11
STAR WARS: ROGUE ONE – CASSIAN & K-2SO SPECIAL #1
Cassian Andor is one of the top intelligence agents in the ranks of the Rebel Alliance, ably assisted by his reprogrammed Imperial security droid, K-2SO. But naturally, the two weren't always on the same side of the Galactic Civil War. Now, for the first time, read the story of the pair's first contentious meeting! It is very likely not to go well.
THE UNBEATABLE SQUIRREL GIRL #23
VENOM #153
ZOMBIES ASSEMBLE 2 #1
The Avengers face a threat even bigger and more menacing than they could have imagined as the desperate race to cure the zombie outbreak shifts into high gear! Caught in a massive explosion, Captain America, Hawkeye and Iron Man wake up in the midst of a city overrun by zombies. Miraculously, they haven't been turned, and they find themselves face-to-face with a mysterious scientist who claims to have a cure for the virus. But who is he really, and does he actually possess the antivirus that Bruce Banner has been struggling to create? More importantly: Is the Hulk immune to the zombie plague?
Week of 2/19
ALL-NEW GUARDIANS OF THE GALAXY #8
AMAZING SPIDER-MAN: RENEW YOUR VOWS #10
ASTONISHING X-MEN #2
BLACK PANTHER AND THE CREW #5
GENERATION X #5
GENERATIONS: WOLVERINE & ALL-NEW WOLVERINE #1
THE TEAM-UP YOU'VE ALL BEEN ASKING FOR! The death of WOLVERINE shook the Marvel Universe – and the ascension of the ALL-NEW WOLVERINE reimagined what a healing factor and some Adamantium claws can do! But the amazing combination of LOGAN and LAURA is the duo you've been waiting for! Tom Taylor, the mind behind ALL-NEW WOLVERINE, brings you Generations – a double-Wolverine team-up for the ages!
GWENPOOL, THE UNBELIEVABLE #19
INVINCIBLE IRON MAN #10
LUKE CAGE #4
MARVEL'S THOR: RAGNAROK PRELUDE #4   FINAL ISSUE!
MIGHTY THOR #22
MONSTERS UNLEASHED #5
ROYALS #6
SECRET EMPIRE: BRAVE NEW WORLD #5   FINAL ISSUE!
SILVER SURFER #13
SPIDER-MEN II #2
STAR WARS #34
STAR WARS: POE DAMERON #18
THE TOTALLY AWESOME HULK #22
U.S.AVENGERS #9
ULTIMATES 2 #100   FINAL ISSUE!
X-MEN: BLUE #9
Week of 2/26
BEN REILLY: SCARLET SPIDER #6
CABLE #4
DAREDEVIL #25
DEADPOOL KILLS THE MARVEL UNIVERSE AGAIN #4
DOCTOR STRANGE #24
EDGE OF VENOMVERSE #5   FINAL ISSUE!
GENERATIONS: THE UNWORTHY THOR & THE MIGHTY THOR #1
HER HAMMER, HIS AX: A WORTHY APOCALYPSE. When a battle goes south, Thor finds herself in ancient Egypt – facing a young Odinson! A misguided party of Vikings has bitten off way more than they can spear. But when the prince of Asgard answers their cries for help, he ends up in a fight no axe alone can win! And Apocalypse is not one for mercy. Can a not-yet-worthy god and a time-lost hero take on one of the world's most powerful mutants at the height of his empire? And what does their encounter mean for the future of two Thors?
I AM GROOT #4
ICEMAN #4
PETER PARKER: THE SPECTACULAR SPIDER-MAN #3
SECRET EMPIRE #9
STAR WARS: DOCTOR APHRA ANNUAL #1
Doctor Aphra has a troubled past full of parental drama and war. But what about her Wookiee shadow, Black Krrsantan? Find out just how this Wookiee warrior is as frightening as they say…and then some!
THE PUNISHER #15
WEAPON X #7
X-MEN: GOLD #10
Not a Marvel Unlimited member? Join today!
Marvel Unlimited members have access to some of the greatest Marvel Comics featuring The Avengers, Spider-Man, Guardians of the Galaxy, Thor, Black Panther, and more! With February's update, Marvel Unlimited will also be expanding its back catalog with the following series: Sensational She-Hulk (1989), New Mutants (1983), Elektra (1996) and much more!
This amazing service is accessible through Marvel Unlimited on the web and through the Marvel Unlimited app on iPhone®, iPad® and on select Android™ devices.
New to the Marvel Universe, and don't know where to start? Don't worry! Marvel Unlimited subscribers have access to the DISCOVER section of Marvel Unlimited. Subscribers are now able to discover new pathways and reading lists into the Marvel Universe by being able to search by their favorite storylines, characters and creators.
With classic and newer issues being added to Marvel Unlimited on a weekly basis as early as six months after they're in stores, you'll definitely want to join Marvel Unlimited and enjoy the experience of the Marvel Universe!
Follow Marvel on Facebook at www.facebook.com/marvel, join in the conversation on Twitter with #Marvel, and for all things Marvel, please visitmarvel.com.