At the D23 Expo in Japan, it's been announced that more Marvel will be in Disney parks around the world!
More About Guardians of the Galaxy at Epcot
The Guardians of the Galaxy attraction at Epcot has already been announced and somewhat known.  At the Expo, Bob Chapek – parks and resorts head – said that the attraction will be the longest completely enclosed roller coaster in the world!  It is also set to open in 2021.
Ant-Man and the Wasp in Hong Kong Disneyland
Hong Kong Disneyland already has one of the first Disney park Marvel attractions, but it will get a second one.  Ant-Man and the Wasp will fight Hydra bots in a new attraction.  And guests will be fighting alongside them.  So, it looks to be an interactive attraction (that my guess is taking up where Buzz Lightyear is at).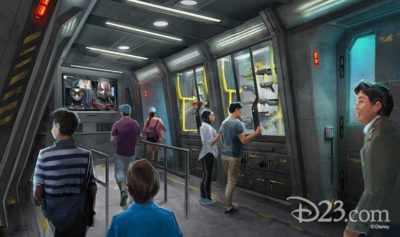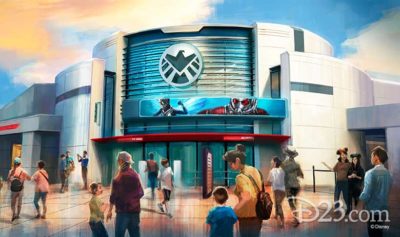 UPDATE
Disney Parks Blog has released an artist concept of the Marvel area that the Ant-Man and Wasp attraction will be in.  It will also incorporate the current Iron Man Experience attraction open at the park.  No exact date of completion was said, but it will be by 2023 when the multi-year expansion will be completed with more attractions around the park.

Walt Disney Studios Paris to Get Iron Man and More
The Disneyland Paris Resort will get their first full Marvel interaction starting this summer at Walt Disney Studios Paris.  In an event called Marvel Summer of Super Heroes, guests will meet some of their favorite Marvel characters.
Iron Man will be the new overlay for Rock N' Roller Coaster Starring Aerosmith.  The roller coaster will become a "hyper-kinetic" ride.  According to Disney Parks Blog there will be a chance to team up with not just Iron Man but other Avengers as well.
It's been announced and known that the New York Hotel at the Disneyland Paris Resort is becoming the Art of Marvel hotel.  Concept art for the rooms has been released.  The hotel will become fully Marvel themed by 2020.