Disneyland Paris is embarking on a multi-year expansion. The announcement was made by Disney Chairman and CEO Bob Iger alongside French President Emmanuel Macron at the Palais de l'Elysée in Paris. Most of the expansion will be focused on the Walt Disney Studios Park.
While this park definitely has some iconic areas and experiences, generally it is reviewed as being one that not as much time is needed at. Three new areas based on Marvel, Frozen, and Star Wars are in the works. These areas will include both attractions and entertainment.
A closer look at the concept art for what this expansion at Walt Disney Studios Park will look like shows just how impressive this change will be for the park.
New Lake
A new lake will be in the center of this new expanded area with new lands situated around the outside of it. This lake is very reminiscent of the one found at Epcot. From the artist rendering, it doesn't look like it will be as big as the one in Epcot but, it has that same sort of feel. The artwork also seems to hint at some fountains (look particularly at the right side but it carries across to the left) that could signal the possibility for a new nighttime spectacular like World of Color. Could we be seeing the setup for World of Color 2.0? Only time will tell as details really are minimal at this point so it really is just me looking at a piece of art and speculating.
Mini Star Wars: Galaxy's Edge?
In the upper left-hand side of the concept art there is what appears to be a mini Star Wars: Galaxy's Edge. I'm completely guessing on this BUT I might be guessing wrong on the depth perception of the picture. The over-arching skyline seems fairly similar to what is being built at Disneyland and Disney's Hollywood Studios. However, based off of everything else around it I'm guessing it won't be the full 14 acre Star Wars: Galaxy's Edge. Perhaps this means that there will just be one of the two main attractions that are being developed for Galaxy's Edge at the Walt Disney Studios Park version. As no specifics were released yet, once again… all guesses at this point. It DOES appear though that there is a space for the Mellinnium Falcon and potentially it is even there. I just can't tell as the rendering isn't a big enough image. Zooming in closer it is hard to tell if this will indeed be a miniaturized version of the land or a full sized recreation of what is expected to be an incredibly popular addition at both the Disneyland Resort and Walt Disney World Resort. What do you think?
Frozen
The Frozen land looks to be found directly across the lake as one enters this new area. It will not only include the Arendelle castle but also it looks like it will have a mountain of substantial size. This could become a new icon for the park. It also looks like it could potentially be the size of something like Expedition Everest so maybe this will be part of a new attraction as well? Can you imagine an E-Ticket Frozen adventure ride? If this ends up being true, I would tend to guess there will also be something more in the family friendly realm for those with young families that aren't into the more thrilling attractions. It would seem like this would be a very natural place for some live musical entertainment as well.
Marvel
A Marvel land is also a part of this expansion. At the D23 Expo Japan it was announced that Rock'n Roller Coaster would be re-themed to become an Iron Man version of the attraction. It can be assumed that this is the area that will become themed to Marvel. This may not be accurate though as the initial announcement indicates that the lake will be the connector between the new lands. A new Marvel area could also be in the top right next to the Frozen area. While nothing has been announced specifically beyond the Iron Man reworking of the Rock'n Roller Coaster, there are a LOT of possibilities for Marvel attractions and entertainment.
Final Thoughts
There is a lot to be excited about with the announcement of this expansion. Walt Disney Studios Park is the only park I've flat out not wanted to stay in for a full day, opting instead to return to Disneyland Paris. From what is being shown in the concept art, this will be a huge improvement. Not only will it add quite a few very popular things to do, it will also add quite a bit of beauty and Disney magic to this park. I am very excited about both of these things and think it will create a very good excuse to visit once these things are put into place! The fun for the Disneyland Paris expansion is just getting started. For the coming years we will get to dream, speculate, and analyze the bits of information that will come out about it. I can't wait!
What are you most excited for with the news of the Disneyland Paris expansion? Let us know your thoughts and comments below as I'd love to hear what you think compared to what I think!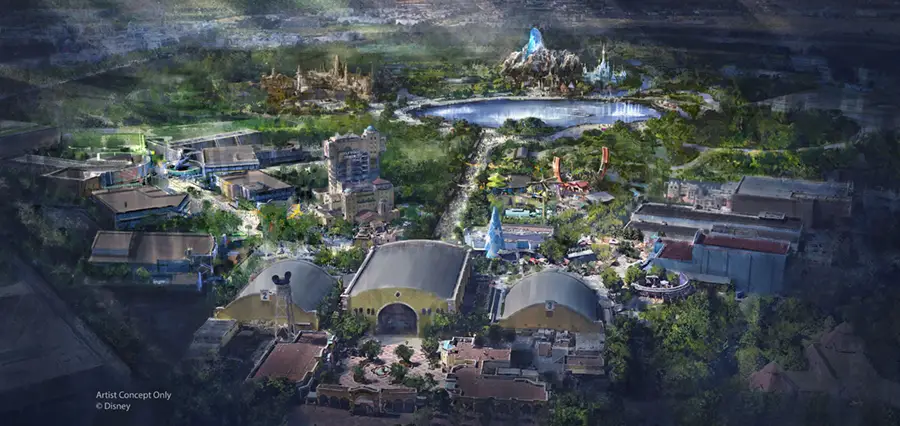 PRESS RELEASE:
PARIS, February 27, 2018 – Today, Chairman and CEO of The Walt Disney Company Robert A. Iger announced plans for a 2 billion euro, multi-year expansion for Disneyland Paris alongside French President Emmanuel Macron at the Palais de l'Elysée in Paris. The new development will include a transformation of the Walt Disney Studios Park, adding three new areas that are based on Marvel, Frozen and Star Wars, along with multiple new attractions and live entertainment experiences.
The expansion plan is one of the most ambitious development projects at Disneyland Paris since its opening in 1992 and underscores the Company's commitment to the long-term success of the resort as Disney's brand beacon in Europe.
"We're very excited about the future of Disneyland Paris and continue to invest in its long-term success," said Robert A. Iger, chairman and chief executive officer of The Walt Disney Company. "The resort is already the leading tourist destination in Europe, and the transformative expansion we announced today will add even more of our beloved characters and unparalleled storytelling to create new lands, attractions and entertainment that further elevate the guest experience and drive new opportunities for tourism in this dynamic region."
The new areas will infuse some of Disney's most popular stories and characters into this unique destination, building upon the success of the resort's 25th Anniversary celebration and continuing to enhance the guest experience for millions of Europeans.
With over 320 million visits since 1992 and representing 6.2 percent of France's tourism income, Disneyland Paris has played a key leadership role in tourism for the region. The resort continues to be a powerful driver of economic and social development with over 16,000 employees representing 100 nationalities. This investment will help make the region even more dynamic and appealing and open up more opportunities for French and European citizens in the tourism industry.
The multi-year development will roll out in phases beginning in 2021, significantly expanding the Walt Disney Studios Park. In addition to the three new areas, the creative vision includes a new lake, which will be the focal point for entertainment experiences and will also connect each of the new park areas.
In the spring of 2017, Disneyland Paris kicked off its 25th Anniversary celebration including new entertainment and experiences for guests. The resort also completed a two-year refurbishment program, updating and renovating many of the classic attractions in the parks, as well as opening multiple new entertainment shows such as Mickey and the Magician, which won a 2017 International Association of Amusement Parks and Attractions theme park industry award for "Best Theatrical Production." Additionally, several major renovations took place at the resort's hotels including Disney's Newport Bay Club, which is now a four-star hotel.
Just this month, Disneyland Paris announced plans for a new Marvel-themed attraction that will be coming to the Walt Disney Studios, part of the new Marvel area development. In 2020, the resort will open Disney's Hotel New York – The Art of Marvel, a reimagining of Disney's Hotel New York that will showcase the inspiring worlds of Iron Man, The Avengers, and Spider-Man, among others. And this summer, the Marvel Summer of Super Heroes seasonal event will take place at Disneyland Paris, where guests can meet their favourite heroes and experience new live entertainment.