Disneyland established not only the first theme park but the way that many theme parks would be laid out in the future.  "Lands" serve as the themed areas where attractions, shows, restaurants, and shops are grouped.  Many of them tell a story by itself, and also help solidify stories of attractions.  Here's the top 10 themed lands from around the world, but just the first five.
I'm looking at detail, theme/story, connection between theme and detail (meaning how well is it all executed), and attractions within it.  Each has a possible top score of 5.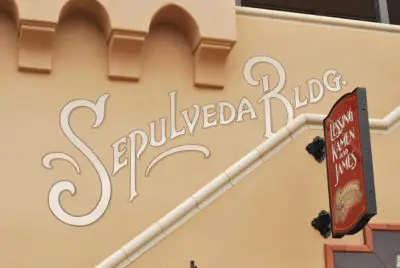 10. Buena Vista Street – Disney California Adventure
Theme/Story: 4
Even though it represents a real place in California, it has a nostalgic story with a huge Disney connection.  It's representative of Los Angeles when Walt first came and started the studio.  It's a bit time travel, and a bit Disney.
Detail: 5
There is a lot of detail to make it feel like traveling back in time.  The stores have a lot of little items in windows and shelves to give the sense of shopping in yesteryear.  Outside there are little homages to LA history with windows and even a radio broadcast in Oswald's.
Connection: 2
So is it all executed well?  The problem is that it's based on a real place.  It's shrunk and smushed Los Angeles.  So it is done well, but it's not quite accurate.  Still, there is so much that went into it that it feels nostalgic and welcoming.  That's pretty amazing for a makeover of an existing land.
Attractions: 2
The Red Car trolley is a great ride that also helps to give the nostalgic feel.  But, other than that, there aren't many attractions, or almost at all here.  Other than that there are a couple of shows.  Carthay Circle Restaurant is sort of an attraction, but it's a restaurant.  There's no way to experience it without eating there.  It's the thing that keeps it down on the list.
Total: 13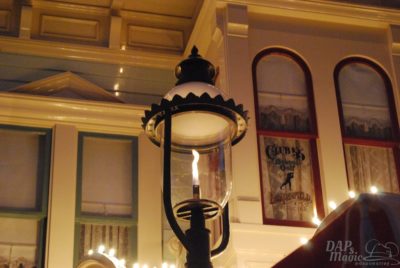 9. Main Street, USA – Disneyland, Magic Kingdom, Disneyland Paris, Hong Kong Disneyland
This is in multiple parks but gets one place on the list.
Theme/Story: 4
This is Walt's celebration of old hometowns in the midwest.  It's the welcome gateway to the magic parks.  Depending on who you are, it either takes you back in time or gives you a fantastic view of what once existed.
Detail: 4
Main Street's detail sets up both Disney and what the story is.  Many of the versions have citizens speaking in the floors above.  The windows that pay homage to Disney employees are done to make it seem like they take up residence in the town.  There is a lot to take notice here.
Connection: 3
But, does the detail actually tell the story well?  We're, unfortunately, taken out of the illusion with merchandise and food options.  The outside is well executed with period costumes, music, and even the types of attractions.  But, there are some slightly jarring things that don't convey the story to the average guest.
Attractions: 3
Though the attractions seem lackluster they are actually very fond rides for many guests.  Period vehicles are the first impressions of many visitors, and it's something that many want to repeat on future visits.  It's also the main station for the Disneyland Railroad in the various parks.  The train is a classic attraction that seems timeless.  But, compared to other lands' attractions they are easily missed.
Total: 14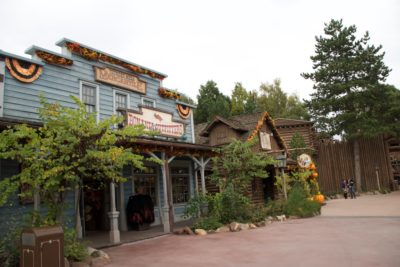 8. Frontierland – Disneyland Paris
Theme/Story: 4
This is a mining town at its core, but complete with a farm side and haunted hill.  It has a unifying story throughout the land that other Frontierlands do not.
Detail: 3
There is a lot that helps tell the story.  And it's present in many areas of the land, like the Golden Nugget Saloon.  There are connections between attractions which helps make it a unifying story.  But, there could be more to help with the detail.  Back towards the train station, there aren't many details to fully connect the farm to the rest of the story.  And food and drink aren't too unique for the land.
Connection: 4
Even though the farm area has little detail, the way the attractions fit together to make it stand out.  It could be better, but it does a really good job of conveying the story and details with things like posters and hints within rides.
Attractions: 4
Two of the most popular attractions in the park are in this land: Big Thunder Mountain and Phantom Manor.  Besides this, there's a train station and theater, and the standard shooting gallery.  It also has the riverboat to sail through the Rivers of America.  That last one's scenery is a little lackluster which brings the rating down a bit.  But, Big Thunder and Phantom Manor kick it up.
Total: 15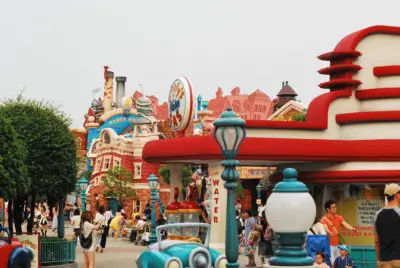 7. Mickey's Toontown – Disneyland and Tokyo Disneyland
Mickey's Toontown is almost exactly the same in both Disneyland and Tokyo Disneyland, so it gets a general tenth place.
Theme/Story: 5
The place that toons built is a great whimsical idea for a land.  It takes people into a new world that is completely different from anything else.
Detail: 5
There is a lot that makes you feel like you're in the cartoon world.  There are city signs, posters, audio, and even building lines that surround you in the land.
Connection: 3
Even though it's very detailed, it all dead ends making it a very isolated land.  There's nothing beyond the "mountains" so it seems like a small town.  Also some parts on one side of the land in Disneyland has lost detail as it's been changed around.  The main city part keeps a lot of detail, while the countryside needs some more.  It also doesn't have unique food and drinks to keep with some of the theme.
Attractions: 3
This was a bit grandiose in design and wasn't fleshed out quite enough.  Roger Rabbit's Car Toon Spin is a very original ride.  Mickey's House is a fun tour and meet and greet.  Gadget's Go Coaster is a good beginner's coaster.  In Tokyo, Goofy's Paint n' Play is another original attraction that makes use of that space.  But, the attractions age a bit.  Gadget's Go Coaster isn't as fun for older folk.  Roger Rabbit is a bit unknown to recent generations.  So, the attractions are good they're not great to make it a land higher up on the list.
Total: 16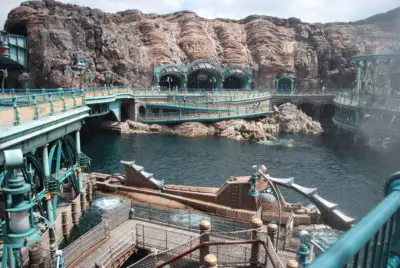 6. Mysterious Island – Tokyo DisneySea
Theme/Story: 5
The island is actually Volcania – the secret hideout of Captain Nemo of the Jules Verne novel 20,000 Leagues Under the Sea!  Imagineers even expanded on the mythology to have him part of other stories and missions.  It combines a historical novel and new imagination.
Detail: 4
In particular, the detail of Journey to the Center of the Earth has a lot to make you feel like you're in a fantasy cave.  The colors work well to be functional and vibrant.  Things like lamps are well fashioned for the theme.
Connection: 3
So much of this is executed well.  The story is well seen from queues and surrounding land details.  The only thing is wishing there were more.  There is more rock than detail in some parts.  There's not really signs of life of any crew in the land outside of the rides.
Attractions: 5
This has two amazing and unique attractions to not just DisneySea but any of the Disney parks!  Journey really does take you to an exotic locale with a high-speed ending.  20,000 Leagues has a great effect to make it seem like we're traveling under water and has a great story to not just be a scenic ride.  Hats off to the attractions in this land.  It's what breaks the tie with Africa.
Total: 17
I'll have the next part soon.  In the meantime, let us know in the comments below what you think of the lands and your picks for 10-6.