Who Is The Mysterious Fifth Exile? Valkyrie Revealed!
Fan-favorite version of Thor ally joins Saladin Ahmed's Exiles series!
New York, NY—January 8, 2018—You've met Blink and most of the new team members who will accompany her on her journey to save the multiverse: Iron Lad, Wolvie, and Khan. But who is the mysterious fifth member of the EXILES?
Introducing…Valkyrie!
"Valkyrie's a character who's always appealed to me. Her iconic warrior-woman look — spear! sword! flying horse! — but also the juxtaposition of a kickass ancient fantasy hero operating in contemporary New York City. She's a classic Marvel heroine," said series writer Saladin Ahmed. "But the EXILES version of Valkyrie is a bit different from what we've seen in comics thus far. Our Valkyrie is known as the Lone Defender of Asgard, and she's a tankard-draining, maiden-wooing, giant-slaying thunderbolt of a woman. Though she's not technically from the Marvel Cinematic Universe reality, she's basically the literalization of the larger-than-her-physical-frame swagger that Tessa Thompson displayed in THOR: RAGNAROK, turned up to 11."
"Like everyone else who has seen Taika Waititi's brilliant THOR: RAGNAROK movie, all of us on Team Exiles are big fans of Tessa Thompson's Valkyrie," said series editor Wil Moss. "So when we realized that we had the perfect series — where the roster is made up of alternate reality versions of Marvel heroes — to introduce a comic book equivalent of that version of Valkyrie, we jumped at the chance! And how great is series artist Javier Rodriguez's design? Such a nice combo of the classic Valkyrie look and the MCU's, yeah?"
Join Valkyrie along with Iron Lad, Wolvie, Khan and Blink when they team up to save the multiverse in the all-new EXILES series, coming to comic shops this April!
EXILES #1
Written by SALADIN AHMED
Art by JAVIER RODRIGUEZ
Covers by DAVID MARQUEZ, JAVIER RODRIGUEZ, MIKE MCKONE, & JESUS SAIZ
On-Sale 4/11/18
EXILES #2
Written by SALADIN AHMED
Art by JAVIER RODRIGUEZ
Covers by DAVID MARQUEZ, JAVIER RODRIGUEZ, & MIKE MCKONE
On-Sale 4/25/18
CAPTAIN AMERICA Reaches a Milestone With 700th Issue!
The "Out of Time" arc culminates in an epic, oversized tale!
New York, NY—January 8, 2018—This spring, OUT OF TIME will culminate with the release of CAPTAIN AMERICA's milestone 700th issue, concluding the arc in an oversized story from creators Mark Waid and Chris Samnee!
Frozen in time, awakened in a decimated future and once again a man out of his era, there is only one way for Steve Rogers to restore order and rebuild civilization—and that's to rule it as King Captain America!
"No dream, no hoax, no lie, this IS Cap and this IS happening!" said SVP and Executive Editor Tom Brevoort. "Guest-starring the Thing and the Hulk (or as much as is left of them), it's a celebration of 700 issues of star-spangled adventure! Plus, Mark Waid delivers an untold tale from Captain America's past, featuring the classic artwork of Jack Kirby!"
Don't miss the conclusion of an arc that has seen some of Steve Rogers' most epic adventures in CAPTAIN AMERICA #700, on sale this spring!
CAPTAIN AMERICA #700
Written by MARK WAID
Art and Cover by CHRIS SAMNEE
Variant Covers by JIM LEE and JIM STERANKO
On-Sale 4/4/18
Introducing NEW MUTANT Variant Covers!
Celebrating the limited series
New York, NY—January 9, 2018—This March, a paranormal mystery will be unleashed in the Marvel Universe…and only the members of the NEW MUTANTS can stop it! In celebration of this six-issue limited series from writer Matt Rosenberg and artist Adam Gorham, Marvel is excited to announce the NEW MUTANT VARIANT COVER PROGRAM, featuring dark portraits of your favorite Marvel heroes from acclaimed artists such as Dan Mora, Declan Shalvey, Mike Deodato and more.
Look for Marvel's New Mutant variant covers on these select titles:
ALL-NEW WOLVERINE #32 by Mike Deodato
AVENGERS #685 by Terry Dodson
CABLE #155 by Tyler Kirkham
DESPICABLE DEADPOOL #296 by Declan Shalvey
DOCTOR STRANGE: DAMNATION #3 by Leinil Yu
OLD MAN LOGAN #36 by Dave Johnson
PETER PARKER: THE SPECTACULAR SPIDER-MAN #301 by Bilquis Evely
X-MEN BLUE #23 by Clayton Crain
X-MEN GOLD #23 by Jason Pearson
X-MEN RED #2 by Dan Mora
Don't miss your chance to collect all 10 variant covers, coming to comic shops this March!
Celebrate The Life of a Hero with MIGHTY THOR VARIANT COVERS!
Featuring art from Esad Ribic, Leinil Yu, and more!
New York, NY—January 8, 2018—The Mighty Thor's heroic end is coming! THE DEATH OF THE MIGHTY THOR ramps up for an epic finale, and as the final chapters of the Asgardian saga unfold, Marvel is proud to announce its MIGHTY THOR VARIANT COVER PROGRAM. Showcasing different key moments celebrating Jane Foster's run as Thor, the covers feature art by industry superstars such as Leinil Yu, Esad Ribic, Olivier Coipel, Humberto Ramos and Russell Dauterman.
Look for Marvel's Mighty Thor variant covers on these select titles:
AMAZING SPIDER-MAN #797 by Clayton Crain
AVENGERS #683 by Humberto Ramos
BLACK PANTHER #171 by Nick Bradshaw
DAREDEVIL #600 by Leinil Yu
DOCTOR STRANGE: DAMNATION #2 by Ema Lupacchino
INFINITY COUNTDOWN #1 by Russell Dauterman
INVINCIBLE IRON MAN #598 by Dale Keown
MIGHTY THOR #705 by Esad Ribic
NEW MUTANTS #1 by Chris Stevens
OLD MAN HAWKEYE #3 by Olivier Coipel
Don't miss your chance to collect all 10 variant covers, coming to comic shops this March!
AVENGERS #675 Is A Hit! Second Printings On The Way! 
The beginning of Avengers: No Surrender is off to an epic start!
New York, NY—January 10, 2018—The mystery of Voyager, the end of an Avengers Era, the appearance of the Black Order and Lethal Legion, all wrapped up in a weekly story – it's all part of AVENGERS: NO SURRENDER, the most epic Avengers story to date! The action kicked off in AVENGERS #675, and Marvel is excited to announce that the first issue has already gone back for a second printing.
If you missed out on grabbing a copy of AVENGERS #675, we've got you covered! Second printings are heading to your local comic shops, featuring a variant cover with one of Marvel's most talked-about new characters: the intriguing and mysterious Voyager.
AVENGERS #675 SECOND PRINTING VARIANT (NOV178606)
Written by MARK WAID, AL EWING & JIM ZUB
Art by PEPE LARRAZ
Cover by PEPE LARRAZ
On-Sale 2/14/18
AVENGERS #676, the second issue of NO SURRENDER hits comic shops next week – don't miss the story that will change the Avengers, and the world!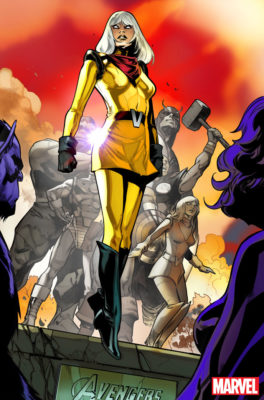 CONAN RETURNS TO MARVEL STARTING JANUARY 2019!
New York, NY – January 12, 2018 – Marvel Entertainment and Conan Properties International are excited to announce the iconic CONAN franchise will return to Marvel next year.
With over 650 issues from 1970 to 2000, Marvel brought fans the adventures of Conan The Barbarian, Conan the Adventurer, Conan the Savage andSavage Sword of Conan among other popular titles.
"From Barry Windsor-Smith to John Buscema to Neal Adams, a legendary line-up of amazing artists brought Conan to life in the pages of Marvel comics," said C.B. Cebulski, editor-in-chief of Marvel. "It's a legacy we're now going to live up to with the talent we have lined up for the Cimmerian barbarian's homecoming in early 2019. We're excited!"
"We're thrilled to be working with Marvel and look forward to the new adventures in store for Conan," said Fredrik Malmberg, President of Conan Properties International. "As the most well-known and creative publisher in the industry, we think Marvel is a great fit for our stories."
With this deal, Marvel will again bring new and thrilling stories for Conan fans around the world. Details on upcoming comic book titles, collections, reprints, and creative teams will be shared at a later date.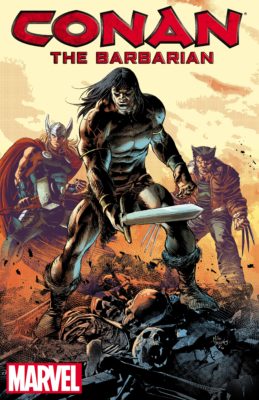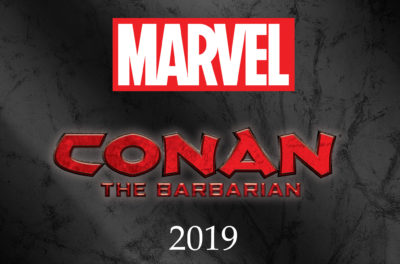 Prepare for the END with the INFINITY COUNTDOWN Checklist!
New York, NY—January 10, 2018—This year, Infinity is the word – and the countdown is on for the beginning of the end! And before you start your hunt for the most important gems in the galaxy, Marvel is here to make sure that you don't miss any of the action with a special INFINITY COUNTDOWN checklist.
Serving as a handy map and designed to help guide readers towards key Marvel issues that have played a role in preparing the Marvel Universe for this epic saga, the INFINITY COUNTDOWN checklist ties it all together – from the first reappearance of the Infinity Stones in ALL-NEW GUARDIANS OF THE GALAXY to the upcoming INFINITY COUNTDOWN PRIME #1. And fans can download this digital checklist to whatever device they choose, placing it right at their fingertips for easy access! (Retailers can find a file on the Diamond retailer page.)
It all leads into the mega Infinity tale and battle that will change the balance of cosmic power. Download Marvel's INFINITY COUNTDOWN checklist today, and don't miss out on all the action in INFINITY COUNTDOWN #1, coming this March!
INFINITY COUNTDOWN PRIME #1
Written by GERRY DUGGAN
Art and Cover by MIKE DEODATO
On-Sale – 2/21/18
INFINITY COUNTDOWN #1 (of 5)
Written by GERRY DUGGAN
Art by AARON KUDER
Cover by NICK BRADSHAW
On-Sale – 3/7/18