Today is the 25th anniversary of Mickey's Toontown at Disneyland!  It's actually, in my opinion, one of the best themed Disney lands in any of the parks.  So, I think it deserves some fanfare.
It had been the first new land in two decades at the original magic kingdom.  It was based on Who Framed Roger Rabbit?, but having it be Mickey's Toontown seems a bit more appropriate at Disneyland.
At Disneyland today, guests were able to grab a special fun fact collectible card to commemorate the anniversary.  Special hold up frames and props were available for photo taking of guests.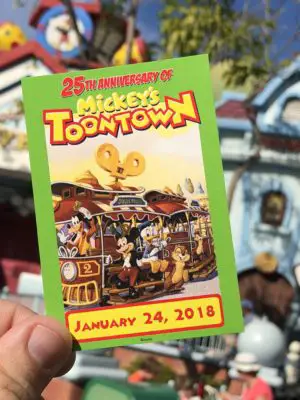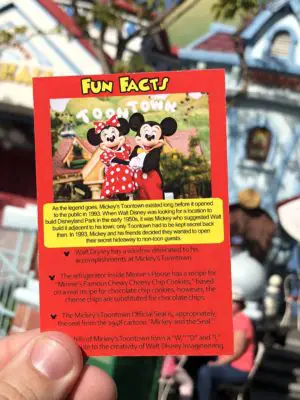 Perhaps the most special thing to mark the occasion was the plethora of toons throughout the land.  Donald, Daisy, and Scrooge McDuck were situated over by the fountain at Roger Rabbit's Car Toon Spin.  Marie, from the Aristocats, perched at Toontown Park.  Goofy and his son, Max, were located in front of their house.  Over by Chip and Dale's Treehouse were the two chipmunks who were also joined by Clarice.  They'd switch out with Horace Horsecollar and Clarabelle.  Pluto had maybe a slightly sad location being by the dog pound at times.  Mickey and Minnie were at their respective houses.
It wasn't a huge celebration, but a fun one.  It was nice to have some unique characters out for fun photo opportunities.  It also provided some wonderful interactions.
Here's to more years with the land that toons built!  And I'll leave you with a fun fact: Did you know there was a morning kids' television program that took place at Mickey's Toontown?  It was all live action and had its own theme song!