A Tigger Tail Will Brighten Any Day
The Disneyland Resort is known for its sweet treats. From the classic churro carts to the Gibson Girl Ice Cream Palor, there's another dessert option everywhere you turn! But have you tried the sugary goodness of a Tigger Tail? It's one of my favorites!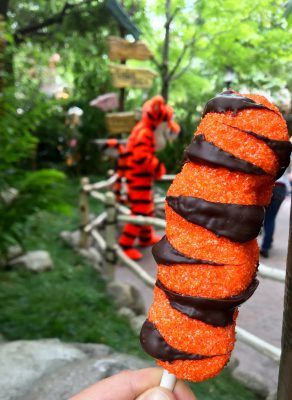 Alongside Its Namesake
As you can see, the design fits the title! The bright orange sprinkles and dark chocolate stripes give the appearance of Tigger's Tail! I really love how they captured this beloved character in a snack.
Growing up, I loved Pooh and Friends. In fact, The Many Adventures of Winnie the Pooh was my favorite attraction. Now this area of these characters and corner of the park bring me bittersweet feelings of nostalgia.
The Good Stuff Inside
What's in a Tigger Tail? Rest assured, no Tiggers were harmed in the making of this item. It features four large marshmallows skewered together. This stack is then dipped in luscious caramel. Next, it is encased in white chocolate, surrounded entirely by orange sprinkles. Finally, dark chocolate is applied in order to form tiger-like stripes.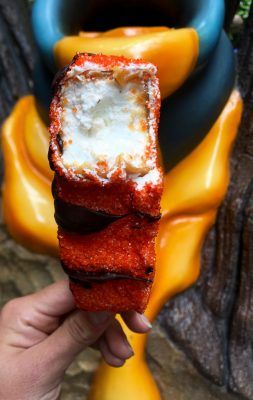 This photo gives you an inside look of the delicious layers. This may sound like a lot of sugar, and it is! But that is what makes this fun for an occasional treat. Tigger Tails are perfect for that sometimes insatiable sweet tooth.
Among Many Sweets from Pooh's Corner
Pooh's Corner is a wonderful little candy shop. Fresh, grab and go, and bulk candies and treats are available inside. Near the exits for The Many Adventures of Winnie the Pooh and Splash Mountain you will find the store in the farthest edge of Critter Country.
I love to visit this store just to gaze at all the wonderful food. The atmosphere is magically nostalgic, with soft lighting and familiar characters all around.
Fresh desserts include the Tigger Tail, cookies, cupcakes, fudge, and more. Chocolates, sours, and hard candies by the Disney brand are also available for sale. Mix and match your favorite flavors of jelly beans sold in bulk.

Magic in the Making
In the far side of the shop, just a window separates guests from the candy makers hard at work. I love watching these desserts come to life. Such a meticulous approach is taken to getting each detail right, consistently across every item. The process is always impressive!
Tigger Tail treats happened to be in the works on this day! You can see the marshmallow sticks and caramel start to take shape here. With enough time and dedication, one might be able to see a whole dessert come together.
If you are in need of calming entertainment, I advise you to visit the candy makers. The best part, however, is tasting the treat fresh from the case!