Happy Father's Day!  I'm glad to have a new round of Marvel news this day because it was my dad that first introduced me to comics.  He had a Captain America, Spider-Man and Green Lantern comic he handed down to me and would take me to comics shops every week for new comics.  With that, here's this weeks news!
DISNEY HONORS JACK KIRBY WITH A DISNEY LEGENDS AWARD AT THIS YEAR'S D23 EXPO
Founding Father of the Marvel Universe is one of the First Honorees from Marvel
New York, NY—June 16, 2017— This July, Jack Kirby will be honored for his remarkable creative achievements as a Disney Legend in a ceremony to be held at D23 Expo: The Ultimate Disney Fan Event in Anaheim, California.  Hosted by Disney Chairman and CEO Bob Iger, the Disney Legends Award ceremony will take place at 10 a.m. on Friday, July 14, in Hall D23 during D23 Expo 2017.
JACK KIRBY first grabbed our attention in the spring of 1941 with Captain America, a character he created with Joe Simon.  Kirby then followed this debut with a prolific output of comic books in the Western, Romance, and Monster genres–all a prelude to his defining work helping to create the foundations of the Marvel Universe.  For the next decade, Kirby and co-creator Stan Lee would introduce a mind-boggling array of new characters and teams — including the Avengers, Hulk, Thor, Iron Man, Silver Surfer, Ant-Man, Wasp, Black Panther, S.H.I.E.L.D., and the Inhumans.  Kirby was inducted into the Eisner Hall of Fame's 1987 inaugural class and continued creating comics throughout the '90s before passing away in 1994.
Other honorees of this year's Legends Award are Carrie Fisher, Clyde "Gerry" Geronimi, Manuel Gonzales, Mark Hamill, Stan Lee, Garry Marshall, Julie Taymor, and Oprah Winfrey.
Please join us as we honor JACK KIRBY as he is inducted as a prestigious Disney Legend at D23 Expo 2017. For more information about the Disney Legends and D23 Expo, visit D23expo.com.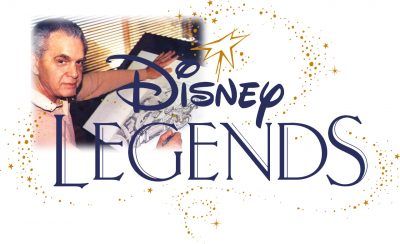 The First Order Strikes Back! Your First Look at JOURNEY TO STAR WARS: THE LAST JEDI – CAPTAIN PHASMA #1!
Marvel Comics Presents the Essential Bridge Between STAR WARS: THE FORCE AWAKENS and STAR WARS: THE LAST JEDI!
New York, NY—June 9, 2017—It's the galaxy's big mystery: How did Captain Phasma survive the destruction of the Starkiller Base in the final moments of Star Wars: The Force Awakens? All will be revealed this September, when superstar writer Kelly Thompson (Hawkeye, Star Wars Annual) teams with blockbuster artist Marco Checchetto (Star Wars: Shattered Empire, Star Wars: Screaming Citadel) to bring you JOURNEY TO STAR WARS: THE LAST JEDI – CAPTAIN PHASMA #1, a four-part miniseries bridging the events between Star Wars: The Force Awakens and the upcoming Star Wars: The Last Jedi!
Captain Phasma's fate seemed like it was sealed when she was cornered by the Resistance and thrown into a garbage compactor before the Starkiller Base was destroyed. But it's going to take much more than that to keep this chrome-armored warrior down!
"The Star Wars films, with so many fantastic characters, obviously can't be a 'Phasma story,' and it's especially cool that Phasma is getting explored in depth in both her forthcoming novel and comic book," said series writer Kelly Thompson. "The most exciting thing to me about our mini-series is that we were given the awesome responsibility of bridging a gap between Force Awakens and Last Jedi – of answering the question of what happened to Phasma after she went into that trash chute. Anytime you get to write official Star Wars is pretty incredible, but getting to decide what that link is, for a super intriguing character in some of the most epic movies of all time, is next level!"
As you prepare up to welcome Captain Phasma back into your life in Star Wars: The Last Jedi, don't miss the thrilling and epic story of the First Order's most formidable stormtrooper in JOURNEY TO STAR WARS: THE LAST JEDI – CAPTAIN PHASMA #1, on sale this September!
JOURNEY TO STAR WARS: THE LAST JEDI – CAPTAIN PHASMA #1 (OF 4)
Written by KELLY THOMPSON
Art by MARCO CHECCHETTO
Cover by PAUL RENAUD
Variant Cover by MARK BROOKS
Black and White Variant Cover by MARK BROOKS
Funko Variant Cover by DIEGO OLORTEGUI
Where's Phasma Variant Cover by TODD NAUCK
Homage Variant Cover by PAULINA GANUCHEAU
Young Variant Cover by SKOTTIE YOUNG
Blank Variant Cover and Movie Variant Cover also available
Who is the Other Miles Morales?
Your New Look at Marvel Comics' SPIDER-MEN II #1
New York, NY—June 16, 2017 — THIS IS IT, TRUE BELIEVERS! The moment five years in the making is finally here! The first time Peter Parker and Miles Morales met ended with a question — WHO IS THE MILES MORALES OF THE MARVEL UNIVERSE?! Now that the Miles you know and love is with Peter in the Marvel Universe, you're finally going to get that answer to who the OTHER Miles Morales is! And that's just the tip of the iceberg as Brian Michael Bendis (Defenders, Spider-Man) and Sara Pichelli (Spider-Man) bring you the next heart-stopping adventure for both Peter Parker and Miles Morales with Marvel Comics' SPIDER-MEN II!
Speaking with Marvel.com, Bendis spoke towards Peter and Miles both holding onto the Spider-Man title in the Marvel Universe, "One of my favorite things about a shared universe, is that on top of what you're writing for the characters, other things are happening to the characters, like now Miles is in the new universe, and now he's a part of the Champions, and half of [Civil War II] was people fighting over his head, so things have changed in his life, and his relationship to the Marvel Universe is completely different than it was in the first series and that's exciting."
Get ready for SPIDER-MEN II swinging into stores this July from Brian Michael Bendis, Sara Pichelli and Justin Ponsor and prepare for this sense-shattering tale by reading the first issue of SPIDER-MEN now for through the Marvel Comics app and in Marvel Unlimited!
SPIDER-MEN II #1 (of 5) (MAY170813)
BRIAN MICHAEL BENDIS (W) • SARA PICHELLI (A)
Cover by SARA PICHELLI and JUSTIN PONSOR
Variant Cover by DANIEL ACUÑA (MAY170814)
Variant Cover by KADIR NELSON (MAY170816)
Variant Cover by JULIAN TOTINO TEDESCO (MAY170817)
Connecting Variant Cover by JESÜS SAIZ (MAY170815)
FOC – 6/19/17, On-Sale – 07/12/17
Marvel's Best Standing Side-by-side for a Legendary Line-up  
— This is Marvel Comics' GENERATIONS!
The bridge into the future of the Marvel Universe begins this August!
New York, NY—June 15, 2017— In a flash, the Marvel heroes are offered a gift: to stand shoulder-to-shoulder with those who came before them, free from the burdens of past, present, and future – where time has no meaning. Within the Vanishing Point, through the course of these action-packed adventures, our heroes will discover what is needed to usher in the future of the Marvel Universe. This August, prepare for Marvel'sGENERATIONS!
This epic 10-issue series brings together iconic and present day heroes such as Miles Morales and Peter Parker, Amadeus Cho and Bruce Banner, Iron Man and Ironheart, Laura Kinney and Logan, and many more of your favorite characters. "GENERATIONS unites the present day heroes of the Marvel Universe with their forbearers from the past in order to chart the course of the future!" says SVP and Executive Editor Tom Brevoort. "These ten adventures are the stepping stones to everything that is to come for all of these characters!"
The stories of GENERATIONS begin at the Vanishing Point, and these epic tales offer fans a direct bridge and prelude into the sense-shattering Marvel Legacy, as the challenges and revelations of GENERATIONS will alter the destinies of our heroes moving forward in a dramatic fashion!
These heroic journeys all launch from the same point: the Vanishing Point! Coming to comic shops this August!
Generations: The Best starring Wolverine and All-New Wolverine
Written by TOM TAYLOR
Art by RAMON ROSANAS
Generations: The Americas starring Steve Rogers: Captain America and Sam Wilson: Captain America
Written by NICK SPENCER
Art by PAUL RENAUD
Generations: The Bravest starring Captain Mar-Vell and Captain Marvel
Written by MARGARET STOHL
Art by BRENT SCHOONOVER
Generations: The Thunder starring The Mighty Thor and The Unworthy Thor
Written by JASON AARON
Art by MAHMUD ASRAR
Generations: The Strongest starring Bruce Banner and Amadeus Cho, the Totally Awesome Hulk
Written by GREG PAK
Art by MATTEO BUFFAGNI
Generations: The Archers starring Hawkeyes, Clint Barton and Kate Bishop
Written by KELLY THOMPSON
Art by STEFANO RAFFAELE
Generations: The Iron starring Iron Man and Ironheart
Written by BRIAN MICHAEL BENDIS
Art by MARCO RUDY
Generations: The Marvels starring Ms. Marvel and Ms. Marvel
Written by G. WILLOW WILSON
Art by PAOLO VILLANELLI
Generations: The Spiders starring Peter Parker: Spider-Man and Miles Morales: Spider-Man
Written by BRIAN MICHAEL BENDIS
Art by RAMON PEREZ
Generations: The Phoenix starring The Phoenix and Jean Grey
Written by CULLEN BUNN
Art by RB SILVA
The future of the Marvel Universe is coming – this is GENERATIONS!
Make Mine Marvel with MARVEL LEGACY #1 this September!
A New Era for Marvel, and Flawless Entry Point for all Fans, Begins this Fall with a 50-page Blockbuster One-shot from Jason Aaron and Esad Ribic!
New York, NY—June 16, 2017—An Asgardian titan. A Wakandan warrior bred to be a king. The very first Sorcerer Supreme.
Since its inception, Marvel has been delivering groundbreaking heroes and explosive stories. Now, prepare to return to the dawn of time, as Marvel introduces you to the first Avengers from 1,000,000 BC – when iconic torch-bearers such as Odin, Iron Fist, Star Brand, Ghost Rider, Phoenix, Agamotto, and Black Panther come together for the startling origin of the Marvel Universe, in MARVEL LEGACY #1!
The acclaimed team of writer Jason Aaron (Mighty Thor) and artist Esad Ribic (Secret Wars) reunite for an all-new 50-page blockbuster one-shot that will take you through time to the current Marvel Universe, showing you how it's truly "all connected." A true homage to Marvel's groundbreaking stories, MARVEL LEGACY brings your favorite characters together for exciting and epic new stories that will culminate in returning to original series numbering for long-running titles.
"MARVEL LEGACY #1 isn't simply a history lesson," says SVP and Executive Editor Tom Brevoort. "Rather, it's the starting gun to a bevy of mysteries and secrets and revelations that will reverberate across the Marvel Universe in the weeks and months to come! No character, no franchise will be untouched by the game-changing events that play out across its pages. Jason and Esad pulled out all the stops to fat-pack this colossal issue with as much intrigue, action, surprise, mystery, shock and adventure as possible!"
"MARVEL LEGACY #1 will present all fans – new readers and current readers – the very best jumping on point in the history of comics," says Marvel Editor in Chief Axel Alonso. "What Jason and Esad have crafted is more grand and more gargantuan than anything we have ever seen before and introduces concepts and characters the Marvel Universe has never encountered. Fans are going to witness an all-new look at the Marvel Universe starting at one of the earliest moments in time carried all the way into present day. Not only will this be the catalyst for Marvel evolving and moving forward, but expect it to be the spark that will ignite the industry as a whole."
This September, prepare to MAKE MINE MARVEL with the most surprising, suspenseful, mysterious, astonishing tale ever told, featuring appearances from almost every beloved Marvel hero! It all leads to the return of a major Marvel icon in a shocking reveal that will leave fans speechless!
True believers: this book has it all! Dive into all the excitement when MARVEL LEGACY #1 comes to comic shops everywhere this September!
MARVEL LEGACY #1
Written by JASON AARON
Art by ESAD RIBIC
Double Gatefold Cover by JOE QUESADA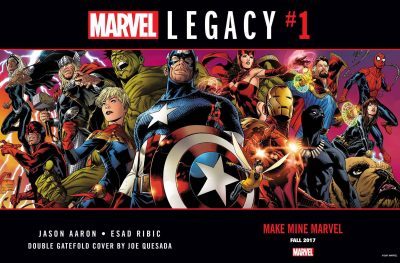 Marvel Comics and Dustin Bates of Starset Debut an Original Graphic Novel,
THE PROX TRANSMISSIONS

New York, NY—June 15, 2017— Marvel Comics is proud to announce a unique collaboration with Dustin Bates, lead singer and founder of the multi-media, modern rock band Starset, along with fan-favorite writer, Peter David (Ben Reilly: Scarlett Spider, Spider-Verse) for an all-new original 88-page graphic novel, THE PROX TRANSMISSIONS.
Inspired by the likes of Nikola Tesla and Carl Sagan, Starset's albums, along with videos, websites, novels and one-of-a-kind live performances, were created as part of the over-arching concept, The Starset Society. Where science and fiction collide, The Starset Society is dedicated to publicizing emerging, near-future technologies and investigating their inevitable social, economic, political, and philosophical impact on society. Through this enlightening exploration, The Starset Society has teamed up with Marvel Comics to produce a one-of-a-kind adventure like nothing seen before.
A secret transmission from the far reaches of the galaxy falls into the hands of SETI radio astronomer Dr. Stephen Browning. His world begins to unravel as he discovers the cryptic message including information of advanced technology and a dire warning from the future. After Browning seeks aid of brilliant-yet-impetuous playboy Dr. Aston Wise, the two set off on an epic journey to discover the meaning of the transmission, only to discover that they are pawns in a much bigger game.  Humanity hangs in the balance as powerful forces vie for control of the future, with only Wise and Browning to stop them.
"I'm incredibly excited to have the opportunity to create this graphic novel with Marvel Comics on behalf of The Starset Society," said Bates. "I've been a fan of Marvel since I was a little kid wishing I was the Hulk (and little did I know how much I'd end up identifying with Bruce Banner as I grew into adulthood). It's an honor to be working with such an iconic brand to spread the inception story of the Society via The Prox Transmission."
Presenting an entirely unique and original graphic novel, THE PROX TRANSMISSIONS delivers a powerful scientifically-charged allegory in the form of a new literary movement this September from Dustin Bates, Peter David, The Starset Society, and Marvel Comics.
THE PROX TRANSMISSIONS
WRITTEN BY DUSTIN BATES & PETER DAVID
ARTWORK BY MIRKO COLAK & MORE
COVER BY SKAN
88 PGS.
ISBN: 978-1-302-90810-2
On sale this September!