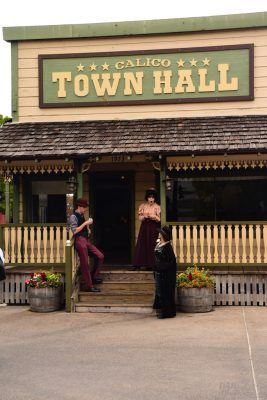 Knott's Berry Farm has some great offerings for the summer season in 2017.  Take a look at some reasons to visit this iconic park.
1. Ghost Town Alive
This is the oldest part of the park, yet the newest to have something unique to offer out of any theme park.  Ghost Town Alive is where the fictional town of Calico has various residents that truly make this a real western town.  There's a whole story to get involved in, where an outlaw family called the Mayfields are trying to take over the town.  Guests are able to help the town or help the Mayfields.  An election is held for the new Sheriff, and that can change events for the whole day.  I've mostly seen a resident of Calico become Sheriff, but this last time there was a Mayfield that was elected.  That, of course, spelled trouble for the town.
Something new for 2017 is the addition of clue boxes scattered around Ghost Town.  They are marked with a raven symbol and provide information to finally do away with the Mayfields…at least for the day.
What is great about Ghost Town Alive is that it's different everyday.  There's no telling what will happen throughout your interaction with the townsfolk.  And, each day culminates in a Hoedown for Founders Day.  Yes, that means that everyday in the summer is Founders Day.  But, it's a great thing to celebrate!  This is one of the best theme park attractions I've ever seen.  It isn't just immersive because of the decor, but also because the guests are truly part of the action!  And the theme is incorporated into quite a bit of other shows and attractions throughout the park.
2. Western Style Entertainment
Throughout the day there are great opportunities for fun shows.  A new Wild West Stunt Show subtitled Frontier Feats of Wonder gets the action started fast.  The Mayfields are involved in the show, causing trouble like they do in the town.  One of them wants to marry the sister in the brother/sister Feats of Wonder team.  This causes mayhem as guns are slinged and fights occur between the wild west entertainers and Mayfields.
The show is fast paced and has a lot happening.  There's great humor involved as well.  It's a good show to take a break while getting some thrills in.  The show happens at the Wagon Camp Theater.
Also at the Wagon Camp Theater, but in the evening is the great group known as Krazy Kirk and the Hillbillies.  This bluegrass band has become a staple of the Knott's Berry Farm entertainment roundup.  Their unique style of bluegrass and comedy keeps toes tapping and laughs going!  Each show has fun surprises too.
3. Snoopy's Magnificent Magical Revue
In addition to some other great shows around Calico, there are others around the park!
Snoopy and the Peanuts gang star in a new magic show with magician Greg Wilson.  The show combines illusions with a few song and dance numbers.  It centers around Snoopy wanting to be a master magician but needing to earn it.
When I first entered the theater I was amazed at the stage set.  It had a great feel and some distinct set pieces.  As the show progressed the set kept transforming as if…well…magic!
Greg Wilson is a great illusionist that had me intrigued and amazed.  Though I had seen some of the tricks before he did them at such a fast pace that it kept me entertained and guessing.
It was a nice addition to have some song and dance numbers.  It kept everything moving and fun.  In all this is a show to not be missed!  And having some varying audience participation means the show will be different each time you see it!
4. Circus of Wonders
If you see any show at Knott's this summer season this is the show to see!  The circus has come to Calico town, but it's not like any usual circus.  This is a very acrobatic circus with some terrific dance numbers as well.  From the get go the entrance had me entranced.  The Calico train pulls up with the circus troupe while a few are already making their way on stage.  A large mechanical elephant parades out as many of the dancers and acrobats dance around.
Among the great feats are trapeze artists, a tightrope walker, a fire dancer, and contortionist…just to name a few!  I was impressed with every act!  In between the ringmaster tells tales of the circus, even enlisting some audience help.  The ringmaster was such a delight and brought some nostalgia to the performance.  Although I must say I've never seen an old time circus, but this is what I imagine much of it to be.  The stunts were incredible, the songs wonderful!  I almost didn't see the show and now I want to go back just to see it!  Don't miss this wonderful parade of acts!
5. Great Attractions and Food
While attractions and food are present at the park throughout the year, these are icing on the cake to a day at Knott's.  There is a new attraction over in Fiesta Village, though.  Sol Spin is a very unique ride that provides thrills as you are whipped around in a colorful vehicle.
There are great places to grab a bite to eat around the park, and Knott's has some of the best.  When our team went recently we were more than pleased with the Cowboy Fries which tops a bed of fries with guacamole, sour cream, cheese, and carne asada.  And it is included in meal plans!
Having great rides and great food rounds out a great visit to Knott's Berry Farm.  Like I said, there are already great reasons to go, but these other things make it even better!
If you are looking for something to do in Southern California, hit up Knott's Berry Farm for a great day!  These shows and Ghost Town Alive will only be around until September 4, so be sure to get over there before then!
Daps Magic received a sample product or experience for this review in exchange for an honest review. The views of the reviewer are wholly their own. Read full disclosure policy here.