Carnation Café Delivers Comfort Food in Charming Setting
Nestled in the West side of Main Street, Carnation Café is a sit down restaurant. Walking along this famous route, it is easy to miss. Look for the large light-adorned sign and red striped awning, among the similar store fronts.

Carnation Café  Offers Breakfast and a Lunch and Dinner Menu
Celebrating a recent promotion, my friend and I decided to visit Carnation Café twice in one day. I made reservations easily through the Disneyland App. For breakfast on a week day, we could have skipped making reservations, as when we arrived there were many empty tables. For lunch, I was glad to have made reservations, as the restaurant was full with parties of various sizes. If you did not make reservations, feel free to drop in and ask the wait time. Pagers are given to alert you when your table is ready, so you can explore the nearby shops within range while you wait.
Breakfast on the Patio
For breakfast we requested to sit outside, despite the overcast skies. There were quite a few empty tables, and one waiter remarked that many guests with reservations were late due to security slow downs. The restaurant will hold reservations for 10-15 minutes.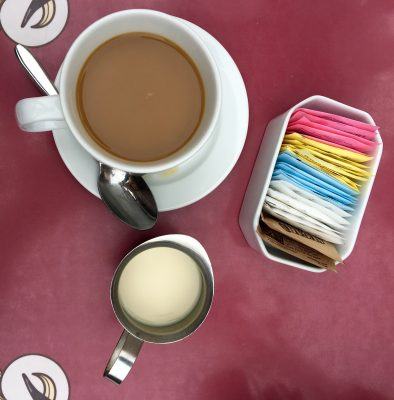 A Necessary Starter: Coffee
Carnation Café offers espresso beverages, hot chocolate, and drip coffee. I decided to try the Joffrey's drip coffee. Cream and sugar are available. I requested a non-dairy alternative and received a small pitcher of soy milk.
I was pleased with this restaurant style coffee and excited about having soy. The coffee delivered the caffeine I need to start my day right.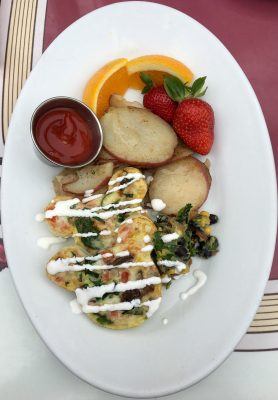 The Healthy Choice: Spinach and Tomato-Egg White Frittata
This frittata comes with mushrooms, sour cream, and avocado-black bean pico de gallo. On the side are Café breakfast potatoes and fruit.
This menu description failed to mention a key aspect. Upon seeing the item delivered to another table, I realized the frittatas are Mickey shaped! This made me much more excited for my meal. I adore anything Mickey shaped.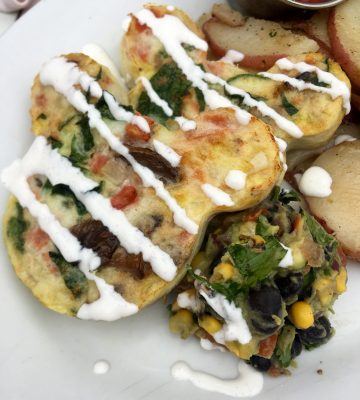 Upon receiving my serving, I was somewhat disappointed. I found the fritatta to be bland. I like spicy, so for me this breakfast needs salsa. The avocado black bean pico de gallo is tasty, but has no kick.
I went as far as to ask for salsa or Sriracha, but Tabasco is the only hot sauce available. Some heat would greatly improve this breakfast.
The two fresh strawberries and orange slices were nice additions.
Comfort Food Spotlight: Country Fried Steak and Eggs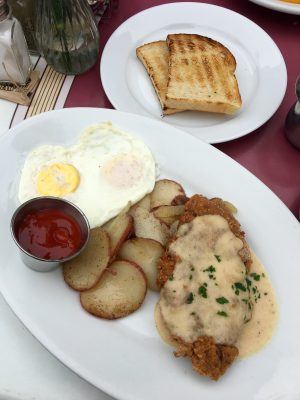 Country fried steak is topped with country gravy and served with two eggs, Café breakfast potatoes, and choice of toast. Today we chose over-medium style eggs and sourdough toast.
This breakfast is extremely savory. The strongest flavor is black pepper, present in the batter and gravy. Unfortunately, the steak was a little chewy. The breading added crunch, but once past that initial bite, I was not a fan the texture.
In my previous experience of country fried steak, it has always been a giant serving. This seemed tiny in comparison to most country fried steak. I think this is too expensive for the portion, so I would not order this again.
Breakfast Potatoes: Good but Not Great
The Cafe breakfast potatoes are an enjoyable addition to most menu items. While a little greasy, I like the onions and light spices flavoring them. The red potatoes were soft but not too soft, giving a nice bite. Ketchup comes automatically on both plates, unnecessarily.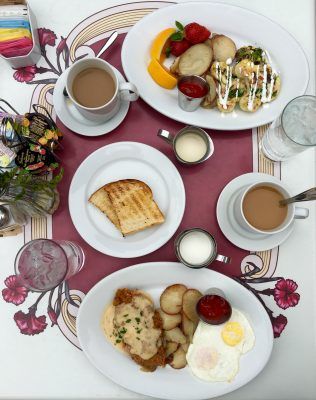 Final Thoughts on Café Breakfast
Breakfast in the parks has never impressed me, and the trend continues at this location. I love breakfast, but I feel Disneyland misses the mark in flavor and portion size for this meal.
That being said, the experience of breakfast right on Main Street is certainly worth trying at least once. There are many breakfast items I did not try, including an omelette and eggs Benedict, so I will not completely write off the menu yet.
Lunch Inside the Carnation Café
The inside portion of the restaurant is visually quite different. Dark wood, gentle lighting, and many iterations of carnations surround you indoors. This is a calm, comfortable environment, quite separate from the hustle and bustle of Main Street USA.
For this lunch, we ordered the Spinach Salad with Grilled Chicken and Roasted Turkey Sandwich.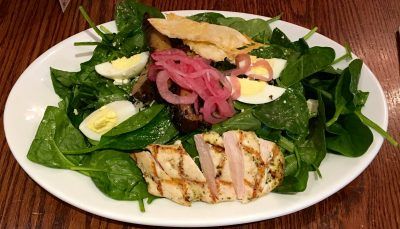 Grilled Chicken Salad: A Large and Satisfying Meal
This salad features grilled chicken, spinach, boiled eggs, portobello mushrooms, feta, and pickled onions. Dressed with a golden balsamic-mustard seed vinaigrette.
The interesting dressing attracted me to this salad. I love balsamic and honey mustard dressings but had yet to experience such a hybrid. The new combination was delicious, sweet and tangy. It seemed to be more honey mustard than balsamic, and I thoroughly enjoyed the moderate amount included.
The portobello mushrooms have a nice grilled flavor. The texture is perfect, soft but not soggy, retaining some bite. The pickled onions are strong and sharp, served in an appropriately small portion on top.
This grilled chicken is served cold. I prefer warm, freshly cooked chicken to contrast with cool salads like these, but nonetheless I appreciated the generous protein serving. I must say that the toppings need to be cut smaller. The menu described this as a tossed salad, but it is very compartmentalized until you chop and combine it yourself.
I enjoy the large size of this salad, making it filling. The toppings to greens ratio is perfect. The spinach is crisp and completely fresh.
One unique aspect of this salad is how savory it is. Aside from the dressing, there are no sweet additions. I think this makes it a stand out choice for when a sweet salad does not sound appetizing.
Roasted Turkey Sandwich: Modified to Our Liking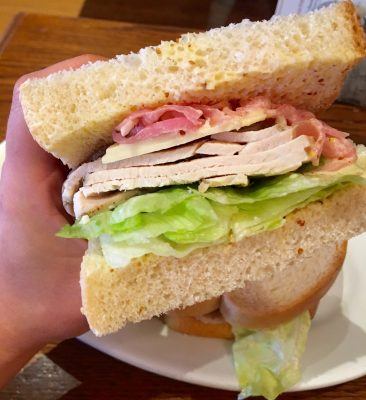 The menu description of this sandwich is "freshly sliced turkey, tomatoes, monterey jack, lettuce, pickled onions, and mustard aïoli on a potato roll served with your choice of fresh fruit or seasoned french fries."
For this lunch we substituted sourdough, which turned out to be a great choice. The bread was thick and soft, holding up well to the contents of the sandwich.
The overriding flavor came from the strong aïoli. It offered Dijon and vinegar notes to every bite.
Thick cut turkey slices are central to this simple, yet hearty, sandwich. The white cheese balances well with the pickled onions. 

French Fries: Best in the Park
I was pleasantly surprised to find perfect french fries at Carnation Cafe. Medium cut with skin on, these are very crunchy. The fries are seasoned with just the right amount of season salt and parsley. Additionally, the country ranch is worth asking for!
Lunch Saves the Day
After breakfast, I was not all that excited to return for lunch. However, the food really impressed me on our second visit. I would highly recommend making a lunch or dinner reservation, as the later menu seems much more flavorful. On my next visit, I will be sure to try the meatloaf!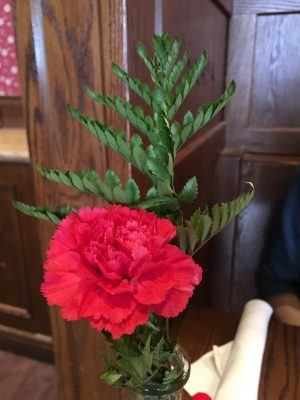 Traditional Sit Down Service is Enjoyable
A real carnation flower sits in a vase on every table and light pink cloth napkin rolls are placed at each seat. These beautiful touches elevate this location from most other Disney eateries.
The servers seem to be a mixed group. Some servers are very enthusiastic about your experience, while others do the bare minimum.
During breakfast, a chef came out and talked to another table. He took the time to joke with the kids and give out "pictures of his boss," also known as Mickey stickers. His kindness and willingness to ensure guests are enjoying their time in the restaurant was impressive.
This location is perfect for special occasions. They have multiple servers gather to sing for birthdays. The guest of honor receives a chocolate cupcake as well.
Carnation Cafe Presents a Wonderful Meal Opportunity
The atmosphere varies between the inside and outside portions of the restaurant.
Indoors, you feel like you are in a regular restaurant, outside the resort. The mood is relaxing, giving you a break from the excitement of Disneyland. This would be great to recoup after a long day or to enjoy quality time among your companions, with fewer distractions.
Sitting on the patio outside maintains the Disneyland feeling. You can see Main Street and all of its happenings. It would be fun to reserve an outdoor table during a parade, in order to hear the music and get glimpses of the floats, while being able to enjoy a comfortable seat and a meal.
When you make your way to the Carnation Café, be sure to take note of all of the carnations! From the sign on Main Street to the backside of the menu, the namesake flower is everywhere.