Day Three of Star Wars Celebration Orlando 2017 was full of rebellion, battles, and theme parks! The day's highlights include the panel for Star Wars Rebels, Disney Theme Parks, and Battlefront II. There was also some fun with Anthony Daniels and others but these are the three big highlights of the day.
Star Wars Themed Lands in Disney Theme Parks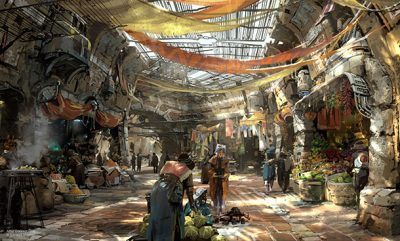 While it has been known that the Star Wars themed lands will be coming to Disneyland and Disney's Hollywood Studios, more was revealed today during the Star Wars and Disney Parks: A Galaxy in the Making panel. The locations portrayed in these new lands will be that of a once busy waypoint before hyperspace. Now, it is often passed by and often forgotten…especially by the First Order. It is now a thriving port for smugglers, adventurers, and rogue traders. There will be quite the array of characters who are thriving in this "no questions asked" environment. Many will be looking for new crew members to join on their adventures. There will be lots of new characters and new droids…and new experiences.
The Star Wars themed land will give guests the chance to choose their experience. They can help the Resistance or join forces with the First Order. They will be able to actually take part in flying the Millennium Falcon! Then there is the First Order versus the Resistance attraction… which is being described as the most epic attraction ever! Outside of the attractions there will be food, and of course blue milk.
For the current Star Wars themed experiences, there is an update coming to Star Tours: The Adventures Continue later this year ahead of Star Wars: The Last Jedi. This will let guests experience a new mineral planet Crait. It promises to be an exciting new adventures as fans blast off on their space tours.
Battlefront II
Set between the events of Return of the Jedi and The Force Awakens, Star Wars Battlefront II gives players the opportunity to experience the Star Wars galaxy as they battle on land and in space. It offers an expanded multiplayer experience with iconic heroes and villains, epic space battles, and a deep progression system that is customizable. Players will also get the opportunity to play through the story of Iden, an elite Stormtrooper in an original single-player story.
Star Wars Rebels
Star Wars Rebels is back, but only for one more year. Today during the panel for the show Dave Filoni announced that the show will be ending after the coming season. It also sounds like the show will be darker with some more serious consequences when it returns to Disney XD this fall. Characters will be developed even more. Connections will be developed even more (Saw Gerrera will be returning with Forrest Whitaker voicing him). New characters that might not be so new will appear, specifically Rukh (voiced by Warwick Davis) from Heir to the Empire. During the panel it was also hinted that Boba Fett could be showing up in the fourth and final season of Star Wars Rebels! This will be a season and show that should not be missed!
Day Three of Star Wars Celebration Orlando 2017 was an exciting day. While it might not be as glamorous as a new trailer from one of the main trilogy movies, it still had lots of news that was filling in the gaps. From theme parks, to tv shows, to video games, it was a day that should not be missed!
Continue to follow DAPs Magic as we cover Star Wars Celebration Orlando 2017. Make sure and subscribe in the form in the right column.
May the Force be with you!