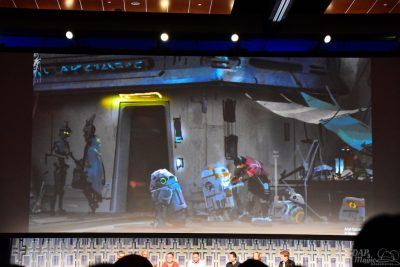 Disney Parks hosted a panel at the Star Wars Celebration to tell of what is coming up for the much anticipated Star Wars Lands at Disneyland and Disney's Hollywood Studios.  They promised to give some news on the upcoming area of the parks, and they delivered!
Before they got to details, a bit of a history was given about Star Tours – the first Star Wars themed attraction at a Disney park.  Anthony Daniels and Tom Fitzgerald talked about recording his movements for the preshow.  They also were able to say what is coming up for Star Tours – The Adventures Continue.  Crait, the spice mining planet in The Last Jedi, will be the featured destination.  Daniels also noted that they are set to record dialogue this next week!
Then, it was onto Star Wars Land with Asa Kalama, Dough Chiang, Pablo Hidalgo, Wendy Anderson, Chris Beatty, and Scott Trowbridge.  These are members of the team coming up with the new land, and are comprised of Imagineers and Lucasfilm folk.
The land will be very immersive.  First, the environment has influences from around the world, like Istanbul.  Second, the idea is that this is a new planet to fans, but has been around the Star Wars universe.  It sounds like it will be canon.
The timeline is that it's post original trilogy.  The Resistance and First Order have presence there.  And, there will be an attraction that puts guests in the middle of a battle between the sides.
The Millennium Falcon attraction will have guests piloting the iconic ship and choosing what ends up happening to it.  In Disney fashion, the crew will get to their destination, but in what shape the ship will be determines some of the course and aftermath.  The aftermath I'm talking about is that residents of the village could know that you broke the ship and comment on it as you walk around the land.
That describes the kind of place this will be, that it will immerse everyone in the story and put people in the action.  Stunt shows will take place on rooftops.  Food will be served from recycled Pod Race engine grills.  This will be an incredible place to visit in any of the Disney parks!