IRON FIST #1 Packs a Mean Punch This March – Your First Look!
New York, NY—February 22nd, 2017 — This March, prepare for a hard-hitting, fist-flying, high-octane epic as Danny Rand faces a gauntlet of deadly kung-fu masters in the all-new IRON FIST #1! Creators Ed Brisson (Bullseye) and Mike Perkins (Deathlok) put the titular hero through the wringer as he squares off against foe after foe – each more lethal than the last!
Danny has always straddled two worlds – Earth and the mystical realm of K'un–Lun. Now, with K'un–Lun in ruins, he'll question his place in both more than ever. The chi fueling his fists is wavering, yet still he fights on. Fighting to prove his worth, he'll push himself to his breaking point. But a bigger battle than he can handle may have found him first. Whisked away to the mysterious island of Liu-Shi, he'll come face-to-face with the fight of his life! With nothing but his fists and his feet, the Immortal Iron Fist will step into the ring with the island's deadly Seven Masters! Each possessing mystical power and each with their own vendetta against the Iron Fist, what hope does Danny stand against the Bull, the Bear, the Eel, the Rabbit, the Rat, the Snake and theWolf?!
A trial of mythic proportions awaits, True Believer. Fists and feet will fly when IRON FIST #1 comes to comic shops and digital devices everywhere on March 22nd!
For more information, visit Marvel.com for an exclusive interview with Ed Brisson complete with never-before-seen character designs!
IRON FIST #1 (JAN170951)
Written by ED BRISSON
Art by MIKE PERKINS
Cover by JEFF DEKAL
Variant Covers by MIKE PERKINS (JAN170954) and ALEX ROSS (JAN170952)
Hip-Hop Variant by KAARE ANDREWS (JAN170955)
Alex Ross Black & White Variant Also Available (JAN170953)
FOC – 02/27/17, On-Sale – 03/22/17
Sins And Secrets Revealed in THE UNWORTHY THOR #5!
New York, NY—February 24th, 2017 — This is it! A mystery years in the telling will finally be unfurled! Once upon a time, the God of Thunder was rendered unworthy. Not by a great and terrible foe, but by a mere whisper. At long last, the contents of that whisper will be revealed! Today, Marvel is pleased to present your look inside THE UNWORTHY THOR #5 – the senses-shattering final issue! Superstar creators Jason Aaron and Olivier Coipel bring the thunder and give fans the answers they've been waiting for – just HOW did the Odinson become unworthy of his magic hammer Mjolnir? Is redemption on the horizon for the fallen son of Asgard? No matter what happens next, life will never be the same for the Odinson. No fan should miss out on the blockbuster conclusion – THE UNWORTHY THOR #5 – on-sale in comic shops everywhere on March 22nd!
THE UNWORTHY THOR #5 (JAN170975)
Written by JASON AARON
Art by OLIVIER COIPEL w/ PASCAL ALIXE & KIM JACINTO
Cover by OLIVIER COIPEL
Variant Covers by LEINIL YU (JAN170976) and CHRIS STEVENS (JAN170977)
FOC – 02/27/17, On-Sale – 03/22/17
Eddie Brock is Back This May In The Oversized VENOM #150!
Oversized Anniversary Spectacular!
New York, NY—February 21st, 2017 — Reunited, and it feels so good! Or, is it bad? Either way you swing it, Eddie Brock is back, and he's bonding with the symbiote once more ahead of the can't-miss VENOM #150 – the oversized anniversary spectacular coming this May! Series writer Mike Costa is joined by superstar guest artist Tradd Moore for an oversized main story featuring Eddie's return to the pages of Venom. Bonded together again, Eddie and the symbiote are web-slinging their way across New York City. But, is their relationship as harmonious as it once was? Or is their bond more sinister than ever?
But that's not all! In addition to a brutal main feature from Costa & Moore, VENOM #150 features the return of iconic past Venom creators! First up, secrets will be revealed! How did Flash Thompson come to lose the symbiote before it found its way to former Army Ranger Lee Price? The Venom: Space Knight creative team of Robbie Thompson and Gerardo Sandoval have the answers! Then, it's back to the mean streets of San Francisco as fan-favorite creators David Michelinie and Ron Lim present a tale set between the pages of their iconic Venom: Lethal Protector series!
It's all happening this May as a parade of Venom creators past and present bring you the must-read VENOM #150 – on sale digitally and wherever comics are sold!
VENOM #150
Written by MIKE COSTA, ROBBIE THOMPSON & DAVID MICHELINIE
Art by TRADD MOORE, GERARDO SANDOVAL & RON LIM
Cover by GERARDO SANDOVAL
On Sale May 2017!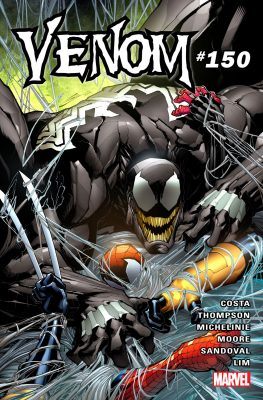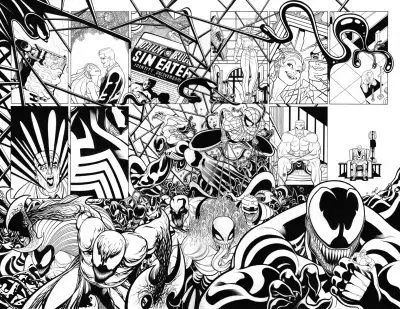 MARVEL COMICS PROUDLY PRESENTS
"BLACK PANTHER: A NATION UNDER OUR FEET – PART TEN"
FEATURING "ENTER THE DEPTHS" BY LIL B
New York, NY—February 21, 2017 — Marvel Comics continues to present this year's breakout Marvel Super Hero – the Black Panther – through a monthly video series that continues to link the world of comics and hip-hop blending animated comics along with commentary from Black Panther writer, Ta-Nehisi Coates. Additionally, "Black Panther: A Nation Under Our Feet – Part Ten" incorporates the brand new track, "Enter the Depths" produced by "The BasedGod" and arranged by Lil B.
Within Marvel Comics' Black Panther, written by The Atlantic national correspondent and National Book Award winner, Ta-Nehisi Coates, the combined fury of Black Panther, Shuri, Manifold, and the Hatut Zeraze rains down upon Tetu and Zenzi's rebellion. But will there be anything left of Wakanda to rule? The critically acclaimed storyline comes to an end and leaves behind a startling new status quo for T'Challa and Wakanda.
Continuing the excitement surrounding Marvel's celebrated Super Hero T'Challa, the Black Panther, the latest episode of this revolutionary multi-artist hip-hop-inspired video series samples a brand new track, "Enter the Depths" produced by "The BasedGod" and arranged by Lil B.
When asked about what other Marvel characters built up his fandom, Lil B told Marvel, "I mean, of course you know, X-Men—biggest X-Men fan. I was planning on getting a tattoo of Carnage actually, who is one of my favorite characters. One, because of how well he's drawn. [But] you know what definitely got me…X-Men. I like X-Force. I think that's what kept me going. X-Men, X-Force, stuff like that."
Watch "Black Panther: A Nation Under Our Feet – Part Ten" now!
Black Panther #11 is available digitally through the Marvel Digital Comic Shop and at all local comic book retailers. To find a comic shop near you, visit www.comicshoplocator.com or call 1-888-comicbook.
MARVEL COMICS PROUDLY PRESENTS
"CAPTAIN MARVEL: ALIEN NATION" PART TWO
FEATURING MUSIC FROM GLASS CANDY
Revolutionary Marvel Spotlight Video Series Boldly Expands Exposure of Marvel's Captain Marvel
Paired with some of Today's Top Female-led Musical Acts
New York, NY—February 22, 2017 — Marvel Comics is proud to present an unprecedented approach in introducing the world to Marvel Comics and the next great breakout Marvel Super Hero – Captain Marvel! Masterfully mixing animated comics with in-depth narration and commentary, this fresh new video series is designed to present a whole new audience to the world of Carol Danvers, a.k.a., Captain Marvel, timed with the debut of her brand new comic book series THE MIGHTY CAPTAIN MARVEL.
THE MIGHTY CAPTAIN MARVEL, written by New York Times best-selling author, Margaret Stohl (Black Widow: Forever Red, Black Widow: Red Vengeance), accompanied with outstanding art by Ramon Rosanas (The Astonishing Ant-Man), garnered international buzz and attention upon the announcement this past year. Marvel continues the excitement surrounding Marvel's celebrated high-flying former Air Force pilot turned Super Hero, Captain Marvel, through a brand new Marvel music spotlight video series accompanied with the track "Candy Castle" from Glass Candy.
Watch "Captain Marvel: Alien Nation" Part Two now!
Ida No from Glass Candy told Marvel, "[We] align ourselves wholeheartedly with the Marvel Hero maxim: Life is not a pleasure, it's a mission to annihilate evil and salvage good from the wreck that the wicked minds have created. We are here to make this a better place."
No continued, "I like to channel super heroes when writing lyrics because I believe they power blast away any lower frequency who might be hanging around trying to get a word in."
Each month, a new "Captain Marvel: Alien Nation"video will be released with the latest issue of Marvel Comics' THE MIGHTY CAPTAIN MARVEL. The "Captain Marvel: Alien Nation"videos will educate new and old fans about Stohl's THE MIGHTY CAPTAIN MARVEL series through commentary, motion graphics, as well as an energetic score from some of the world's biggest female-led musical acts.
Narrated by writer, Margaret Stohl, accompanied with some of the world's biggest female-led musical acts, "Captain Marvel: Alien Nation" will introduce fans to the history of Carol Danvers and spotlight why she is the hero to watch moving forward.
With Marvel's first Spotlight video series, "Black Panther: A Nation Under Our Feet" , Marvel coupled some of today's top hip-hop musical acts with Ta-Nehisi Coates' Black Panther, and now, Marvel continues building excitement around some of its iconic heroes with Captain Marvel paired with a brand new catalogue of female-led musical acts to further emphasis how Carol Danvers, a.k.a., Captain Marvel, is the premier female Super Hero of the entire Marvel Universe.
To learn more about Glass Candy, be sure to follow them at facebook.com/glasscandy.