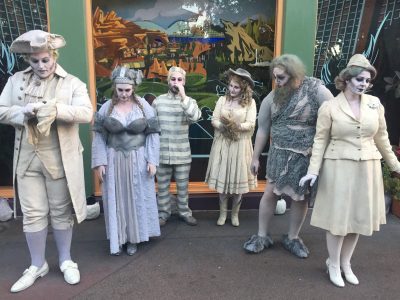 The WestBeat SCAREolers have descended on Downtown Disney to bring an added dose of musical holiday magic to the Disneyland Resort. This a cappella ensemble of six singers, dressed as ancestral ghosts, can be found singing on the nights of Mickey's Halloween Party between 6 and 10 pm. Generally they can be found near World of Disney but they are ghosts so be on your guard as they could decide to float somewhere else! Their sets include both Halloween and Disney music.
Whether you are going to Mickey's Halloween Party or night, stop by and catch these SCAREolers in Downtown Disney. They have a good mix of music. They are very talented. Most importantly, they are fun! Here is a look at their first ghoulish set of the season:
Ghostbusters
Trick or Treat
Let it Go
Haunted Mansion Nightmare Before Christmas Medley
Disney Villains Medley
Headless Horseman
Huffalumps & Woozles/Pink Elephants on Parade
Hocus Pocus Medley
What's your favorite SCAREolers song?