The official trailer for Star Wars Rebels season three was released today after a panel on the show at Star Wars Celebration Europe. It has quite a few revelations about the upcoming season so if you want to be surprised, don't watch it. If instead you are curious and want to know where the show is going, we have it for you here: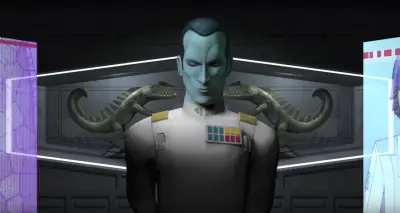 The trailer reveals some old and new characters that are coming to Star Wars Rebels season three. This includes some classic Star Wars friends (Wedge!), villains, and a new super villain that comes in the form of Grand Admiral Thrawn. This will now make Thrawn canon for the first time in the Star Wars universe and he will be a formidable foe for the fledgling Rebellion.  Another challenge for the characters of Star Wars Rebels will be their own desires and pursuits. Clearly, season three will have Ezra taking a very dangerous road that could lead potentially to the dark side… or somewhere different.
What did you think of the trailer? Are you exited for Star Wars Rebels season three?