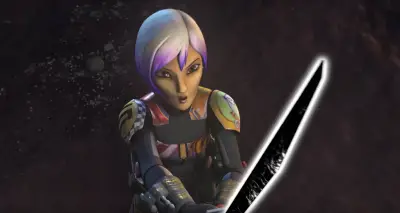 Day two has just about ended it's run at Star Wars Celebration Europe.  Today's excitement was surrounding Star Wars Rebels, but there has been buzz with ILM's young division – XLabs.
XLabs and Trials on Tatooine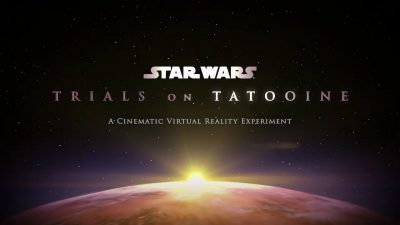 There was both a panel and ongoing experiment from this new branch of Industrial Light and Magic and Lucasfilm.  Their main focus is Virtual Reality, Augmented Reality, and, as they put it, immersion experiences.  The ongoing experiment/game is called Trials on Tatooine and has players don headsets to have an experience like no other.  It may be Virtual Reality, but it's the next level.  Using in house cinematic effects to complete the story, guests help repair a generator on the Millennium Falcon.  Where that may not sound too exciting, with the in house effects you feel the Falcon landing and moving.  They use wind generators, and a heavy cinematic sound system that causes the bass to shake your body.  Oh, and Han Solo is the one instructing you on how to repair the Falcon.
Besides this, there's a part where you grab a lightsaber and embark on a trial in a Tatooine town.  XLabs has tried to make this as realistic as possible, using state of the art technology and high frame rate visuals, it sounds like people feel like they are really fighting Stormtroopers!  Trials On Tatooine will be available on Steam VR for free on Monday.  The group's next project is a duel with Darth Vader!  It sounds like some great things coming out of the projects, as they are really taking to heart the storytelling as well, having David S. Goyer write the script for this more movie than game experience.  Goyer has helped craft the script for films like Batman Begins.  It's an exciting time for Star Wars experiences!
Star Wars Rebels Season 3
Dave Filoni, Sam Witwer, and Tiya Sircar were hosted by Warwick Davis in a fun and exciting panel about the development for the next season of the hit show.  First, we must address the big news coming out of this presentation.  A huge fan favorite character who seemed once lost to the non-canonical Star Wars Legends franchise is now canon, and will be the "Big Bad" of the third season.  Grand Admiral Thrawn from the Heir To The Empire novel series will be throughout this new season!  The blue skinned villain has been developed by Filoni, but also Timothy Zahn who first created him.  Zahn is also writing a new novel set to be published in April called Thrawn.  For those who grew up with his first series, this is some of the most exciting news in Star Wars since Force Awakens was announced!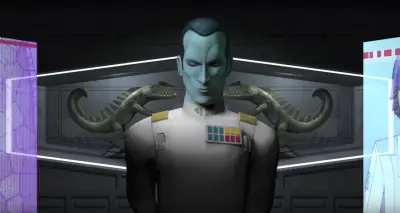 Sam Witwer, who voices Darth Maul among others, talked about his role and how he has met and talked to Ray Park, the original Maul.  Both he and Filoni said that Maul will have a different take than what we've seen before.  Maul is searching for purpose because of having so many defeats in the past.  He has taken on Ezra as an apprentice, but Filoni points out that the difference between Sith and Jedi is that Jedi are selfless and Sith are selfish.  So, Maul has a personal reason for having an apprentice that may not prove good for Ezra.
Speaking of Ezra, between a new trailer and some hints given, things do not seem to bode well for the character.  He's consulting a Sith holocron quite a bit, and some lines indicate that he may be turning to the Dark Side even more.
Kanan is blind and will be taking on a samurai-like attitude of life.  He's still at odds with Darth Maul, though the former Sith Lord is helping the Rebels.  In a clip shown, Maul tries to throw Kanan out of an airlock, and we'll have to watch to see what happens with that.  In a part of the trailer it does appear like Kanan will encounter a force being and perhaps regain his sight from that.
Having Tiya Sircar on the panel means there will be quite a bit with Sabine this season.  Filoni mentioned they are exploring more of her past.  There was a hint to us seeing some relatives of hers, but it wasn't fully confirmed.  In a clip shown, she and Ezra encounter some Mandalorians working for the Empire.  They get away in a jet pack chase.  Besides her past being revealed, another new look was shown for the character.  She will have a new hair color, and some new gadgets.  She'll even wield a dark saber of Mandalorian fame.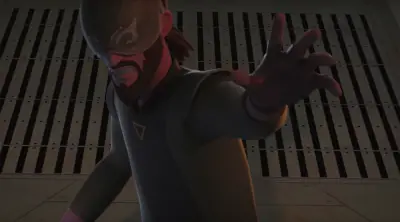 Speaking of new looks, there is quite a bit with this season.  Filoni said that they consulted with Rogue One production teams to make sure appearances of things like uniforms remained constant within the Star Wars universe.  For example, Hera will have a more militaristic look and have a rank insignia on her uniform.  Ezra now has his hair cut and uses a green lightsaber.  Kanan has a mask over his eyes, a full beard, and a different outfit now.  Even Zeb will have a slightly different appearance.  Chopper seems to remain the same.
Besides these items, Tom Baker will voice a force being that is neither light nor dark.  Baker is the fourth Doctor from the Doctor Who franchise.  The announcement caused a voice acting battle between Warwick Davis (who has not voiced anything in the canonical Star Wars animations) and Sam Witwer.  It was a fun tangent that has to be seen and heard.  Another fun character to enter the fray this season is Wedge Antilles, who seems to be a defected Tie Fighter trainee.  Of course the question came up again about Ahsoka and her exact state in the new season.  Dave Filoni still would not say exactly what will happen with her, but did hint with the statement of Ahsoka is one of his favorite characters, and it's hard for him to kill off those that are his favorites.
The third season of Star Wars Rebels looks to be very exciting, and more so than the past two.  Filoni and the team have done a remarkable job at making this a part of Star Wars that has a following all its own.  Many of those who asked insightful questions were kids.  It's definitely breeding a new generation of fans for Star Wars as well as hitting long time ones in the same way.
There is only one more day for the Celebration, and we will have more news items to share, so come back soon!