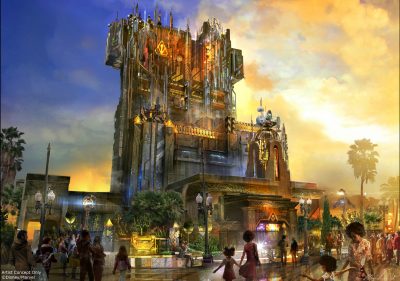 Today at Comic-Con during the Marvel panel it was announced that Guardians of the Galaxy is getting its very own attraction at the Disneyland Resort. Guardians of the Galaxy – Mission: Breakout! will be arriving in Disney California Adventure in 2017.
Here is a description of the attraction:
Tanaleer Tivan, the Collector. He has opened his unique collection of fauna, relics and species to guests for a special tour culminating with his latest prized possessions: the Guardians of the Galaxy, themselves! Fortunately, Rocket has a plan to free his friends – and that plan includes recruiting Disneyland Resort guests in a sensational rescue effort.
Guardians of the Galaxy – Mission: BREAKOUT! opens summer 2017 at Disney California Adventure park. This comically high-energy, rocking new adventure will drop guests directly into story alongside characters from the blockbuster "Guardians of the Galaxy" films.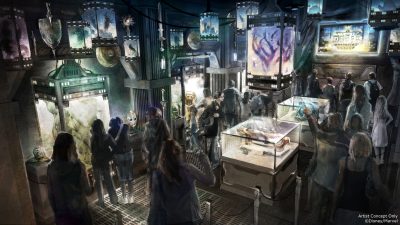 Joe Rohde, Portfolio Creative Director, Walt Disney Imagineering, is leading this new project that is a collaboration between Walt Disney Imagineering and the folks behind the movies and comic books at Marvel. Rhode describes the attraction saying,  "The setting is a kind of fortress that's owned by the mysterious Collector and it's packed with creatures and his latest acquisitions from across the universe. Now he has imprisoned the Guardians of the Galaxy and they're hanging in display cases over a giant abyss. The captor doesn't know it but Rocket Raccoon has escaped and is enlisting our aid—all the guests—to help the Guardians in a breakout scheme. And the rest is comical chaos; a very funny, very irreverent story and a really wonderful addition to Disney California Adventure."
What do you think of the Guardians of the Galaxy – Mission: BREAKOUT! attraction?