Jump to recipe
Finding Dory is almost in theaters and Geeks Who Eat are very big fans of Finding Nemo have shared a Finding Dory inspired recipe in anticipation of this new Disney-Pixar fish flick! Remembering that "fish are friends not food," the Geeks Who Eat made sure that no harm comes to any fish in the making of their tacos. Their recipe is not only delicious but also vegan. Oh, and did I mention they created this recipe themselves?
Watch this video to learn how to make "Fish Are Friends Not Food Tacos – A Finding Dory Inspired Recipe."
If you would like the specifics of this recipe, check it out here:
A Finding Dory Inspired Recipe: Fish Are Friends Not Food Tacos
These vegan tacos are inspired by Pixar's release of Finding Dory, the sequel to the hit Finding Nemo.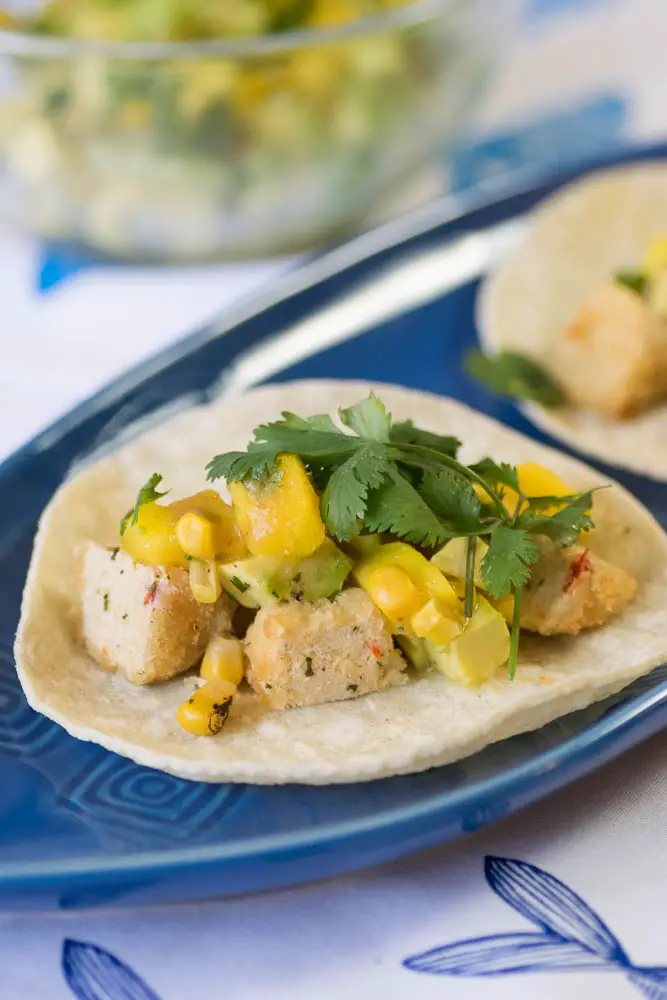 Notes
This recipe is completely vegan.

Ingredients
1 package of Gardein Crabless Cakes
6-8 corn tortillas
For the Avocado, Mango, and Fire Roasted Corn Relish:
1/2 medium mango cubed
1 avocado cubed
1/4 cup fired roasted corn (we used Del Monte)
Juice from 1/2 lime
2 tbsp rough chopped cilantro
Salt and Pepper to taste
Optional:
Habanero Hot Sauce (We used Bravado Spice Co. Pineapple Habanero)
Instructions
Combine all relish ingredients. (Lightly stir so as not to break down avocado too much)
Refrigerate while cooking Gardein.
Cook Gardein Crabless Cakes per package instructions.
Heat tortillas.
Cut Gardein Crabless Crabcakes into quarters.
Place approximately 5 crabcake quarters on each tortilla.
Top with relish and then hot sauce if desired.
© 2023 dapsmagic.com
Make sure and check out Geeks Who Eat for more fun recipes, reviews, and food geekiness!