China's premier Disney Resort is set to be one of the best as it opens fully to the public.  But, before the opening of the parks and hotel, Disneytown premiered to those that wanted to shop and eat Disney style.
Dining
The first thing noticed about this shopping center was how much there is to eat.  It was hard to choose a place to go.  It may be more of a problem for a foreigner than a local, though.  Many of the eateries are top of the line Chinese,
Japanese, and other Asian cuisine.  A few American restaurants snuck in, such as Wolfgang Puck, Cheesecake Factory, Starbucks, and the Boathouse which is a popular place at the new Disney Springs in Florida.
But, there are great places that are traditionally Asian.  For a foreigner it's a little easier to think about prices too.  I had a bowl of ramen and a Pepsi for about $12 at IPPUDO.  But, these are some of the seeming more upscale restaurants in the center.  A host or hostess stands at the door ready to take you in, and at most of these places they looked like you were going to be treated very well.  Think style of Cheesecake Factory (which is there like I mentioned).  These places aren't too fancy, but enough to make you feel like you're having a time on the town.
The ramen I had was delicious, and that is coming from someone that has had it in Japan.  The meat was tender and the broth was tasty.  It's a place that was a more casual than fancy, but still a very nice place.
Besides the places I mentioned, a few that caught my attention were Blue Frog Bar and Grill – which seemed like a neon pub, and The Dining Room – a little more traditional Shanghai restaurant also with dim sum.
Some faster food is found at Toast Box, which is like a cafe, and BreadTalk – which is an Asian bakery.  For those not familiar with Asian bakeries they can be a bit of fun.  You take a tray, peruse the pastries, and pick out which ones you want via tongs.  When done you go to the check out counter.  It's very fast, and like exclusive grocery shopping.
There are many fun places to eat with great looking decoration in all.  Each are put together to fit the character they are.
Shopping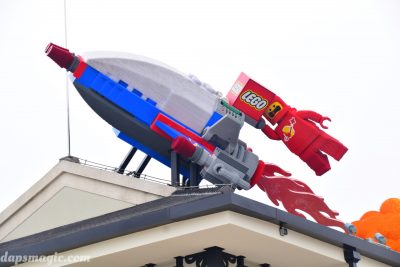 Of course this is a premier shopping destination.  It's interesting, though, that many of the places are Western mainstays.  Sephora, TOMS, Build A Bear, LEGO, and UGG are all here.  New Balance and Adidas have stores here too.  Then there's the very Disney ACME Fine Art Gallery, Tren D, and D Street, as well as the big World of Disney stores.  As much as these are found in the US and at the usual Disney shopping areas they all had a unique Shanghai flareto them.  World of Disney was about Disney from around the world.  I don't mean the merchandise, but the decor.  Attraction posters from other parks were around to highlight that this isn't the first theme park destination.  D Street and Tren D were connected to the main store.  ACME featured some unique artwork that was elegant and fit the fact that this is a unique park.
The shopping has several places where you can find many many items that fit every generation of the family.  It's a destination for Shanghai and visitors alike.
Atmosphere
The biggest draw, for me, was the atmosphere.  This was not a typical Downtown Disney type place.  And I know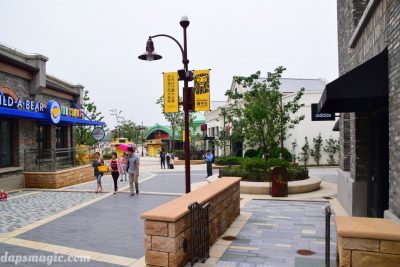 there isn't a lot of those left (in name), but the idea still stands.  These places have always been shopping centers, outdoor malls even.  But, each entertains just by the surroundings.  Disneytown is no different.  The architecture first seems like a generic Eastern American town.  But, as you peruse the buildings you notice there are Chinese architecture accents to make this reflect the culture.  It reflects Shanghai as a whole.  The city is a mix of past colonial influence with new Chinese modernity.  Disneytown has that in spades.  But, somehow looks more historical than modern.  It makes for a nice place to just walk around.  The layout is generally a circle, but it doesn't quite meander that way.  Meandering has it feeling bigger than it actually is.  It is probably more spacious than it seems.  Buildings are side by side, on the edge of feeling cramped.  But, it's not really that way.  And, it is more spacious than the rest of Shanghai, and even other parts of China.  In all, it's a fun way to eat and shop.
A New Disney Destination
In all, this is Disney at some of its finest.  Very unique theme and architecture.  Fun places to shop.  Great dining.  It's a new Downtown Disney destination.  And I haven't even talked about Walt Disney Grand Theater.  Mostly because I couldn't see a show in it yet, but the outside is remarkable.  In all, this is an amazing shopping and dining avenue!  Blending Disney style with Shanghai architecture has this being one of the best experiences for any of the Disney theme parks.