Marvel has released a great new trailer to the upcoming Captain America: Civil War film.  Where we've seen quite a bit of footage, and more and more of Black Panther, this trailer revealed two looks at characters that will be featured in the movie.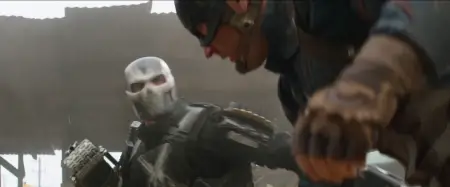 First, the trailer gives away a lot of the plot, but still in teaser fashion.  I don't feel like much is spoiled that hasn't already been.  There are two sides to dealing with how heroes have handled worldwide crises.  I do think this new trailer has more of Iron Man's side to it, which previous ones have emphasized Cap's.  Yes, I know the title is Captain America: Civil War, but it's nice to see the other side to fuel why it's such a heated debate.  Throughout the trailer we get to see many of the heroes in action, and plenty of explosions.  The movie will be quite the ride.
One character that has been known to be in the film, but without much shown or known is the villain Crossbones.  In this trailer we get a pretty good look at him, though it is rather quick.  Will he be the main villain or just a side one?  We'll have to wait for the movie to find out.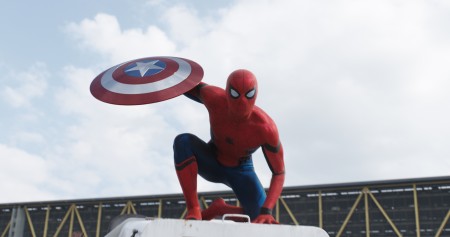 The one character that has caused quite a stir is Spider-Man.  We finally see the long awaited Marvel hero, and even hear a line from him in this preview.  It looks like the costume will be a little different from any other incarnation we've seen.  I'm sure it'll have some fans either loving it or hating it.  It is interesting to have him in a trailer now, as we've not really had any glimpse of him anywhere.  We've known him to be in the film, but it could have been kept hidden until it comes out.
Check out the trailer, and tell us what you think about it and the new Spider-Man!
From Marvel:
Marvel's "Captain America: Civil War" finds Steve Rogers leading the newly formed team of Avengers in their continued efforts to safeguard humanity. But after another incident involving the Avengers results in collateral damage, political pressure mounts to install a system of accountability, headed by a governing body to oversee and direct the team. The new status quo fractures the Avengers, resulting in two camps—one led by Steve Rogers and his desire  for the Avengers to remain free to defend humanity without government interference, and the other following Tony Stark's surprising decision to support government oversight and accountability.  
Marvel's "Captain America: Civil War" stars Chris Evans, Robert Downey Jr., Scarlett Johansson, Sebastian Stan, Anthony Mackie, Don Cheadle, Jeremy Renner, Chadwick Boseman, Paul Bettany, Elizabeth Olsen, Paul Rudd, Emily VanCamp, Frank Grillo and Martin Freeman, with William Hurt and Daniel Brühl.
Anthony & Joe Russo are directing with Kevin Feige producing. Louis D'Esposito, Victoria Alonso, Patricia Whitcher, Nate Moore and Stan Lee are the executive producers. The screenplay is by Christopher Markus & Stephen McFeely. Get ready to pick a side and join the nonstop action playing out on two fronts when Marvel's "Captain America: Civil War" opens in U.S. theaters on May 6, 2016.