One of the worst things that can happen after a breakup is when your ex crosses paths with your new beau. This is exactly what happens in the first moments of this week's episode of The Muppets. That's right, Denise is back…. and it is her birthday. This episode also features Kristin Chenoweth who sings a duet with Miss Piggy and then agrees to sing at Floyd's parents' 40th anniversary. Oh, and did I mention that Kermit forgot to get Denise a birthday present so ends up asking Miss Piggy? The Ex Factor is a combination of funny and awkward as the Muppets head forward into their recently expanded season.
Episode Description
Kermit is scrambling to find the perfect birthday gift for Denise, so he turns to Miss Piggy for help. Meanwhile, Kristin Chenoweth agrees to do a gig with The Electric Mayhem and inadvertently causes a rift between the band.
Review
Denise's Birthday
Denise is back this week and it turns out she has returned just in time for her Kermit to have procrastinated on getting her a birthday present. Kermit panics and is asking for help everywhere and it just isn't working, although it was funny to see him try to paint pottery. Finally, he ends up asking his ex Miss Piggy for help buying a present. She does help out but gets her own little jab at Kermit in the end. There were moments of this storyline that were really quite funny but… it did seem to be a bit of obvious. It also seemed out of place as Denise has not been around for quite some time.  Because of this lack of participation in the show lately, it seemed like there was a bit of a disconnect to Denise as a character. Add this to the fact that she really isn't that great of a character anyway and it really made this storyline a missed opportunity.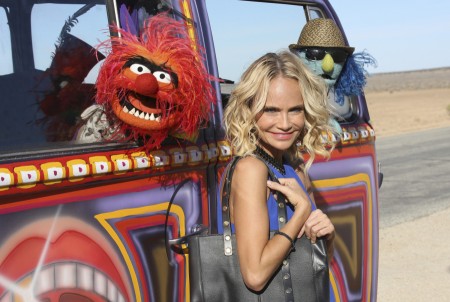 Kristin Chenoweth and the Electric Mayhem
This was easily the most entertaining part of this episode. Kristin Chenoweth appears as a guest on Late Night With Miss Piggy. After the show, which included the duet with Miss Piggy, the Electric Mayhem come up and invite her to sing at Floyd's celebration for his parents' 40th anniversary. This storyline was humorous as it gave a chance to see the band interact with each other and also with Chenoweth. It also created an opportunity to see the backstory of the Electric Mayhem members. I would like to see a whole lot more of this.
Scooter
It turns out that Scooter is an artsy guy. One part of the episode worth mentioning is when he takes Kermit to Color Me Mine where Kermit hopes to create something for Denise's birthday. The results were less than spectacular but led to some humorous moments for Scooter. This was a nice use of the character and a pleasant change that added some humor from an unexpected place.
Final Thoughts
The Ex Factor had a lot going for it and seems to continue this trend of The Muppets getting progressively stronger. While the Electric Mayhem storyline and Color Me Mine moments were quite amusing, the Kermit forgetting Denise's birthday and panicking storyline seemed a bit unoriginal and overused. Kristin Chenoweth was a good guest star that felt incredibly natural. It was also nice to see a guest star that wasn't just fighting with Miss Piggy. One other thing I noticed too is that the humor was not adult just for the sake of being adult. At times earlier in the season it seemed like some jokes were thrown in, not for the sake of humor, but for the shock value. I'm glad the writers have moved past this. If it is the best gag in the moment, use it. If it isn't, don't try to push the show to be something it isn't…. the same goes for The Muppets.
The Muppets is becoming a fairly enjoyable weekly show. Is it a must see for non-Muppet fans at this point? Probably not. Is it worth spending 22 minutes of your week watching? I would say more so now than at the beginning of the season. I'm hoping this trend continues and each episode grows stronger as the season continues.
What did you think of The Ex Factor?