The D23 Expo Japan is currently in full effect. This means we can get a little more insight on upcoming projects. Disney Parks Blog noted that there was an update on the in-progress Pandora – The World of AVATAR over at Disney's Animal Kingdom.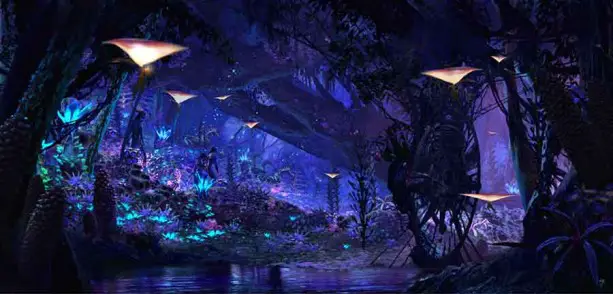 Bob Chapek, Chairman of Walt Disney Parks and Resorts, informed audiences that the land expansion will be opening in 2017. In addition, an attraction called "Na'vi River Journey" will also make its way to the themed land.
The blog describes the attraction as:
The adventure begins as guests set out in canoes and venture down a mysterious, sacred river hidden within the bioluminescent rainforest. The full beauty of Pandora reveals itself as the canoes pass by exotic glowing plants and amazing creatures. The journey culminates in an encounter with a Na'vi shaman, who has a deep connection to the life force of Pandora and sends positive energy out into the forest through her music.
No further updates have been released so far about this attraction. Stay tuned for new as it breaks.
What are your thoughts on this attraction?