We're back with another Marvel Comics news digest.  This week features a series that will appease new Jessica Jones fans: Hellcat.  Throughout this week's news is plenty of Deadpool.  Deadpool with Cable.  Deadpool in Graphic Audio.  Deadpool on shirts.  He's everywhere.  A big item is Marvel's tribute to women athletes in conjunction with ESPNw.  There will be great art coming from this.  Last, but not least, is Squadron Supreme taking form in the new Marvel universe.  Check it all out below!
Sharpen Your Claws With a New Look at
PATSY WALKER, A.K.A. HELLCAT! #1
New York, NY—November 20th, 2015 —Today, Marvel is pleased to present your new look inside PATSY WALKER, A.K.A. HELLCAT! #1 – the highly anticipated new series from Kate Leth (Adventure Time) and Brittney Williams (Lumberjanes)! She's managed to escape her past, her enemies and even the depths of Hell (literally), but nothing will prepare Patsy Walker for the hard knock life of job hunting in New York City! Being Hellcat is hard enough – why does being Patsy Walker have to be so hard too? Not to mention everyone's going crazy for the reissue of the old romance comics that her mom wrote about Patsy's actual teenage years. Getting recognized left and right is starting to cause trouble in both her personal and super hero life. But hey, nothing keeps Patsy down. She loves life, no matter what curveballs it throws at her. Get ready Marvel Universe – Patsy Walker's here. And she's ready to be your new favorite super hero. Don't miss the debut issue of her new ongoing series when PATSY WALKER, A.K.A. HELLCAT! #1 goes on sale this December!
PATSY WALKER AKA HELLCAT! #1 (OCT150801)
Written by KATE LETH
Art & Cover by BRITTNEY WILLIAMS
Colors by MEGAN WILSON
Variant Covers by SOPHIE CAMPBELL (OCT150802), GEORGE PEREZ (OCT150803)
And MARGUERITE SAUVAGE (OCT150805)
Hip-Hop Variant by JAVIER PULIDO (OCT150806)
Action Figure Variant by JOHN TYLER CHRISTOPHER (OCT150804)
FOC – 11/30/15, On-Sale – 12/23/15
Back in Action – Your New Look at DEADPOOL & CABLE: SPLIT SECOND #1!
New York, NY—November 20th, 2015 — They're back, baby! Reunited and it feels so good! Cable and Deadpool, together again. Shooting and stabbing their way into your hearts and comic shops this December in DEADPOOL & CABLE: SPLIT SECOND #1 – the print adaptation of the smash hit Marvel Infinite Comic series. Fan-favorite Cable & Deadpool creative team of Fabian Nicieza & Reilly Brown bring you a brand new adventure of the Merc With a Mouth and the Soldier With a Scowl. Cable has received a terrifying vision of the future brought on by the assassination of one man. Now he'll do anything to prevent that horrible timeline from becoming reality. Too bad Deadpool has been hired to hill that guy. This is going to get messy. And just who is the mysterious Split Second, who's causing all sorts of trouble for this titanic twosome. Find out when DEADPOOL & CABLE: SPLIT SECOND #1 comes to comic shops this December! 
DEADPOOL & CABLE: SPLIT SECOND #1 (of 3) (OCT150825)
Written by FABIAN NICIEZA & REILLY BROWN
Art & Cover by REILLY BROWN
Variant Covers by KRIS ANKA (OCT150826) and ROB LIEFELD (OCT150827)
FOC – 11/23/15, On-Sale – 12/30/15
espnW Teams with Marvel Comics for "Super" Take on 2015 "IMPACT25" List
November 19, 2015 – espnW has teamed with Marvel Comics to create "super" takes on the 2015 "IMPACT25" list, which recognizes athletes and influencers who have made the biggest mark on women in sports this year – 24 nominees, plus The espnW Woman of the Year. A collection of Marvel artists will utilize their various creative styles to highlight the special talents of the honorees and create a super version of each.
To kick off the series, Marvel created an illustration of U.S. Women's National Team star Carli Lloyd alongside popular Marvel Super Hero, Captain Marvel. Lloyd's memorable and indefatigable play during the 2015 FIFA Women's World Cup resulted in her team hoisting the trophy as champions and earned her the Golden Ball as the best player of the tournament. The full roster and artist renditions of the 2015 "IMPACT25" list will be revealed Monday, Dec. 7, on espnW.com/impact25.
"Each of the IMPACT25 honorees is incredible in their own right, be it on the field or in the boardroom," said Alison Overholt, editor-in-chief, espnW. "There have been some truly superhuman accomplishments in the last year, and there is no one better than the artists of Marvel to depict these women as the heroes that they are."
"Marvel's mission is to celebrate the hero's journey—and espnW's IMPACT25 is a uniquely incredible way to do that," said Sana Amanat, Marvel Dir. of Content Development.  "Like our powerful heroes, the IMPACT25 have made a remarkable impression on the world and this is our salute to them. By merging this exceptional group of women with our mighty Marvel artists we are able to truly capture their super human feats in a program that brings together talent from on and off the field."
As part of the collaboration, the hosts of the Women of Marvel podcast – Sana Amanat, Adri Cowan, Judy Stephens and Emily Shaw – will be guests on the espnW Presents: Be Honest with Cari Champion podcast, debuting December 7, and will also welcome Overholt and espnW deputy editor Jennifer Holmes on Women of Marvel on a date to be determined. In addition, espnW.com will have exclusive behind-the-scenes looks at the process of transforming these real-life heroes into larger-than-life Super Heroes.
Some of the groundbreakers on last year's IMPACT25 included: The espnW Woman of the Year, Becky Hammon, who became the first woman to hold a coaching position in the NBA; Michele Roberts, who made history as the first female executive director of the National Basketball Players Association; Condoleezza Rice, whose appointment to the College Football Playoff Selection Committee made headlines across the country; tennis star Serena Williams, who overcame several injuries to end the year as the world No. 1; and Little League phenom Mo'ne Davis, whose 70 mph fastball made her a household name.
About espnW
espnW serves women who love sports. espnW.com provides an engaging environment that offers total access to female athletes and the sports they play, takes fans inside the biggest events, and shares a unique point of view on the sports stories that matter most to women. Founded in July, 2010, espnW lives across television, films, events, digital and social platforms. The annual espnW: Women + Sports Summit is the leading event of its kind in the sports industry. The Women's Sports Foundation is a charity of choice for espnW.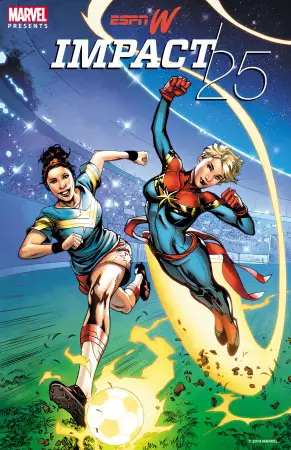 SQUADRON SUPREME #1 – Protecting the Marvel Universe
By Any Means Necessary!
New York, NY—November 16th, 2015 — You may not like their methods. You may not like that they cross the line. But they get results. And if you get in their way, you're going down! Today, Marvel is pleased to present your new look inside SQUADRON SUPREME #1 – the explosive new series from Eisner Award winning writer James Robinson (Scarlet Witch, Starman), critically acclaimed artist Leonard Kirk (Fantastic Four) and covers by legendary painter Alex Ross!
Each the sole survivor of a lost Earth, they'll do anything to protect this one, whether you like it or not. Hyperion, Nighthawk, Dr. Spectrum, Blur and Power Princess – the Squadron Supreme. To them all that matters is the safety of Earth – and they don't ask permission or care about your rules. Their first target? Namor! Responsible for the destruction of Dr. Spectrum's reality, it's time Namor paid for his crimes. And the Squadron will start by turning Atlantis to rubble!
The Marvel Universe has new protectors. Don't miss their epic debut as they burst on to the scene in SQUADRON SUPREME #1 – on sale in December!
SQUADRON SUPREME #1 (OCT150783)
Written by JAMES ROBINSON
Art by LEONARD KIRK
Colors by FRANK MARTIN
Cover by ALEX ROSS
Variant Cover by LEONARD KIRK (OCT150784)
Action Figure Variant by JOHN TYLER CHRISTOPHER (OCT150786)
Hip-Hop Variant by MIKE DEL MUNDO (OCT150785)
FOC – 11/16/15, On-Sale – 12/16/15
MARVEL ENERGIZES ADULT FANS WITH NEW DAREDEVIL, THE PUNISHER, JESSICA JONES, AND DEADPOOL MERCHANDISE
Anti-Heroes and Vigilantes Inspire Dynamic New Product Line and Retail Promotions with Target, Walmart, Hot Topic, and Others
Glendale, Calif. (November 19, 2015) – As fans continue to demand unique items to wear and collect from Marvel's deep stable of characters, Marvel is rolling out its merchandising and retail plans for popular anti-heroes and vigilantes Daredevil, The Punisher, Jessica Jones and Deadpool.  This new development addresses a key Marvel strategy to tap into the Marvel vault and satisfy not only the fans of the major Marvel franchises — Avengers, Spider-Man and Guardians of the Galaxy — but also comic book fans and those watching Marvel's new Netflix Original Series.
Utilizing new artwork that launched this past summer, the merchandise campaigns focus on images from the vast Marvel Publishing archive to embrace an edgier tone. The lines have begun rolling out in stores with larger launches planned for January 2016 targeting teens and adults. Activity will heat up later in 2016 with the debut of the second season of the critically acclaimed Netflix's "Marvel's Daredevil", which will include the first-ever live-action appearance of the Punisher on television.
The licensing program features a wide array of adult fan-focused product originating off of the wildly popular Marvel Comics publishing line, from apparel to collectibles and action figures. Fans will have the chance to build out full collections for the first time with collectibles from Diamond Select, Funko, Sideshow, Kotobukiya, and NECA coming to retail. Additionally, Hasbro will add Marvel Legends collector figures and Hot Wheels will unveil collectible die-cast vehicles next fall. Mad Engine, C-Life, Hybrid, Freeze, Fifth Sun, Silver Buffalo and Bioworld will each be launching a robust lineup of product including men's and women's apparel, accessories, footwear, bags, home goods, and drinkware. The merchandising programs will be rounded out with additional offerings including collector plush, stationery, consumer electronics, and novelties. And this assortment would not be complete without the collected Marvel Comics editions where these popular heroes originated. 
At retail, best-in-class partners are working on extensive in-store and online support. Beginning in January, Target will feature a Funko display that will spotlight Daredevil, The Punisher and Deadpool collectible bobbleheads. In February, Hot Topic is launching an in-store and online Deadpool campaign that will include eye-catching signage, a homepage takeover, and social media posts. Other brick and mortar retailers including Walmart, JCPenney, Spencer's, Party City, and Kohl's will also provide in-store and online support. Amazon will expand on its toy and apparel offerings for the characters and CafePress is launching a dedicated Jessica Jones shop offering unique merchandise for both men and women.
"Our goal is to open our deep vault of characters and explore all opportunities to drive incremental revenue that extends beyond our core franchises and extends our reach to new consumer segments," said Paul Gitter, senior vice president, licensing, Marvel at Disney Consumer Products. "The excitement that is brewing across the board from not just fans, but also the licensees and retailers, is overwhelming and we are looking forward to seeing the reaction to this awesome product lineup."
MARVEL'S MERC WITH A MOUTH, DEADPOOL, MAKES HIS GRAPHICAUDIO® DEBUT WITH A FOURTH WALL SMASHING JOURNEY TO THE HEART OF COMIC MADNESS
GraphicAudio® brings Marvel's original prose novel DEADPOOL: PAWS by Stefan Petrucha to life with a full cast, cinematic music and digital sound FX.  Hear the story straight from Wade Wilson's own mouth in this first person adventure pitting Deadpool against his greatest enemy yet…puppies.
Fans and newcomers alike will thrill to the death defying exploits of Marvel's master of mayhem and destruction.
Available for immediate download at www.GraphicAudio.net/Marvel    
DEADPOOL: PAWS  is available at www.GraphicAudio.net/Marvel  and via the FREE GraphicAudio Access™ Mobile App which allows customers to directly download titles on their Android or iOS smartphones and tablets.
CD formats and Marvel TPBs also available at comic shops and bookstores near you!
Marvel's DEADPOOL: PAWS prose novel available at:  http://tinyurl.com/o3xvygu
*****
About GraphicAudio® A Movie in Your Mind®:
An imprint of The Cutting Corporation, since 2004, GraphicAudio® has published approximately 1000 titles and 65 different series in their GraphicAudio® A Movie in Your Mind® audiobook entertainment format.  For more information visit: graphicaudio.net
About Marvel Entertainment:
Marvel Entertainment, LLC, a wholly-owned subsidiary of The Walt Disney Company, is one of the world's most prominent character-based entertainment companies, built on a proven library of more than 8,000 characters featured in a variety of media over seventy-five years.  Marvel utilizes its character franchises in entertainment, licensing and publishing.  For more information visit marvel.com.
© 2015 MARVEL