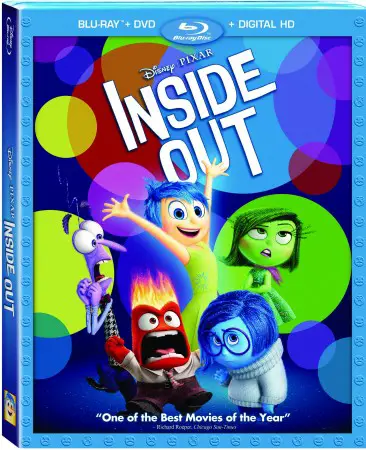 Moving is hard, so is growing up. Put the two together with a move from the midwest to San Francisco and Riley (Kaitlyn Dias) finds herself in a bit of a rough time in life. Thankfully she has her emotions Joy (Amy Poehler), Sadness (Phyllis Smith), Anger (Lewis Black), Fear (Bill Hader), and Disgust (Mindy Kaling) to help her get through the highs and lows that is life. Disney-Pixar's Inside Out tells the story of the emotions inside Riley's head and growing up.
Quality
It's always lovely to review Disney-Pixar movie. After all, think Disney-Pixar and quality is one of the first things that comes to mind. Inside Out, in particular, is vibrant and beautiful. It is colorful and I love how much you can find throughout the movie. Take the story away and just pay attention to the visuals in this movie and it is fascinating by itself. The sound is equally polished, making it easy to enjoy reviewing this movie.
Extras
The Disney-Pixar presentation of Inside Out for the home theater offered quite a few extras. These offerings include:
Riley's First Date? – A very humorous situation that is amplified by the emotions in the heads of Riley, Jordan, Mom, and Dad. This is a cute short that is fun to watch for multiple reasons.
Lava Short Film – The short shown in theaters before Inside Out, Lava is a beautiful and musical love story between two oceanic volcanoes that takes place through the course of millions of years. This is a very sweet short and I really like it.
Story of the Story – Director Pete Doctor and his crew share the creation process of creating Inside Out that started with an observation that Pete Doctor made about his daughter. This talks about the various incarnations and stories that were explored to share the theme. This extra really showed the amount of effort, change, and challenges that went into making Inside Out. It is very well done and it is really great listening to Pete Doctor share about the process.
Paths to Pixar: The Women of Inside Out – Women behind the making of Inside Out share about their paths that took them to Pixar and the journey they continue on. It is a realistic presentation of the people behind this film along with the challenges that were included in their different journeys. There are definitely highs and lows, risks and rewards, and a lot of detours along the way to pursuing dreams. This includes animators, voice actors, and other people involved with production. This is a nice way to help stimulate hopes and dreams that shouldn't just be abstract but also pursued!
Mixed Emotions – This extra focuses on the incredible process of decided which emotions would be included in Inside Out. The end product? Five emotions. Then the emotions were designed in a way that represented each emotion with shapes. It was fun to see the different ways these emotions came to the screen, even the connection to classic 2D animation. This was a very enjoyable extra that makes a lot of sense.
Mapping the Mind – Inside Out is a movie about what is going on in the mind. This extra shares about the gigantic task of creating a digital set that is absolutely massive, if not infinite. This gives a good look at something that is easy to take for granted while watching this movie, the complexity and vastness that is the human mind. Oh, and then there is the whole science aspect of it as well… which connected in a fairly accurate way. This extra ended up being quite interesting and would make for a good introduction to a science class it seems like.
Our Dads, the Filmmakers – This is a behind the scenes documentary that was created by Elie Doctor (Director Pete Doctor's daughter) and Gracie Giacchino (composer Michael Giacchino's daughter) about their dads creating Inside Out. Not only did it give these two friends a chance to do something fun together, it also gave them a better opportunity to understand what their dads really do. This was very charming and a fun different look at Pixar filmmaking. This might very well be my favorite extra included with Inside Out.
Into the Unknown: The Sound of Inside Out – This extra was instantly a favorite. I love learning how sound effects are created. I like how they not only shared how some of the sounds were physically created, but also the entire process behind creating the sounds. Extras like this make you realize how awesome sound design is.
The Misunderstood Art of Animation Film Editing –  What does a film editor do? This extra takes a look at the importance of the film editor in animation. This is a job about details, precision, balance, and coordination. Watching this extra you see that it really does take a special person to be able to edit a movie. To me? It looks tedious. I definitely have a new appreciation for this position after seeing this extra.
Mind Candy – This is a montage of toolkit and interstitials produced for Inside Out that really are quite random. It's worth watching once although parts get a little long.
Deleted Scenes – Director Pete Doctor introduces these deleted scenes and shares how hard it is to cut scenes that are believed in 100% when first created. It's showcasing all the wrong paths taken to reach the right one. Doctor then introduces each individual deleted scene with some context along with introducing why the scene didn't work. This is a good approach to sharing deleted scenes and actually felt like there was real value to these extras.
Final Thoughts
Disney-Pixar's Inside Out is a movie that really connects with a lot of people. Growing up and dealing with emotions is hard. Moving is equally hard. Having moved from Minnesota to California as a teenager,  I have commend Pete Doctor on nailing what it is like to have to move from a place you love to an unknown place that is completely different. Then he adds the emotions that his daughter is going through and it makes for another story from the mind of Pete Doctor on his team. I will admit, after seeing the extras I enjoyed this movie even more. Inside Out has a very nice collection of extras with it and easily gets a hat tip. It definitely should be added to your home entertainment library.
Daps Magic received a sample product or experience for this review in exchange for an honest review. The views of the reviewer are wholly their own. Read full disclosure policy here.