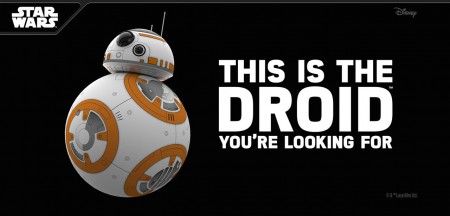 For many of us attending Star Wars Celebration earlier this year in Anaheim, CA a defining moment was the unveiling of BB-8 and the realization that came with it that BB-8 was physically real! If the crowd wasn't already excited about Star Wars before that unveiling, it certainly was then.
Now, a new commercial has hit the net showing that you can own your very own app-controled BB-8 Sphero. It looks awesome.
Watch this BB-8 Sphero Commercial:
What do you think of it? I personally think it is pretty amazing and would love to see it rolling around my desk on Geeks Corner… or the train set for that matter! BB-8 will go on sale on Friday September 4, 2015 for $149.99 at Apple retail stores, Best Buy, and the Sphero website. 
The BB-8 has three modes: Patrol Mode, Drive Mode, and Message Mode (as you could see in the video above). According to the website it has a 60 minute battery life with a range of approximately 30 meters. BB-8 is bluetooth enabled and uses inductive charging through a charging base. Finally, and perhaps most importantly, it uses gyroscopic propulsion. If this didn't work, the whole thing wouldn't work. It is what brings BB-8 to life.
I personally think this is a fantastic miniature recreation of BB-8 and it is going to be ridiculously popular. I'm curious to see how long these toys will last and how durable they are. However, when it all comes down to it… these are awesome and I hope I get to see one in real life sooner rather than later.
[URIS id=57021]