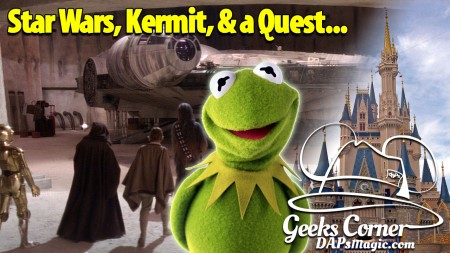 Welcome to this week's Geeks Corner! There is a lot going on this week in the corner. We also have a full corner with Mr. DAPs, Johnny 5, Hayley the Hatter, and Cameron all joining for this episode. In it, we cover Dapper Day, the Disneyland 60th Anniversary, The Muppets, Star Wars on Netflix, the return of the original Star Wars editions. It's also time for a round robin of Halloween Party tips for the Mickey's Halloween Party at Disneyland. Have you checked out peanutizeme.com yet? The geeks did and here is what they look like:
With the coming of the Geeks Corner fifth anniversary. We encourage all of our viewers to create a brief 1 minute video with either congratulations or advice as we move forward! Please post your videos on YouTube and then send us a link on twitter or in the comments before October 2nd!
Finally, Mikey Really Likey will be starting a new series called Mikey's DAPs Quest. The geeks of Geeks Corner will give Mikey a challenge for him to complete this challenge at Walt Disney World. Will his first challenge be doable? Find out during our fifth anniversary episode on October 6th, 2015!
Here are the links for the topics covered in this week's episode:
We hope you have enjoyed this week's Geeks Corner! We look forward to geeking out with you next week!
Let's go to the corner!