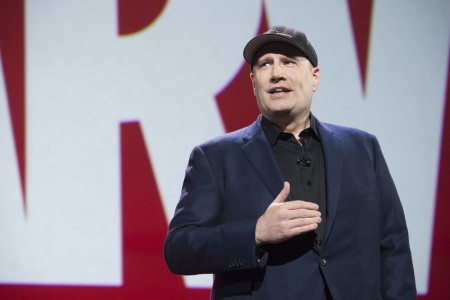 Marvel Studios president Kevin Feige will now report to Disney studio chief Alan Horn. The move comes after years of frustration on Feige's part with his former boss, Marvel Entertainment CEO Isaac "Ike" Perlmutter.
According to Disney, "Marvel Studios is taking the next logical step in its integration with The Walt Disney Studios, joining Pixar and Lucasfilm in centralizing many of its film-related functions in Burbank, with Marvel Studios president Kevin Feige and co-president Louis D'Esposito continuing to lead the Marvel Studios team reporting to Walt Disney Studios Chairman Alan Horn."
According to the Hollywood Reporter, the move comes after Feige voiced his displeasure over working for Perlmutter to Disney CEO Bob Iger and Alan Horn earlier in the summer. Perlmutter is known for his micromanaging and penny pinching traits. He also has held a significant role in turning Marvel into the company that it is today.
There is some logic in the move. Kevin Feige is credited with turning Marvel from a struggling comic book company into the powerful movie studio that Disney would eventually purchase. It is clear that Iger would want to keep him happy. It also makes sense for a person churning out movies to report to the executive in charge of movies at Disney. After all, Kathleen Kennedy, the president of Lucasfilm, reports to Alan Horn. Pixar Animation Studios also lives under the Walt Disney Studios umbrella.
Perlmutter will still oversee Marvel TV, publishing, animation, and other elements of Marvel in New York City. Feige and the Marvel studios will stay on the West Coast.
The one thing to note is that Marvel TV and Marvel Studios will be basically existing in two different corporate entities. This could be a signal that Agents of S.H.I.E.L.D. will continue to have a marginal connection at best with the movies. Unless something drastically changes, don't expect any huge crossovers between the movies and the tv shows.
What do you think about this change? Do you think it will be good for the Marvel movies?