Jump to recipe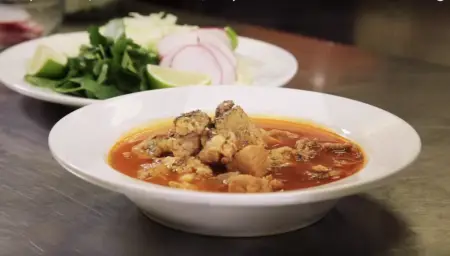 While the temperatures may not be reflecting it entirely here in Southern California, fall has arrived. With the arrival of fall comes the arrival of fall foods and soups. One fall favorite that is occasionally found at the Disneyland Resort (during Disney ¡Viva Navidad!  at Disney California Adventure) is the Pozole Soup.
It is a wonderful dish for a fall or winter evening. Today we share with you the recipe so you don't have to wait for the Holidays to arrive at the Disneyland Resort to treat yourself.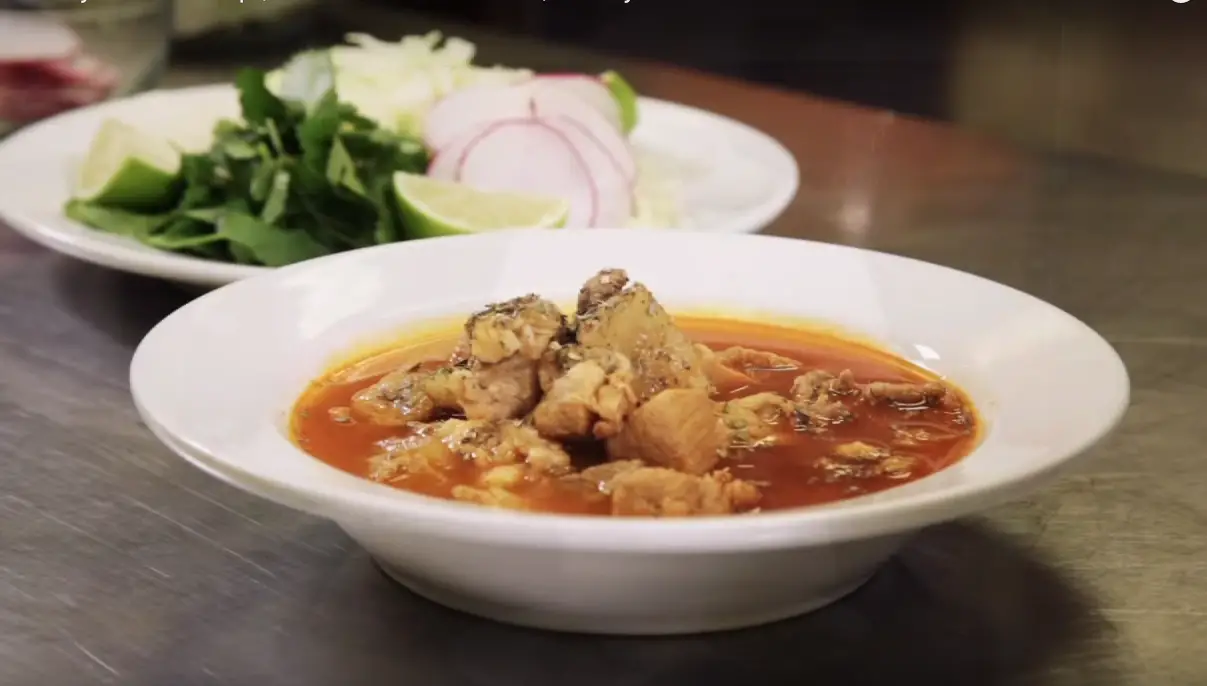 Ingredients
2 pounds pork shoulder, cut into 1- to 1 1/2-inch cubes
6 garlic cloves, peeled, and split lengthwise
2 bay leaves
1 large yellow onion, diced
1 teaspoon ground cumin
2 tablespoons coarse salt, divided
6 dried Guajillo chiles
2 dried ancho or New Mexico chiles
1/2 medium sweet onion, cut into large pieces
3 medium or 2 large plum tomatoes, cut in half lengthwise and cored
2 garlic cloves, peeled
1 teaspoon freshly ground black pepper
1 tablespoon Mexican oregano
1 (15-ounce) can white hominy, drained and rinsed
Garnishes
1/2 small head green cabbage, finely shredded
6 radishes, sliced thinly
3 limes, quartered
1 bunch fresh cilantro, large stems removed, leaves roughly chopped
1/2 medium onion, finely diced
Instructions
Rinse diced pork under cold water until water runs clear. Transfer pork to a large stock pot over medium-high heat; add 8 cups cold water. Bring to a simmer; skim off and discard foam and solids that float to surface.
Stir in garlic, bay leaves, onion, cumin, and 1 tablespoon salt. Turn heat to medium to keep soup at a light simmer. Cover and simmer 90 minutes (do not boil). Periodically skim foam from surface.
Meanwhile, remove and discard stems, seeds, and large veins from dried chiles. Break into large pieces in a medium saucepan and add 3 cups water. Top with sweet onion, tomatoes, and garlic cloves, keeping chiles submerged. Cover and simmer 10 minutes, then remove from heat and set aside 15 to 20 minutes.
Working in 2 batches, puree chile mixture with cooking liquid in a blender until smooth. Pour mixture through a fine-mesh sieve into soup pot, pressing solids with back of spoon to extract liquid.
Simmer soup for 90 minutes, then stir in black pepper, oregano, and hominy. Taste and season with additional salt, if desired.
Remove a piece of pork and taste for doneness. If meat is not tender, simmer 15 to 20 minutes more.
Serve hot soup with garnishes for topping.
© 2023 dapsmagic.com
Once you have created this tasty dish, snap a picture and share it with us in the comments below! Let us know how your adventure in cooking went!