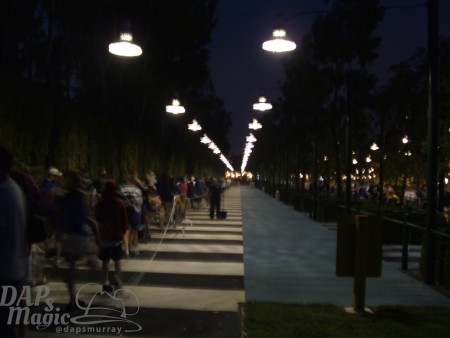 We're counting down to the official Disneyland 60th day, July 17, 2015.  And we continue the countdown with a look at possibly the biggest anniversary so far: the 50th.  The 60th is fun, and full of festive entertainment, but the 50th may be the grandaddy of them all.
The anniversary started months before July as decoration slowly made its way into the park.  Gold 50's were everywhere, whether it be street lamps or signs on attractions.  These were to mark every inch of the park proclaiming it's been around for a long time and would be around to stay.
Attractions that are still around since opening day were given a gold vehicle.  This coveted ride vehicle made for great photo opportunities.  Speaking of photo opportunities, throughout the year there was an unveiling of photo collages that made up a bigger picture from Disneyland history.  They were scattered throughout the park for people's enjoyment and photo ops in front of photos that were made up of photos.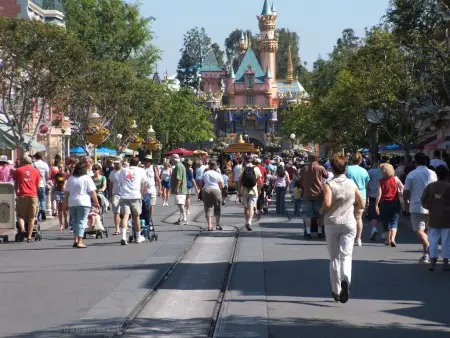 The real 50 festivities began on May 5, 2005 when Disneyland was closed to the public for the first time in a few years.  This was to allow press and VIP's a chance to find out what the 50th had in store.  Among them all was honorary ambassador for the 50th, Julie Andrews.  Her voice also lent itself to entertainment like Parade of Dreams and Remember….Dreams Come True – the beloved fireworks spectacular.
July 17 of 2005 had people lining up before dawn to enter into the park that started all theme parks.  Once guests were ushered into the park at opening, special gold mouse ears were handed out as well as special souvenir maps.  Throughout the day and at many restaurants were cupcakes handed out to mark the occasion.  They were quite delicious and in seaming endless supply!  That morning a special re-dedication took place with Bob Iger and Arnold Schwarzenegger, then governor of California.  They were among many other dignitaries and VIP's, including Art Linkletter who had first hosted the opening of Disneyland in 1955!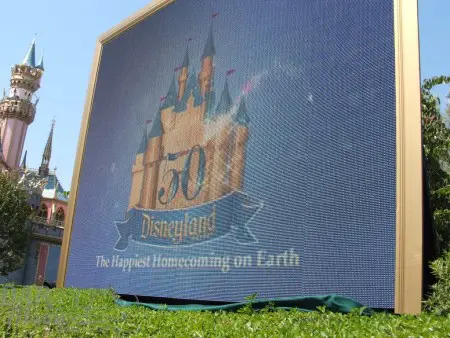 Video screens were put all around the park so that all could witness the momentous occasion that was taking place in front of Sleeping Beauty's Castle.  The re-dedication was read.  The recording of Walt Disney giving the opening ceremony speech was later shown at the time that it was read and on all the screens.
In all the 50th set a precedence of what the 60th is fulfilling.  It was a huge mark in history as Disneyland was the first of its kind and still going.  The 60th represents as much, but the 50th seems to have the bigger milestone.
And tomorrow will bring it all together as the official 60th anniversary takes place!