Ladies and gentlemen, we may finally be at the end of Secret Wars!  This week had only one featured series in the news about Secret Wars.  The bigger news is the announcement of what the Marvel Comics Universe will look like in the aftermath of Secret Wars.  My favorite elements shown in the images below is the return of Wolverine and Logan (wait, why the separation?).  Wolverine looks to be now X-23, who is Wolverine's clone and known as his "sister."  Logan/Wolverine looks to be Old Man Logan that is from that alternate universe series.  It's the Wolverine we know, but not?  The other fascinating appearance is Spider-Gwen/Woman.  She's from an alternate universe as well, but how this plays out that Gwen Stacy is back will be an interesting feature in the Spider comics.  Other than all this news there's a merchandise announcement with Secret Wars, and what looks to be a fun comic in the form of Thanos vs. Deadpool.  One announcement not included, but worth mentioning is Star Wars #6 is going into second printing after being sold out.  This landmark canon issue reveals that Han Solo has been married during Episode IV!!!  Yeah, buy it and read it!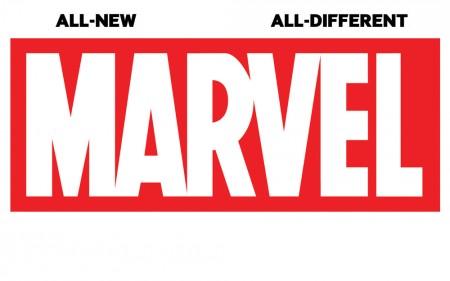 The Future of Marvel Takes Shape in
ALL-NEW, ALL-DIFFERENT MARVEL PREVIEWS!
Free Print Magazine Coming to Comic Shops Set to Reveal New Titles!
 New York, NY—June 2nd, 2015— Where Secret Wars ends, an all-new Marvel Universe begins! And the House of Ideas is kicking off this bold new publishing initiative and the exciting next phase of the Marvel Universe with an unprecedented bang! Today, we're proud to announce ALL-NEW, ALL-DIFFERENT MARVEL PREVIEWS, a FREE 64-page full color magazine, coming to comic shops on July 1st!
 This epic magazines features your first real look into ALL-NEW, ALL-DIFFERENT MARVEL! No daily teasers, no scouring the Internet for multiple announcements – just explosively striking images of Marvel's new lineup coming in the latter half of 2015 from the industry's top creators! Exciting teams, dynamic characters, deadly villains, dazzling creators and more will be revealed!
 "This is a great way to reward fans who visit their local comic shops," says Marvel SVP Sales & Marketing, David Gabriel. "The comic industry has undergone a renaissance this past year, starting with the launch of the new Thor #1 last fall. Comic shops have reported increased traffic, new customers, and higher sales. Free Comic Book Day 2015 was the biggest and best it's ever been! We're thrilled to say thank you by officially revealing the All New, All Different Marvel directly to those customers found in comic shops."
This unique strategy ensures that the largest number of active comic shop customers are reached FIRST, driving those fans into comic shops to get their hands on this exciting FREE print magazine. Massive coverage will be paid to these exciting launches across all forms of media, but as a thank you to our loyal comic shop customers, the first look is available exclusively to you! The ALL-NEW ALL-DIFFERENT MARVEL PREVIEWS will also be released digitally shortly after its print debut, followed by an extensive press and marketing rollout extending throughout the rest of the year.
The future is here and it's all-new and all-different. Run (carefully), don't walk to your comic shop this July for the ALL-NEW, ALL-DIFFERENT MARVEL PREVIEWS and see for yourself!
"THIS IS MARVEL!"
After Marvel's Secret Wars, an all-new and all-different Marvel Universe emerges
New York, NY—June 5th, 2015— Marvel Comics, the home of the greatest Super Heroes of all time, introduces a new direction for the Marvel Universe. This is All-New All-Different Marvel!
Coming this fall, all fans will be introduced to the perfect start to the Marvel Universe featuring the biggest creative names in the comic book industry – Brian Michael Bendis, Jason Aaron, Mark Waid, Dan Slott, Charles Soule, G. Willow Wilson, Jeff Lemire, along with many more, will have a hand in crafting an all-new and all-different Marvel Universe.
"This is the Marvel Universe," says Axel Alonso, Editor In Chief.  "This fall, we will be inviting readers into a universe comprised of bold new landscapes populated with characters and teams both familiar and brand-new."
"This is going to be an absolute game changer for Marvel," says David Gabriel, SVP of Sales & Marketing. "Similar to the most successful comics industry program of this century – Marvel NOW!, All-New All-Different Marvel is going to be presenting fans new #1's for every title coming out during this event. This is a brand new beginning that honors our past 76 years, yet takes a bold step with daring, and accessible, entry points. Simply stated – this is Marvel!"
This fall, the comics industry's greatest creators invite fans into a spectacular universe that truly represents the marvelous world outside your window!
The All-New All-Different Marvel Universe has arrived!
Mad Titan vs. Mouthy Merc this September in DEADPOOL VS. THANOS #1!
New York, NY—June 1st, 2015— Yes – you heard that correctly. The fight of the century is at hand dear reader, and the Merc With a Mouth is set to take it to the Titan With a Temper in September's aptly named DEADPOOL VS. THANOS #1! Written by Tim Seeley (Death of Wolverine: The Logan Legacy) with art by Elmo Bondoc (Ms. Marvel) and covers by Tradd Moore (All-New Ghost Rider), strap  yourselves in for a wild ride across all corners of the Marvel Universe!
 We all know the story of Thanos – the man who single-handedly turned bejeweled gloves into THE deadliest and most fashion-forward weapons in the entire universe. But did you know he also shares an ex with good ol' Wade Wilson? It's true! The cosmic lady known only as Death! And when her mysterious disappearance causes everyone in the universe to stop dying – both her former flames take an interest.
If they hope to locate Death and restore balance to the cosmos – they'll need to work…together. Yeah, that won't end well. Can the pair overcome their overwhelming hatred and announce of one another? Or will Thanos finally let Deadpool die once and for all? One thing is for certain – this fight won't be pretty. The fists will fly this September in DEADPOOL VS. THANOS #1!
DEADPOOL VS. THANOS #1 (of 4)
Written by TIM SEELEY
Art by ELMO BONDOC
Cover by TRADD MOORE
FOC – 06/01/15, On-Sale – 06/24/15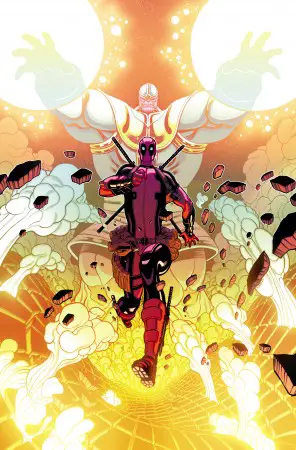 Vile Villains Loose on Battleworld! Your First Look at RED SKULL #1!
New York, NY—June 4th, 2015— Hushed whispers cut across Battleworld. One of the most vile villains in history still straws breath. But how can this be? He should be dead! And yet his legend grows even stronger. Today, Marvel is pleased to present your first look at RED SKULL #1 – a brand new Secret Wars limited series from rising star writer Josh Williamson (Nailbiter, Birthright) and artist Luca Pizzari (Amazing Spider-Man Special)! The Red Skull should be dead. Banished by Doom to the Shield long ago. If the zombies haven't gotten to him, the Ultron robots or Annihilation bugs should have! And yet word has reached the other side that he still lives, quietly amassing an army, prepared to strike!
 Now, a team of unlikely villains – Magneto, Winter Soldier, Lady Deathstrike, Electro, Moonstone and Jack O'Lantern will venture beyond safety to find the truth for themselves. Only problem – nobody ever comes back from beyond the Shield alive! Witness the horrors of Battleworld in a new way as Williamson and Pizzari unleash RED SKULL #1 on the masses this July!
RED SKULL #1 (of 3) (MAY150680)
Written by JOSH WILLIAMSON
Art by LUCA PIZZARI
Cover by RILEY ROSSMO
Variant Cover by NICK PITARRA (MAY150681)
FOC – 06/08/15, On-Sale – 07/01/15
MARVEL REVEALS MERCHANDISING PROGRAM FOR GROUNDBREAKING COMIC BOOK EVENT – SECRET WARS
Reimagined Universe Inspires New Product from Mad Engine, Bioworld, Funko, and More
Glendale, Calif. (June 1, 2015) – As excitement continues to mount for the biggest comic book event of the year, Disney Consumer Products (DCP) continues to unveil merchandising programs in support of Marvel's Secret Wars. Secret Wars is a new storyline where the world of the Marvel Universe and the world of the Ultimate Universe collide, obliterating everything we've come to know and forming a new world – Battleworld – featuring new versions of familiar characters.
The Secret Wars licensing program marks the first time that Marvel is supporting a comic book event with its own merchandising program and many key partners are already on board. Mad Engine and Bioworld are developing apparel lines inspired by the newly reformed Marvel Universe, while Funko debuts new collectible figures and Cardinal unveils puzzles. Marvel is also working closely with Diamond Comics to create assortments, displays, and special products including apparel and drinkware designed specifically for comic book stores.
"Secret Wars is an unprecedented comic book event that completely alters the Marvel Universe and we are pulling out all the stops to honor the overwhelming excitement coming from our fans," said Paul Gitter, senior vice president, licensing, Marvel at Disney Consumer Products. "For the first time we are working with our best in class partners to create a robust retail program that encapsulates the storylines from our comic book universe and offers fans new ways to interact with our Super Heroes off the page."