This week for Marvel Comics had a lot more about Secret Wars, especially since the universe shattering event started this last Wednesday.  But, the bigger news for some would be the preview of a Groot series.  He's the last of the Guardians of the Galaxy to get his own series.  Finally, Ant-Man is popping up on variant covers to upcoming select issues, and just in time for the new movie.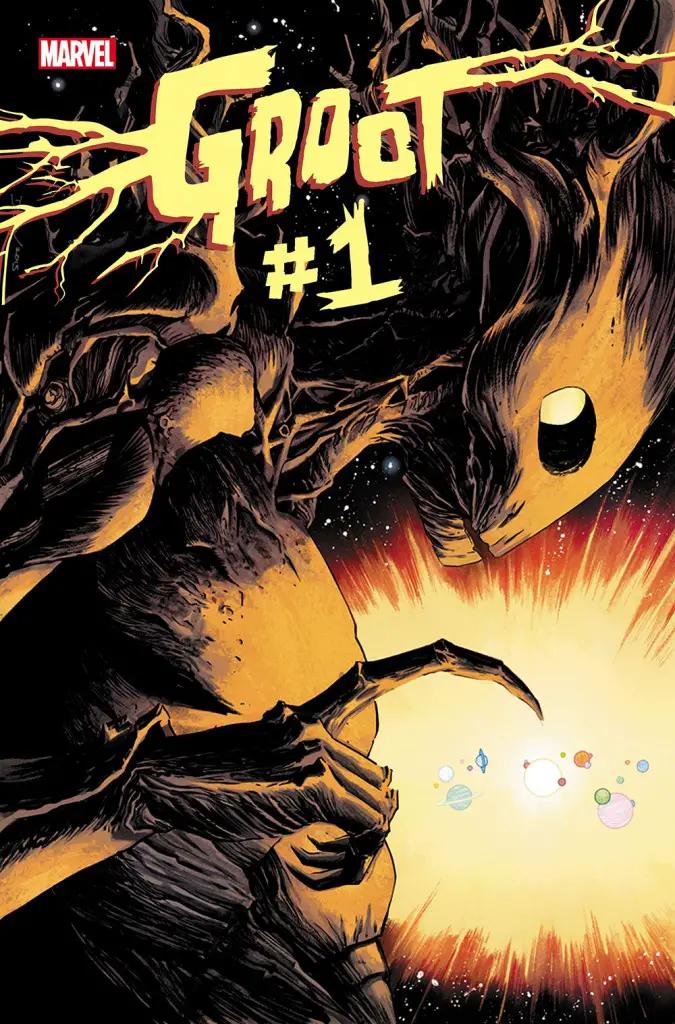 I! Am! Your New Look at GROOT #1!                                                                                                   
New York, NY—May 08th, 2015— This June, the Marvel Universe's most famous tree is starring in his very own series! That's right, GROOT #1 is coming – and you will not want to miss this out of this world thrill ride! Rising star writer Jeff Loveness (Jimmy Kimmel Live, Amazing Spider-Man Special) joins future superstar Brian Kesinger (Disney Animation) for a galactic road trip of epic proportions. But it's not all fun and games as for the first time in years, Groot is separated from his pal (and translator) Rocket Raccoon. Can he make it on his own in the big, scary galaxy? Armed with just the words "I", "Am" and "Groot" – he's about to embark on a new kind of adventure. Explosions! Intergalactic Hitchiking! Aliens! Space Sharks! That's just the first issue! Keep your eyes peeled on the rest of the series and you might spot a couple of intergalactic guest stars! Bursting at the seams with action, adventure, excitement and heart – fans will not want to miss out on this exciting new series! Prepare for high adventure in deep space this June as GROOT #1 sprouts up in comic shops this June!
GROOT #1 (APR150862)
Written by JEFF LOVENESS
Art by BRIAN KESINGER
Cover by DECLAN SHALVEY
Variant Cover by RYAN STEGMAN (APR150864)
Gwoot Variant by GIUSEPPE CAMUNCOLI (APR150863)
FOC – 05/11/15, On-Sale – 06/03/15
Targeted For Termination in the WARZONES!
Your First Look at X-TINCTION AGENDA #1!
New York, NY—May 5th, 2015— This June, the fight continues against the corrupt, Mutant-exploiting government as a classic X-Men crossover is reborn on Battleworld in X-TINCTION AGENDA #1! Writer Marc Guggenheim (Arrow Executive Producer) and artist Carmine Di Giandomenico (All-New X-Factor) return to the shores of Genosha for a can't miss Secret Wars tale! It has been ten years since the fall of Cameron Hodge and his fascist regime. Ten years that Havok and Wolfsbane have toiled and labored to rebuild Genosha into the proud Mutant haven it once was. But a decade removed from Hodge and his iron-fisted rule, their work may be undone in an instant. A plague ravages across the nation, infecting mutants and threating them with extinction! With Genosha quarantined and all but abandoned by the rulers of Battleworld — as well as their former teammates, the X-Men – old friends may become bitter enemies in the fight for survival! Havok and Wolfsbane will stop at nothing to save those Mutants trapped on Genosha – but have they doomed Battleworld in the process? What would you do to protect your people? Find out as mutant battles mutant this June in X-TINCTION AGENDA #1!
X-TINCTION AGENDA #1 (APR150819)
Written by MARC GUGGENHEIM
Art by CARMINE DI GIANDOMENICO
Cover by DAVID NAKAYAMA
Variant Cover by MIKE DEODATO (APR150820)
Wanted Variant by MARK BROOKS (APR150821)
FOC – 05/11/15, On-Sale – 06/03/15
Suit Up in the WARZONES! Your New Look at ARMOR WARS #1!                                                                                                                                               
New York, NY—May 5th, 2015— This June, suit up and strap in as the Secret Wars bring you to a tecno-utopia, with a dark and sinister secret! Today, Marvel is pleased to present your new look at ARMOR WARS #1 – a brand new Secret Wars series from Eisner-award winning writer James Robinson and artist Marcio Takara! Deep in the heart of Battleworld lies Technopolis. A shining beacon of progress for all Battleworld to see. Full of science and wonder created by the two genius brothers – Tony and Arno Stark. Yet shadows fall over this armored paradise. A unique disease that forces EVERYONE to wear armor just to live and breathe! And when an unexpected murder strikes his domain, Baron Tony Stark must race against the clock to identify the culprit. But is he too late to stop more bodies from showing up? The mechanical murder mystery that will have readers guessing to the very last page kicks off this June in ARMOR WARS #1!
ARMOR WARS #1 (APR150787)
Written by JAMES ROBINSON
Art by MARCIO TAKARA
Cover by PAUL RIVOCHE
Variant Covers by STEVE PUGH (APR150788), VANESA DEL REY (APR150789),
And SKOTTIE YOUNG (APR150793)
Iron Gwen Variant by DAVID LAFUENTE (APR150790)
MAOS Variant by MARCOS MARTIN (APR150791)
Ant-Sized Variant by PASQUAL FERRY (APR150792)
Blank Variant Also Available (APR150794)
FOC – 05/11/15, On-Sale – 05/27/15
The Mutant WARZONES! Return – Your New Look at YEARS OF FUTURE PAST #1!
New York, NY—May 6th, 2015— You thought the horrors had ended? Think again! This June, it's time to return to the ruined wastes of New York City once more! Terrified mutants and deadly Sentinels explode into Battleworld in your first look at YEARS OF FUTURE PAST #1! Writer Marguerite Bennett and artist Mike Norton take you back to the ruined tomorrow of one of the X-Men's most famous and tragic tales of them all for a brand-new Secret Wars story! Across the ravaged hellscape of Battleworld's Sentinel Territories, armies of armored behemoths patrol sky and street alike. Their mission – exterminate all mutants! Amid the destroyed city walks Kate Pryde – mother, warrior, X-Man. A heroine tried and true, and tested by war, she stokes the fires of revolution. She will do anything it takes to ensure the survival of her people – including her two children! But if she's going to survive she'll need help. Her first mission – break the X-Men out of their military prison! With her life and the lives of her family and friends on the line, will she do the impossible? The answers lie within True Believer, this June in YEARS OF FUTURE PAST #1!
YEARS OF FUTURE PAST #1 (APR150809)
Written by MARGUERITE BENNETT
Art by MIKE NORTON
Cover by ART ADAMS
Variant Cover by MIKE NORTON (APR150811)
And SKOTTIE YOUNG (APR150812)
Ant-Sized Variant by MIKE PERKINS (APR150810)
FOC – 05/11/15, On-Sale – 06/03/15
Maestro Smash! Your New Look at the WARZONES! of FUTURE IMPERFECT #1!                                                                                                                                                            
New York, NY—May 6th, 2015— Hulk is the strongest there is! Now, he's the smartest, most calculating, ruthless villain there is too! This June, ask yourselves – can anyone stop the Maestro? That's the question when the oppressive lord of Dystopia comes to Battleworld for FUTURE IMPERFECT #1! Legendary writer Peter David returns to the nuclear ravaged wastelands he made famous alongside artist Greg Land for an explosive all-new Secret Wars tale! Now calling himself the Maestro, the Hulk stands triumphant over the world's heroes and villains having bested them all! Ruling his domain on Battleworld, his gamma-fisted tyranny knows no bounds. Can anyone stop him? Nobody knows – but that won't stop a small band of rebels led by X-FACTOR from trying! The battle for freedom begins this June in the bombastic pages of FUTURE IMPERFECT #1!
FUTURE IMPERFECT #1 (APR150803)
Written by PETER DAVID
Art & Cover by GREG LAND
Variant Cover by DALE KEOWN (APR150804)
Ant-Sized Variant by DALE KEOWN (APR150805)
Ingwenible Hulk Variant by NICK BRADSHAW (APR150806)
FOC – 05/11/15, On-Sale – 06/03/15
Skottie Young Pits Avengers Against X-Men in the WARZONES!
Your New Look at GIANT-SIZE LITTLE-MARVEL: AVX #1!
New York, NY—May 08th, 2015— You thought Avengers vs. X-Men was big? Well you ain't seen nothing! This June, superstar writer/artist and 2015 Eisner Award nominee Skottie Young (Rocket Raccoon) brings his inimitable style to Battleworld with GIANT-SIZE LITTLE MARVEL: AVX #1! Big action and tiny heroes collide as an all-out war breaks out between the two biggest factions in the Marvel Universe! The toughest, craziest and most popular Marvel heroes are going to THROW DOWN on Battleworld. Featuring the likes of Cyclops, Hawkeye, Magik, Black Widow, Wolverine, Captain America and many, many more. They're all here – just shorter! This is the series you've been waiting for. Be there this June when Skottie Young brings out the big guns for GIANT-SIZE LITTLE MARVEL: AVX #1!
GIANT-SIZE LITTLE MARVEL: AVX #1 (APR150762)
Written by SKOTTIE YOUNG
Art & Cover by SKOTTIE YOUNG
Variant Covers by HUMBERTO RAMOS (APR150765),
SKOTTIE YOUNG (APR150766) and JOHN TYLER CHRISTOPHER (APR150763)
Ant-Sized Variant by SKOTTIE YOUNG (APR150764)
FOC – 05/11/15, On-Sale – 06/03/15
Marvel's Biggest Heroes Get Tiny For ANT-SIZED VARIANTS in June!
New York, NY—May 8th, 2015—Marvel's biggest names are getting small and shrinking down to size this June for  a series of special variant covers! Today, Marvel is pleased to announce 15 ANT-SIZED VARIANT COVERS coming to some of June's newest Marvel titles! Celebrate the highly anticipated release of Marvel's Ant-Man, in theaters July 17th alongside your favorite characters with these can't miss covers!
Look for ANT-SIZED VARIANTS coming to these Marvel titles throughout the month of June:
Age of Apocalypse #1
Age of Ultron vs. Marvel Zombies #1
Amazing Spider-Man: Renew Your Vows #1
Armor Wars #1
Captain Marvel & the Carol Corps #1
Civil War #1
Future Imperfect #1
Ghost Racers #1
Giant-Sized Little Marvel: AvX #1
Hail Hydra #1
Marvel Zombies #1
Siege #1
Thors #1
X-Men '92 #1
Years of Future Past #1
Run don't walk, to your local comic shop to get your hands on these covers. There's sure to be a large demand for these small heroes! Don't miss the ANT-SIZED VARIANTS coming to your favorite Marvel titles beginning this June!