This week has more with Secret Wars, the Marvel Universe reboot.  For those who are fans of the X-Men's past, there are some series that will hit at home.  Both of these are some of my favorite times of X-Men, and I'm sure I'll be reading them soon.  A Guardians of the Galaxy tale of the past gets its spotlight for the saga too.  Also included in news is an interesting mashup of Ultron and Marvel Zombies.  If this isn't a fan favorite, I don't know what will be!
X-MEN '92 #1 – The Newest Marvel Infinite Comic On Sale Now!
New York, NY—May 27th, 2015— Everyone's favorite version of the X-Men from the '90s are back – for an all-new adventure available TODAY! The most radical team of mutants ever assembled are exploding onto digital devices in X-MEN '92 #1 – the newest Marvel Infinite Comics series!
Get X-MEN '92 #1 Now Via the Marvel Digital Comics Shop
Specially designed and optimized for digital devices, Marvel Infinite Comics push the boundaries of what's possible with digital comics. Taking full advantage of the latest technology, Marvel Infinite Comics showcase the new storytelling possibilities of a digital canvas while still staying true to the medium's greatest strengths! Marvel newcomers Chris Sims & Chad Bowers join Deadpool artist Scott Koblish to take you back to the days of big guns, big pouches and even bigger action!
Baron Kelly, ruler of the Westchester domain has called upon the Clear Mountain Project and it's mysterious new director to deal with the mutant menace – by any means necessary! Can Wolverine, Cyclops, Storm, Jean Grey, Gambit, Rogue, Beast and Jubilee put a stop to the threat of "mutant rehabilitation"? And just what are "Free Range Sentinels"? One thing is for certain – it's not good for the X-Men!
Available right at your fingertips, X-MEN '92 is available now on the Marvel Comics app (for iPhone, iPad, iPod Touch & AndroidTM devices) and online in the Marvel Digital Comics Shop!
X-MEN '92 #1
Written by CHAD BOWERS & CHRIS SIMS
Art by SCOTT KOBLISH
On Sale Now!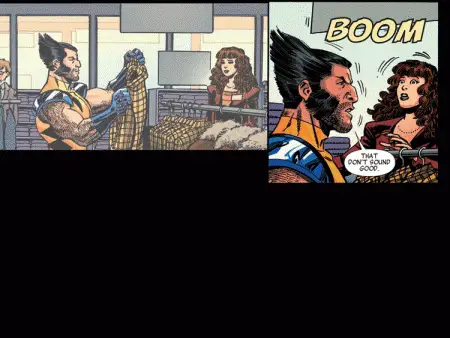 Magneto and His New X-Men Wage War in
Your New Look at E IS FOR EXTINCTION #1!
New York, NY—May 29th, 2015— Ask yourself – what happens in a world where mutants prove once and for all they really are Homo SUPERIOR? Today, Marvel is pleased to present your new look at E IS FOR EXTINCTION #1, an explosive Secret Wars series debuting this June! Be there as creators Chris Burnham and Ramon Villalobos return you to one of the most groundbreaking and beloved X-Men eras of all time on the surface of Battleworld! What happens to the X-Men when they no longer fight for a world that hates and fears them, but for a world that wants to be them? More importantly – what is Magneto doing running the Xavier institute?! The world may be a utopia for mutants, but there are still those who seek to crush Magneto and his team of New X-Men. Together they'll face down the villainous U-Men, and even….the original X-Men?! The sparks will fly this June, so strap in and prepare for a thrill ride as Burnham and Villalobos flip the X-Men on their heads in E IS FOR EXTINCTION #1!
E IS FOR EXTINCTION #1 (APR150825)
Written by CHRIS BURNHAM
Art by RAMON VILLALOBOS
Cover by IAN BERTRAM
Variant Cover by JAMES HARREN (APR150827)
Action Figure Variant by JOHN TYLER CHRISTOPHER (APR150826)
FOC – 06/01/15, On-Sale – 06/24/15
KORVAC SAGA #1 Pits Guardians of the Galaxy Against Avengers in the WARZONES!
New York, NY—May 27th, 2015— This June, one of the Avengers and Guardians of the Galaxy's greatest foes returns to the fore. Today, Marvel is pleased to present your first look at KORVAC SAGA #1 – a brand-new Secret Wars series from critically acclaimed writer Dan Abnett (Guardians of the Galaxy, Guardians 3000) and rising star artist Otto Schmidt! In the Forest Hills domain of Battleworld, Lord Michael Korvac governs over all, ruling with an iron fist, keeping his subjects in line by any means necessary. Yet tensions are rising in his corner of Battleworld. Full-scale war with neighboring baron Simon Williams and his squad of Avengers is all but assured. Korvac and his royal guard – the Guardians of the Galaxy – stand at the brink of destruction from within and without. Escalating border conflicts and chaotic threats from beyond the Shield threaten all they hold dear. Worst of all, a dark madness is spreading throughout the population, twisting and manipulating residents of Forest Hills into monsters.
Now the classic Guardians of the Galaxy – Major Victory, Starhawk, Charlie-27, Yondu, Nikki and young Geena Drake must track the source of this evil before it corrupts Forest Hills and all of Battleworld! Yet even if they stem the coming darkness, will they be strong enough to stop Wonder Man and his Avengers? The answers lie within this June as KORVAC SAGA #1 explodes into comic shops and onto digital devices!
KORVAC SAGA #1 (APR150828)
Written by DAN ABNETT
Art & Cover by OTTO SCHMIDT
Variant Cover by STEVE LIEBER (APR150829)
FOC – 06/01/15, On-Sale – 06/24/15
Unstoppable Armies Clash on Battleworld in
AGE OF ULTRON VS. MARVEL ZOMBIES #1!
New York, NY—May 26th, 2015— In the southern wastes of Battleworld, a never ending battle rages on. Two unholy factions of cold machines and rotting zombies wage war for supremacy. Today, their conflict reaches another level of horror in your new look AGE OF ULTRON VS. MARVEL ZOMBIES #1! Eisner award winning writer James Robinson and critically acclaimed artist Steve Pugh take you beyond the Shield – and show you a new reason to fear! Here, on the far side of Battleworld's impenetrable barrier, all hope is lost. These festering wastes on the border between two domains are where the genocidal robotic armies of Ultron fight the endless hordes of flesh-eating corpses. Pity those poor souls trapped between these unstoppable forces, for their demise is definitely assured! Will you choose death by the super powered living dead? Or by an unending army of indestructible, undefeatable robots? One thing is for certain, neither demise will be quick or painless!
The Vision, Wonder Man, Jim Hammond, and more brave these apocalyptic hellscapes in search of sanctuary, and for survival. Can they make it out alive? One thing is for certain, whoever wins – we lose. Don't miss the explosive first issue of AGE OF ULTRON VS. MARVEL ZOMBIES #1 on sale this June!
AGE OF ULTRON VS. MARVEL ZOMBIES #1 (APR150721)
Written by JAMES ROBINSON
Art by STEVE PUGH
Cover by CARLOS PACHECO
Variant Covers by ROCK-HE KIM (APR150722)
And SKOTTIE YOUNG (APR150725)
MAOS Variant by NATHAN FOX (APR150723)
Ant-Sized Variant by PAT BRODERICK (APR150724)
Blank Cover Also Available (APR150726)
FOC – 06/01/15, On-Sale – 06/24/15