This fall, the Disney Cruise Line will be adding some extra magic to one of their ships. To be more exact, the Disney Dream. The ship will feature brand new experiences for all to enjoy. Disney Parks Blog shared the details on the exciting news.
Making way to the Disney Dream is that of two new interactive youth areas: one Star Wars themed and one Disney Infinity. In addition, the article goes on to say that there will be a Bibbidi Bobbidi Boutique on Deck 5 and Vanellope's Sweets & Treats on Deck 11.  This and so much more will be debuting on October 26, 2015.
Let's take look at what guests can look forward to!
Interactive youth areas: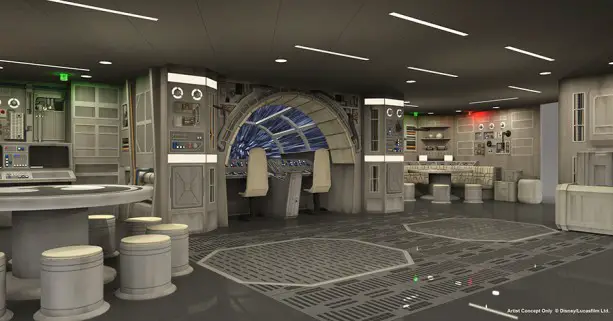 Star Wars: Millennium Falcon
Upon entering the spaceship, younglings will join the Rebel Alliance in the epic battle of good versus evil by assisting with the navigation of this powerful space vehicle. Sitting in the cockpit, children can pilot this super-cool spaceship through hyperspace and trigger lightspeed jumps to different locations around the galaxy.

We'll also offer Star Wars-themed crafts, games and activities in this space. Plus, kids can watch episodes from the new Disney XD animated series, "Star Wars Rebels," on a large screen or virtually join the rebellion at gaming stations featuring the series' action-packed adventures.

The excitement continues during a shipboard version of the popular Jedi Training Academy experience that invites young Jedi hopefuls – known as "Padawans" – to learn lightsaber moves from a Jedi Master. They can then use the Force and face off in a final test against the evil Darth Vader.

In the Disney Infinity Toy Box area, children can experience a whole new way of playing together with exciting virtual experiences and immersive activities. Customized, on-screen adventures will bring to life characters and stories from across The Walt Disney Company.

The complete set of Disney Infinity character figures will be on display for creative inspiration and available for gameplay. Kids visiting this special room – found only on the Disney Dream – will be able to unlock exclusiveDisney Cruise Line content that they can continue to enjoy when playing Disney Infinity at home.

Special activities will bring the virtual gameplay experience to life in the real world. For example, a life-sizedDisney Infinity Base sets the stage where children take the place of character figures for a group gaming experience unlike any other. Lighting up in response to gameplay on a large screen, this interactive floor will allow kids to be immersed in the Toy Box.
Also, let's not forget about the Vanellope's Sweets & Treats! This area will encompass themes from Disney's "Wreck-It Ralph." Guests of all ages can enjoy a variety of treats like gelato, ice cream and candy. You will feel like you are in the middle of the Sugar Rush race car game. This will be arriving on Deck 11.
If you or someone you know is interested in taking a trip on the Disney Cruise Line, please click here or call your local travel agent.
Don't these new experience look amazing?