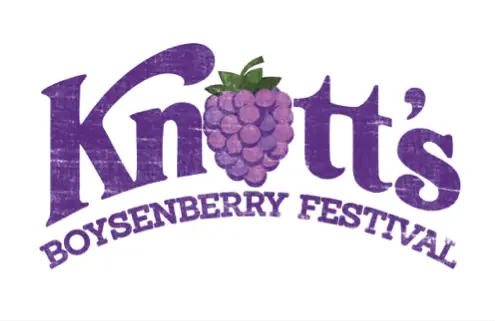 KNOTT'S BOYSENBERRY FESTIVAL INVITES YOU TO A DOWN HOME FOOD FEST THIS SPRING
The Flavorful Boysenberry Celebration Will Feature A Mouthwatering Food Lineup,
Live Entertainment For All Ages And More, March 28 – April 12
BUENA PARK, CA (February 2015) – This spring, celebrate Knott's delicious roots during its Boysenberry Festival harvested in the theme park's historic Ghost Town. The 16-day festival returns with an unforgettable lineup of exquisite Boysenberry Bites, dazzling entertainment, gourmet food and the Wine and Craft Brew Tasting Garden, plus the limited time return of the classic Bear-y Tales characters in a pie making kitchen, and more!
In the 1930s Walter Knott harvested the boysenberry, a cross between a loganberry, red raspberry and blackberry, and named the new berry after its originator Rudolph Boysen. Today, all boysenberries in the world can trace their roots back to Knott's Berry Farm. The Park will once again make delicious history with the debut of its very own farm-made Berry Market™ Boysenberry BBQ Sauce during the widely acclaimed Boysenberry Festival. During the food fest, the tangy, finger lickin' good sauce will add the perfect flavor to ribs, BBQ chicken, chicken wings, and more. Other must try Boysenberry Bites include fried cheese curds paired with a spicy boysenberry dipping sauce, fish and chips sandwich with boysenberry tartar sauce, Boysenberry ICEE Floats, Boysenberry Frappuccino and Latte (served at the new Gourmet Coffee Hut which proudly serves Starbucks drinks), and more charbroiled treats cooked on open-air barbeques throughout the streets of the festival. Additional fee for tastings. Guests who want to take home the exquisite sauce can do so by stopping by the Berry Market, General Store in Ghost Town or by visiting knotts.com.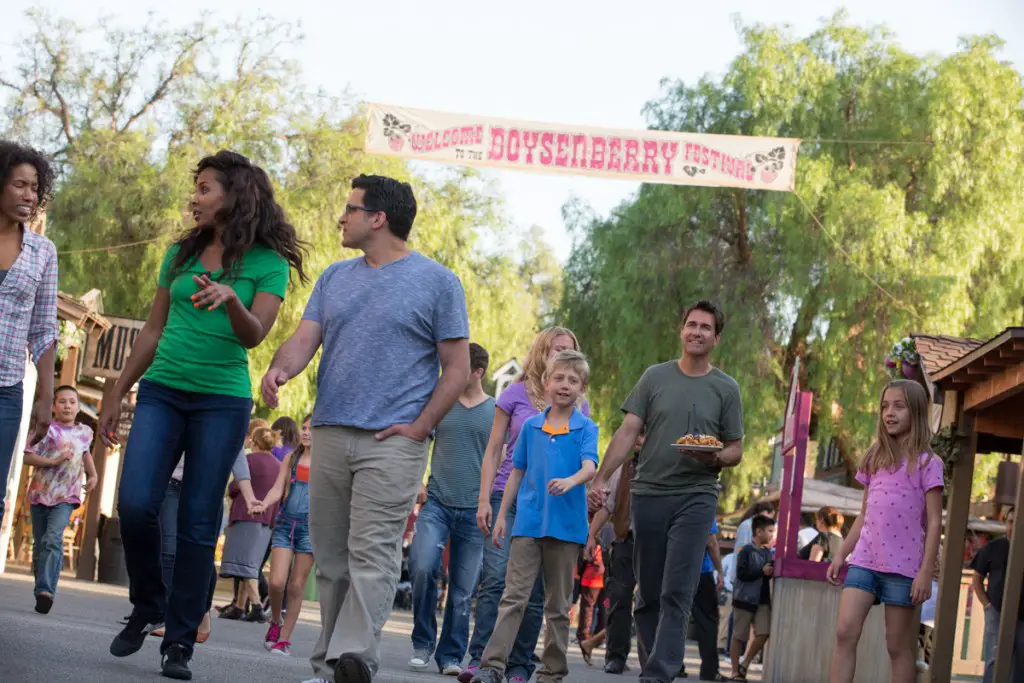 In honor of the delectable berry, guests can wine, dine, dance, and buy boysenberry inspired products throughout the winding streets of the Old West. Festival entrances will feature rustic banners and oversized boysenberries, just ripe for taking that special photo.
Walter & Cordelia Knott's Original Roadside Boysenberry Stand will be recreated for the special event, from which guests can purchase authentic boysenberry plants. The Knott family sold freshly picked boysenberries from the original stand, and the rest, as they say, is history!
As part of the festival, the Wine and Craft Brew Garden, located inside of Ghost Town's Wilderness Dance Hall, will feature an assortment of wine and craft brew labels, in addition to a variety of boysenberry inspired gourmet food that's just bursting with flavor. Just outside of the Dance Hall, towering sculpted topiaries provide shade during warm spring days and twinkle brighter than stars at night.
The Boysenberry Festival also features an extensive line up of live entertainment from sun up to sun down. At the heart of all of the excitement is Birdcage Square, located in front of the famous Birdcage Theatre. Here, a stage will be set for daily contests like pie eating, a pie walk, and Grandpa's Boysenberry PJs Contest, where guests will race to stuff the oversized long johns with balloons. In the evening, the Square will have guests kicking up their heels with vine dancing, a down home jug band and dueling fiddlers and banjos! At night, just inside of the Birdcage Theatre, things get krazy when Krazy Kirk and the Hillbillies mount their toe tappin', knee-slappin', gut-bustin' country comedy show that will have audiences clamoring for more!
New for 2015, right up the road from Birdcage Square, kids can join the classic Bear-y Tales characters in their very own pie making kitchen inside of Ghost Town's Craft Barn. With the help of Razz Bear-y, Boysen Bear-y and the other Bear-y family members, each beautifully painted scene will follow the world famous boysenberry from field to blue ribbon winning pie! The pint sized chefs can also make their very own delightfully sweet boysenberry tarts complete with a crumble topping. Additional cost applies for tart making.
The iconic Charleston Circle fountain transforms into a beautiful floral fountain, adorned with colorful flowers and boysenberries creating an iconic centerpiece for the celebration. Located in the Boardwalk area, the stunning monument will serve as a dramatic backdrop for two spectacular interactive shows. Peanuts Party in the Park celebrates spring in a big way with infectious music, vibrant set design, and an invitation for the audience to be a part of the show! After sundown, Jammin' in the Dark will transform the blooming circle into an immersive dance party complete with illuminated boysenberries, vines and LED lighting effects affixed to the Charleston fountain; DJ HowLy will spin the hottest dance music for all ages. The boysenberry celebration is almost too much fun to stomach!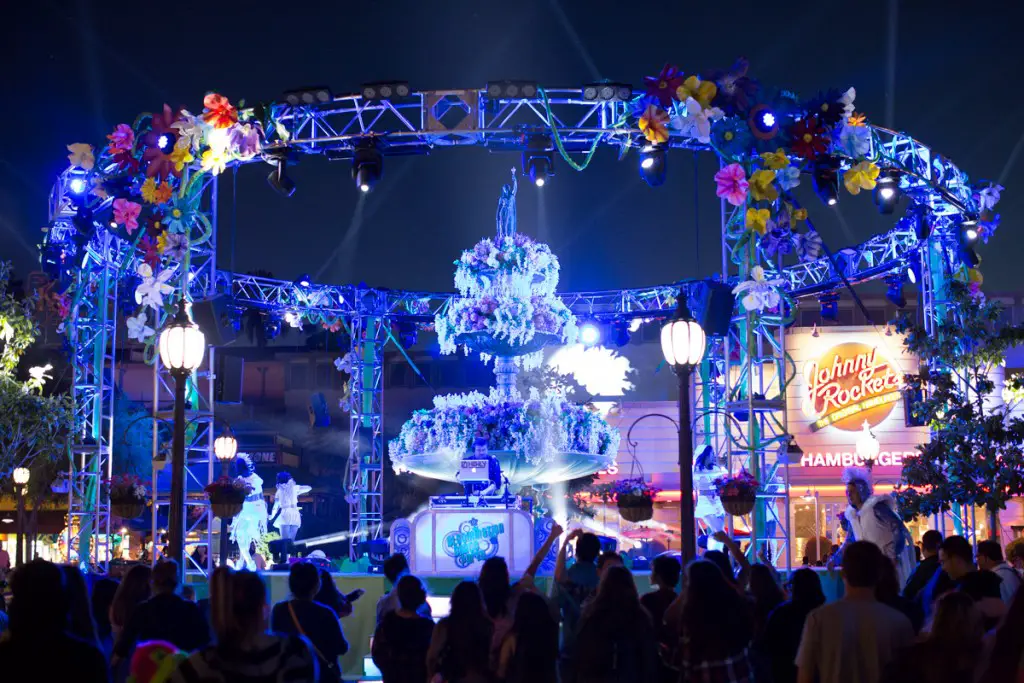 While strolling the bustling streets of Ghost Town, guests can capture the moment and the memories at boysenberry themed stand-in cutouts, like wanted posters, a boysenberry farming family and more. Festivalgoers can also watch special demonstrations including a chainsaw wood sculpting, glass blowing and blacksmithing. While enjoying the festival, guests may meet Ghost Town's mayor, Mayor Desmond Ryder and his lovely wife, Josephine. From day to night, Ghost Town has never looked so lively.
Springtime fun has also taken root in Camp Snoopy, Fiesta Village and Boardwalk. During the limited-time event, the whole family can meet the Easter Beagle in his new home, blooming with colorful springtime décor, nestled inside of the recently rejuvenated Camp Snoopy area. The meet and greet location is the perfect place for shareable moments with the boisterous beagle and his friends – Charlie Brown, Lucy, Sally and Linus. In Camp Snoopy Theatre, Lucy's Really BIG Spring Show will showcase the Peanuts pals singing, dancing, and celebrating springtime. The theater will be filled with the sweet sound of little ones as they singing-along to the to the show's cheerful tunes! Guests don't have to be experts at the cha-cha-cha to enjoy Salsa Dancing in Fiesta Village, where everyone can to take to the floor to the rhythmic beat of popular Latin dance music.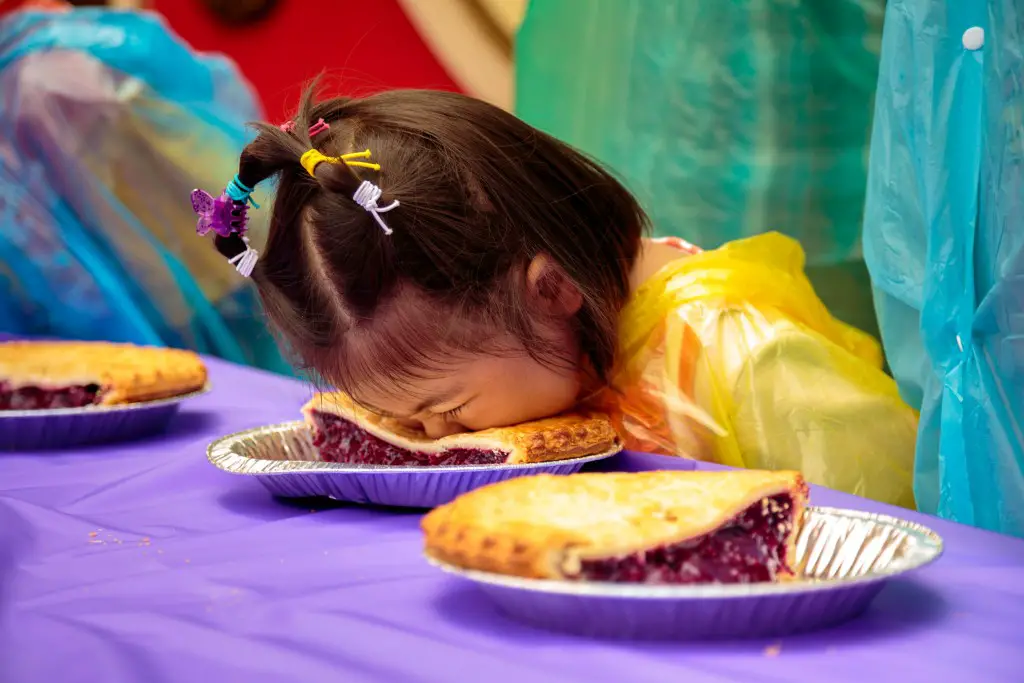 The Boysenberry Festival is included with admission to Knott's Berry Farm, additional cost for food tasting experiences within the event, which also offers a full day of thrilling coasters and family fun rides, like the beautifully restored Calico Mine ride and the rejuvenated six-acre Camp Snoopy featuring three new rides. Knott's has extended hours from 10am to 10pm during the Festival March 28 – April 12, 2015 allowing guests extra time to take advantage of all of the limited-time offerings. For affordable year-round fun for everyone and to explore the all the Festival fun, Season Passes can be purchased online at knotts.com starting at $84 or with six easy installment payments of $14 now until April 12, 2015.
Join the conversation and share your day of boysenberry fun by using #KnottsSpring on Twitter and Instagram. For information about the day you plan to visit and available discounts, visit www.knotts.com, call (714) 220-5200, or download the Knott's Berry Farm mobile app for your smartphone.
#
About Knott's Berry Farm and Cedar Fair Entertainment Company:
Knott's Berry Farm is owned and operated by Cedar Fair Entertainment Company, a publicly traded partnership that is listed for trading on The New York Stock Exchange under the symbol "FUN." In addition to Knott's Berry Farm, Cedar Fair owns and operates ten other amusement parks, three water parks, one indoor water park, and five hotels. Cedar Fair also operates the Gilroy Gardens Family Theme Park in California under a management contract. Visit knotts.com or connect with us on Facebook, Twitter and Instagram.