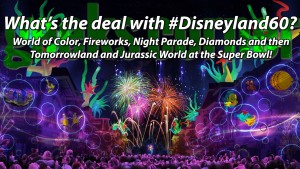 Welcome to Geeks Corner! This week we are very excited because information has been released about Disneyland's 60th Anniversary, or Diamond Celebration. We are also excited to announce that on DAPs Magic we have created the #Disneyland60 headquarters. This is your one stop shop for all that is going on for Disneyland's Diamond Celebration. You can check it out here: dapsmagic.com/disneyland60
#Disneyland60
To start the episode out, it's time to share a bit about what will be coming for this celebration… along with what we are geeking out about.
 Disneyland's Diamond Celebration Announcements: 
New Look at Shanghai Disney
Shanghai Disney has released some new images… and some of them are pretty darned cool. What do you think of them? You can take a look at them here.
Super Bowl Trailers
There were a couple of Super Bowl Trailers released that just have to be geeked out about. Mr. DAPs, Hayley the Hatter, and Johnny 5 talk about their thoughts regarding the Tomorrowland Super Bowl Teaser and the Jurassic World Super Bowl Spot. Which one was your favorite?
We hope you enjoy this week's Geeks Corner! As always, we'd love to connect with you on YouTube, Twitter, and Facebook!
Let's go to the corner!