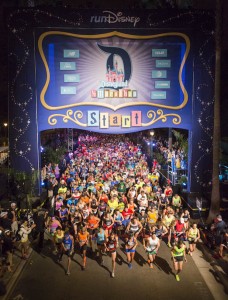 Tighten those shoelaces, the Disneyland Half Registration is officially up and running!!
Falling each year on Labor Day weekend, the series of races include kids races, 5k, 10k, and the big Half as well as a 2 race challenge, Pasta in the Park Party, and a chance to be a Disney cheer team: The ChEAR Squad.  Being the first runDisney race in California, this one is celebrating its 10 year anniversary! For 10 years the Disneyland resort has hosted this specific race weekend to inspire and motivate Disney fans to a healthier life style. It certainly changed my life!
Potential racers can can register at www.rundisney.com/disneylandhalfmarathon. At the time of posting, the following races are as follows:
Half Marathon: 80%
10k: Sold Out
Double Dare: Sold Out
5k: Sold Out
Kids races: Sold Out
Pasta in the Park Party: 55%
ChEAR Squad: 50%
If you have been thinking of running a Disney Race you still have a small window to register for the Half Marathon. The 10th Anniversary merchandise and medal are hot commodities which most likely have added to the popularity of this years' event.
Worried about training?  Don't be. You still have 204 days to train! You've got this!
Keep checking back here at DapsMagic for more runDisney motivation and tips!