Jump to recipe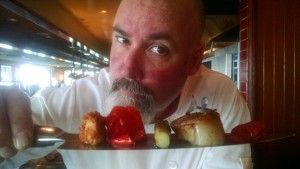 Greetings Foodies! We are very lucky to be joined by one of my newest Twitter followers, who happens to not only be a very prestigious chef but also spent time teaching in my town in Arizona! I'm speaking of none other than Chef Ivan Flowers, of Top of the Market Restaurant.
Chef Ivan Flowers brings 25 years of fine cuisine experience to Top of The Market. Prior to becoming Executive Chef at Top of The Market, Chef Flowers owned Fournos restaurant in Sedona, Arizona. Fournos received many accolades, including being named a top 25 restaurant in Arizona. He was also Executive Chef at L'Auberge de Sedona, the AAA Four-Diamond, Four Star award winning restaurant. While Executive Chef at L'Auberge de Sedona, Flowers completely re-designed the menus for the dining room, bar and catering. After this change, the customer satisfaction rating soared to 99 percent. Flowers has created extraordinary cuisine for some of the finest restaurants in Arizona, including T. Cooks at Scottsdale's Royal Palms Resort and the Phoenician's Mary Elaine's and Different Pointe of View.
Flowers' passion for cooking came from his father, who was chef and owner of Rendezvous Restaurant in New York. He learned from his father that a good chef lets the food do the work with respect to flavor and presentation. This lesson has guided Flowers' elaborate career, earning he and the restaurants he has led an abundance of accolades and awards. This lesson has also made Chef Flowers an accomplished and sought-out teacher to aspiring chefs from around the world.
Though his food is influenced from countries around the world, he combines a love for French and Italian cuisine with a passion for Mediterranean – what he likes to call "global fusion". Flowers prides himself on offering a healthy yet diverse menu, featuring organic products whenever possible with vegetables and herbs. His menus change to capture the best of each season, allowing Chef Flowers to creatively blend inspiration with the finest foods available.
From 2001 to 2007, Flowers served as Executive Chef at Different Pointe of View in Phoenix, where his distinct menu earned praise from food critics around the world. Here, Flowers' "teaching kitchen" became regarded as one of the most coveted places for up-and-coming chefs to develop their skills and discover their own style. Different Pointe of View became the finest restaurant for high end cuisine for Hilton Hotels world wide. Chef Flowers was bestowed the honor of one of the greatest Chefs globally for the Hilton Hotel Corporation.
Prior to this role, Flowers was the lead instructor and chef of L'Ecole restaurant at the highly-respected Le Cordon Blue SCI Culinary Institute in Scottsdale. As chef and instructor, Flowers was responsible for educating an ongoing class of 30 students in classical French cuisine. In addition, he handled all restaurant operations including menu development, budgeting, forecasting and catering. During his tenure, L'Ecole received its highest Zagat® rating and went onto to a four month waiting list for reservations.
Flowers' culinary experience also includes serving as Chef de Cuisine at T. Cooks at the Royal Palms, where he contributed to the attainment of the restaurant's fourth Mobile star and TOP 10 in Food Arts magazine. Other accomplishments was his role as Sous Chef at the Phoenician's Mary Elaine's, where he trained in a five-star setting with two James Beard award-wining chefs, Alessandro Stratta and George Mahaffey as well as Bradford Thompson who later in his career became a James Beard award winner.
Flowers received his A.O.S. degree in culinary arts and restaurant management from Le Cordon Bleu SCI Culinary Institute in 1997. While attending Le Cordon Bleu, he was a Sous chef at ASU's University Club, as well as a Sous Chef at Scottsdale Center for the Arts. In addition to his culinary education, Flowers holds a bachelor's degree in psychology from the New York Institute of Technology.
How long have you been a chef?
I have been a chef for over 20 years.
What inspired you to become a chef?
My Dad was a chef & I love cooking for people. Also, growing up in Brooklyn, I would shop with my Grandmother, Millie, we would go from the bakery, to the chicken market and then to the vegetable stand. She was "farm to table" before it became popular. Then we would go back to her tiny apartment on Flatbush Avenue and I would help her prepare dinner. My first Sous Chef role!
What training did you go through?
I started cooking with my Dad when I was 10 years old. I then cooked my way through college. Later, I attended Le Cordon Bleu, Scottsdale, AZ, there I received my AOS in Culinary & Restaurant Management. But, I must say the most important training went on in all the restaurants I worked in & was a Chef at. I'm still training & learning to this day.
What is your favorite thing to cook?
At home, a tuna sandwich on a baguette with Muenster cheese & a strong cup of coffee. In the restaurant, confit pork belly with Muscavado sugar brulee, yellowfin Sashimi finished with a black garlic tempura (interviewer's note: see photo to the right).
Did any pre-conceived notions about cooking change once you became a chef?
Along with the creativity, comes the "job" of making a restaurant profitable ALL the time. So, I believed, as do others drawn to this profession, that being a chef is a constant creative endeavor; we forget about that there is a bottom line.
What is the best thing about being a chef?
To be able to be in a profession that lets your heart speak.
What is the worst thing about being a chef?
Long hours, working weekends & holidays and really, it is simply hard work.
Are there any foods you hate to cook?
Anything with chili powder.
Do you find TV chefs inspirational or annoying to the culinary community? Why?
I grew up watching & being inspired by Julia Child, Graham Kerr, Yan Can Cook & Frugal Gourmet. Now, putting fois gras and ten slices of cheese on a hamburger bun gets one on television and makes him/her feel like they have arrived. Also, many of the young culinary people I meet today have a singular goal of being a T.V. Chef, not working in a kitchen. They are forgetting that this is a profession fueled by a real desire and passion to create delicious food, period.
Who has been most influential in your culinary career?
My wife, because she has opened up my creativity from French Escoffier to an infinite number of possibilities.
Can you share about your experience becoming a 5 Star Chef?
You never think about ANY ranking. It doesn't enter into it for me. I simply concentrate on making dish delicious as possible.
Can you share one kitchen tip with our readers?
I will say this to the day I die, "The flavor of the dish you create, will always allow the plating to be beautiful. Flavor dictates plating." So concentrate on making a truly delicious dish and the plating will come naturally.
Can you share one of your favorite recipes with our readers?
Sautéed Mussels with Garlic, Chardonnay, Thyme Broth (see below)
Do you have any advice for someone who wants to become a chef?
Yes. Work in the industry for a period of at least three years prior to going to culinary school so you can understand what you are getting yourself into before you take the path on becoming a chef.
We are very thankful that Chef Flowers was able to take the time to share his insights of the culinary world (as well as his recipe) with us. You can find him on Twitter and Facebook. Be sure to give him a follow and keep an eye out as he is about to be featured in the premiere of 3 Chefs, 1 City: San Diego in April. The show will air internationally and it follows the three top chefs from various cities.