The Disneyland Resort is once again celebrating Three Kings Day. The celebration includes special foods, characters to meet, crafts to create, and the ever popular Disney ¡Viva Navidad! as well. Three Kings Day has been celebrated for centuries in Mexico, Spain, Latin America, and even Europe. From January 2 to January 6, it will be celebrated at the Disneyland Resort. In an interview with Carlos at the Disneyland Resort, DAPs Magic and Babes in Disneyland were offered a look at all that is being offered for this special occasion.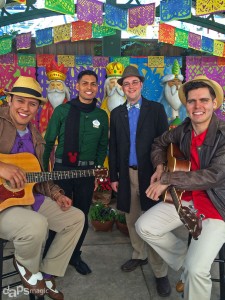 The Spirit of Navidad
To help tell the story, this year The Spirit of Navidad has joined the celebration. This two person bilingual team helps to share the tradition of Three Kings Day through interactive musical presentations throughout the celebration (January 2-6, 2015). They are musical storytellers that encourage kids of all ages to wear crowns that they have decorated and join in the telling of the story of the Three Kings who followed the star to Bethlehem with their gifts of gold, frankincense and myrrh. They sing traditional songs (We Three Kings, Feliz Navidad, Silent Night, etc.) as they play their guitars beautifully as well. Three statues of the kings also stand near them for the perfect Three Kings Day photo opportunity.
Festive Food
The celebration also includes festive food that includes pozole, champurrado, sweet tamales, and bunuelos. Rosca de Reyes, a traditional holiday bread, is also being offered for Three Kings Day. These delicious culinary offerings can only be found in the Paradise Gardens dining locations throughout the duration of the celebration.
Festive Friends
No Disney celebration would be complete without the opportunity to meet with some favorite Disney friends. For Three Kings Day Mickey Mouse, Minnie Mouse, Goofy and The Three Caballeros are on hand to meet and take photographs with. They are all dressed for the celebration in the "fiesta" best!
Entertainment
One might think that The Spirit of Navidad is plenty of entertainment for an event such as this. However, that just isn't how Disney does things. So in addition, there are regional latin musical groups performing daily. Other performance groups will be performing in the area as well throughout the weekend. To top it off, Disney ¡Viva Navidad! continues to perform daily. This festive street party includes The Three Caballeros, Mixecan folklorico dancers, Brazilian samba drummers and dancers, mojiganga puppets, and of course Mickey and Minnie Mouse.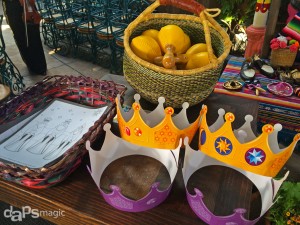 Extra Experiences
The entire area of Paradise Gardens has been decorated to celebrate Navidad. On top of everything that has been listed above, guests can get their face painted or have some fun with the arts and crafts being offered in the area. Themed merchandise can also be found until January 6.
The Three Kings Day celebration continues to give a magical look at holiday traditions that have been celebrated for eons. It is a great way to experience the holiday if these are traditions that are known and loved, or offer a fantastic introduction to some really fun and interesting traditions for those who are just learning about them for the first time. If you fit in either of these categories (or perhaps somewhere in the middle), stop by Paradise Gardens before January 6, 2015 to check out the Three Kings Day celebration and also The Spirit of Navidad!