Jump to recipe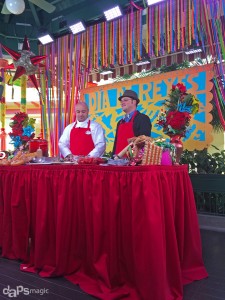 The Disneyland Resort is celebrating Three Kings Day from January 2-6, 2015. There are quite a few different food offerings (as can be read about here) one of which is the Buñuelos Navideños. I was able to learn how to make this festive treat from Chef Toby of the Disneyland Resort.
Not only did Chef Toby teach me how to make this but he also shared the recipe so now you can watch our video and then make it at home with your family.
Notes
This is a wonderful starter recipe that can have many different toppings added. The recipe as given by Disneyland gives suggestions of: Caramel Sauce Cinnamon Sauce Maple Syrup Fruit Compote Fresh Whipped Cream (as I did in the interview) Dulce de Leche Apple Pie Filling
As was done in the interview, cookie cutters can also be used to make the shape of the tortilla more fun before frying. Disney cookie cutters can be purchased in the Emporium or Candy Palace at Disneyland. In Disney California Adventure they can be found at the Trolley Treats store on Buena Vista Street. World of Disney in the Downtown Disney District also sells Disney cookie cutters.
**This recipe is the property of Walt Disney Parks and Resorts U.S., Inc, and may not be reproduced without express permission**

© 2023 dapsmagic.com
This is a fun recipe that can be a family project. Obviously have adults do the hot oil parts but children can have fun with cutting out the tortillas and also adding the sweet factors after they have been fried. This is a quick and easy recipe that I can personally attest to being quite delicious. A version of it can be purchased in the Paradise Gardens during Three Kings Day at the Disneyland Resort. Three Kings Day will be celebrated from January 2-6, 2015. This video was shot in collaboration with Babes in Disneyland. Make sure and visit there to read my guests posts about this event as well!
If you make this recipe, I'd love to see photos of how they turn out and also hear about your experience!
Make it a GREAT day!