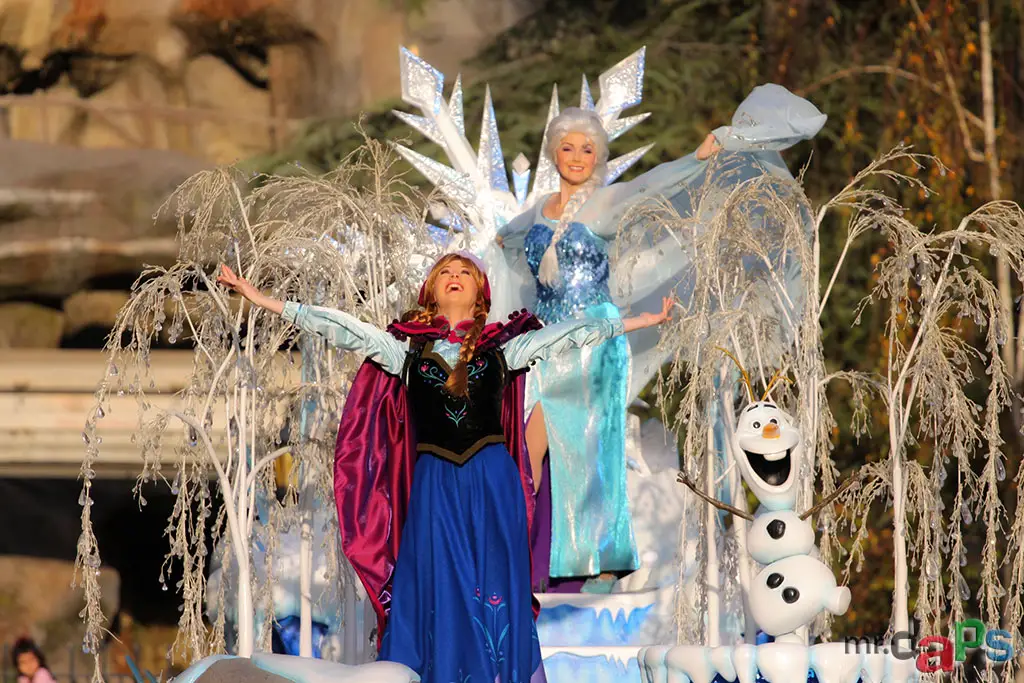 Disneyland has Frozen a bit. Let's face it, it seems to be everywhere you look and really that isn't necessarily a bad thing. Sure, for those of us who visit regularly it can be a bit overwhelming. But let's face it, there is a reason that there is Frozen stuff all over the place. In fact, I'm surprised that they didn't create Frozen moments in Disneyland at night with snow coming down like they do at Christmas for Frozen Fun. Here are a few thoughts on why I actually think the snow should rage on at the Disneyland Resort this spring:
This isn't the First Storm
If you've been visiting Disneyland for any length of time, you may observe there have been some patterns. As I sit here writing this I remember back to a few other crazes that descended on the Disneyland Resort. There was that The Lion King thing a few years back. It seemed like everything was Lion King, even the parade. There was also a period of time where it felt like everywhere you turned there was Winnie the Pooh merchandise. Oh, and don't forget The Little Mermaid, the 50th Celebration or even the Year of Million Dreams that was a bit longer than a year. Perhaps the greatest example is a little franchise called Cars… or heck, Toy Story as well. My point being that these are all just tools used to generate excited for new people to come to the Disneyland Resort, and for the most part they are quite effective.
Synergism & Marketing
Marketing and synergism for the Walt Disney Company has only improved through the years. Can you imagine how big movies like The Little Mermaid, Beauty and the Beast, or even Aladdin would have been with the power of the marketing and synergism that Disney has today? What this does is creates a completely immersive Disney experience where fans can bask in the offerings of a franchise they love. It just so happens that Frozen is a perfect storm (sorry, had to) of a popular movie that utilized the synergism available only from a company like The Walt Disney Company could offer. Perhaps, the very thing that people are complaining about with this whole Frozen phenomenon is exactly what they love about Disney in the first place.
Change Will Happen
As with all things in life, change happens. That is a good thing. Think of all the changes you like at the Disneyland Resort. Odds are, someone else didn't like them because it changed a childhood memory or some other sentimental reason influenced that dislike of the change. Time will heal the wounds of change. What is disliked today will be missed tomorrow. How many people complain about the change that came to Tomorrowland in the 80s when Star Tours replaced Adventure Through Inner Space? It is always hard to watch something we love get changed. However, when things never change they become stagnant and die. At the end of the day Disneyland is a business and if it isn't constantly evolving to meet the current desires of the population, people would stop coming (yes, we can debate that but… I'll refer ask how many of you visit museums regularly and spend lots of money there).
Frozen is a Positive
I will admit, I'm a Frozen convert. It wasn't my favorite Disney movie that has ever been released. However, I don't have any reason to really dislike it either. It has some really popular and catchy songs (my favorite being Do You Want to Build a Snowman?) While it doesn't resonate with me the same that say Beauty and the Beast did the first time I saw it, I do recognize that it does resonate with others. Go and listen to the kids (and parents) singing the songs at the top of their longs at For the First Time in Forever: A Frozen Sing–Along Celebration in what used to be the MuppetVision theater. It could… yes I'll say it… melt the coldest heart. It's simply adorable. Watch little kids run up to Olaf for their warm hug. It's completely charming and quite often adorable. And really, isn't it great that these kids (and kids at heart) are loving characters that forward a message of sacrifice and love? 
Mr. DAPs' Frozen Campaign
If I were in charge of the Frozen campaign, I probably would tweak a few things.
As I mentioned before, I'd probably incorporate some snow moments throughout the Disneyland Resort on a nightly basis. I would probably do this where snow currently can be found in Disneyland and add it in Disney California Adventure along the parade route (and the rest of Buena Vista Street and Hollywood Backlots as well). Yes, that is a lot of snow. I'd do it once a night though and make it a magical moment with a very quick medley of music from the movie or something.
Second, I would move the giant Frozen snow flake out of Buena Vista Street and put it at the end of Hollywood Blvd near the entrance to the Hyperion Theater. I think it would perhaps connect more effectively to the whole Frozen Fun area in Hollywood Backlots that way.
I would re-evaluate the Fastpass/Showpass for both the Sing-Along and also the Storytelling in Fantasy Faire. The numbers might prove me wrong but my generalized observation is that they aren't that insanely busy to necessitate the Fastpass. What I would do instead is simply not let people line up until 30 minutes before the show. Have queues roped off and then at 30 minutes before the show, open them up. I really think that if this became the norm, the Disneyland Resort could train guests to not show up too early. It seems like this works pretty well at the Walt Disney World Resort for some of the shows. This idea is a bit of a stretch but… I would like to see a concerted effort to make this happen in my own perfect world. I think it would actually add to the guest experience if instituted correctly and presented in a kind and non-adversarial way.
Frozen can definitely be overwhelming for those who come to Disneyland all the time. For those who don't though, and have a new favorite movie since seeing it, the Frozen Fun offerings are a fantastic way to get to see the world that only existed on the silver screen and in their imaginations come to life.  This, like all of these crazes, will eventually pass and something new will replace it. The more I think about it though, the more I'm convinced that this Frozen Fun storm really is a good thing and I'm glad it continues to rage on. So with that, let the comment debate begin!
Make it a GREAT day!