Jump to recipe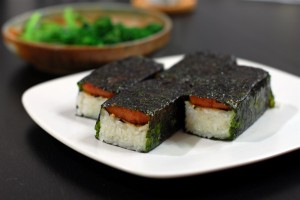 Aloha Foodies! Welcome to the newest Geek Eats! You may have noticed by my greeting that there is a definite theme to today's blog. Today's blog features on of my newest food loves, Spam Musubi! For those of you who have never had it, Spam musubi is a shaped block of rice (about the size of a slice of spam and about an inch thick), a drizzle of teriyaki, and a slice of Spam; all of which is rolled in a piece of nori (seaweed).
Now before you turn your nose up and ask me, "what kind of foodie enjoys Spam?" hear me out. I am not a huge Spam eater; in fact prior to trying this I may have had it once. It looks odd and is rumored to be made out of who know what. Spam Musubi, however, is the exception. The food of Hawaii has two flavors, salty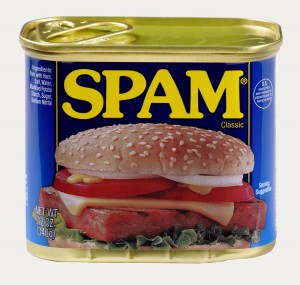 and sweet. Spam Musubi has both.
Spam first came to Hawaii after World War 2 when American troops needed a food that was inexpensive to make and had a long shelf life. Once brought over Hawaiians made Spam their own and have embraced the salty canned meat. It is all over the island and is used in a variety of meals such as Spam Musubi and Loco Moco.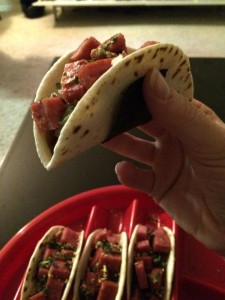 Mister introduced me to Spam Musubi a few months back and ever since I've been crazy for it! There are many ways to eat it but my favorite is with teriyaki sauce and Sriracha (Huy Fong of course!). One afternoon at work while discussing Spam Musubi at work it hit me, Spam Musubi would make an amazing taco! Mister was hesitant but when it comes to food, this gal knows her stuff. We decided to go for it and I was right! They were amazing! They were easily one of the Top 5 of our best tacos and after almost a year of Taco Tuesday that's saying something. Below I'm sharing the recipe for our Spam Musubi Tacos!
Trying Spam Musubi definitely taught me to keep my mind open when it comes to food. If I had been closed off to giving it another shot I may have missed out on one of my new favorite foods and some amazing tacos! As Andrew Zimmern says, "always try something twice" and you might be glad you did!
Enjoy What You Eat!
DC
Spam Musubi Tacos
Serving Size
4 (4 mini tacos per serving)
Ingredients
1 can Spam (we used Spam Light)
16 4-inch flour tortillas
2 cups cooked sticky rice
Furikake (Japanese nori seasoning, amount to taste)
Teriyaki Sauce (optional)
Sriracha (optional)
Nori Strips (optional)
Instructions
Prepare rice per package instructions.
Grill Spam, just enough to get each side browned.
Once cooked, cut Spam into bite size squares.
Load each tortilla with a bit of rice, drizzle desired amount of Teriyaki Sauce and Sriracha then add Spam and top off with Furikake.
We wrapped the outside of the tortilla with a small nori strip for decoration but it will taste good either way.
© 2023 dapsmagic.com