The Disneyland Resort has announced some of the details for its Diamond Celebration that will begin on May 22, 2015. The announcements took place during an event that took place on Main Street, USA and began shortly after 8:00 PM. They were also simultaneously shared via @Disneyland on twitter and also the Disney Parks Blog along with live coverage from DAPs Magic.
Sleeping Beauty Castle & Carthay Circle Restaurant Get Diamond Treatment
The first announcement of the event gave a glimpse at what will be done with both Sleeping Beauty Castle in Disneyland and Carthay Circle Restaurant in Disney California Adventure. Each of these iconic structures will also receive a diamond encrusted medallion that will feature a "D."  This diamond theme will also be utilized in decorations, merchandise, and more throughout the Disneyland Resort during the Diamond celebration. This announcement was made by Disney Parks and Resorts Chairman Tom Staggs.
"As time has shown, Disneyland marked the beginning of something bigger than anyone could have imagined and this Diamond Celebration embraces its rich history while honoring Walt Disney's commitment to pushing boundaries to create exciting and innovative new experiences for our guests," said Staggs.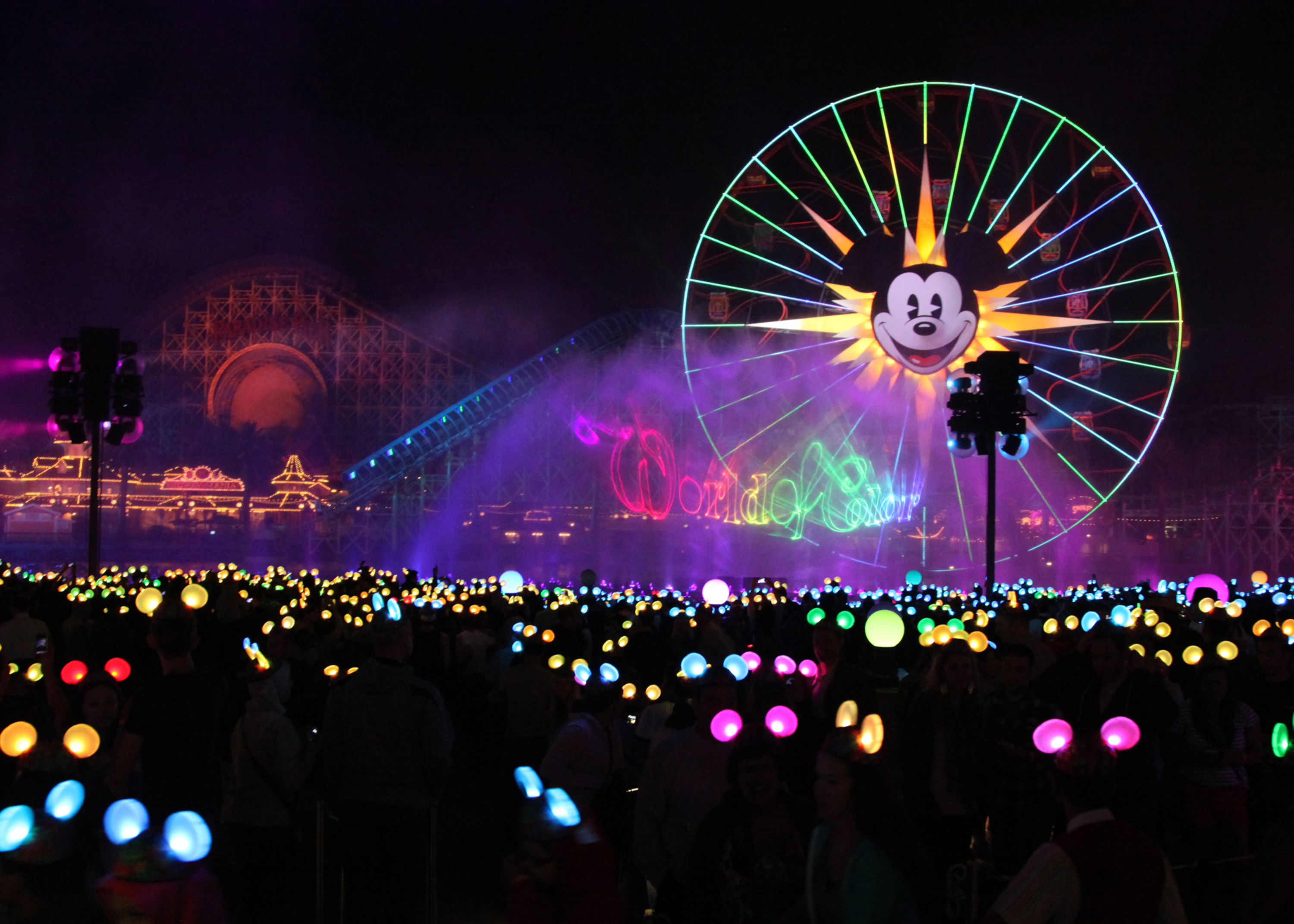 World of Color – Celebrate! The Wonderful World of Walt Disney
Tom Staggs was joined by Steve Davison, executive for parades and spectaculars with Walt Disney Imagineering Creative Entertainment, to share about the new version of World of Color. World of Color – Celebrate! The Wonderful World of Walt Disney will begin lighting up the night in Disney California Adventure starting on May 22, 2015.  This new version of World of Color is being described as:  "Mickey Mouse will take guests on a fun-filled and inspirational journey through the unparalleled imagination of Walt Disney, exploring his decades-long legacy of memorable animated moments and the dream of Disneyland park." 
It will be a "celebration of Walt and his dream of Disneyland, showing that anything is possible if we never give up on our dreams" World of Color – Celebrate! The Wonderful World of Walt Disney should run between 22-24 minutes long.
The original World of Color will return on March 13 and continue throughout the spring until the unveiling of this new show.
Paint the Night Parade
Staggs and Davison also announced the addition of a new parade that will be coming to Disneyland this year. Paint the Night will make its way along the parade route of Disneyland beginning on May 22nd as well. With 1.5 million LED lights illuminating what is being billed as a "NEW Electrical Parade," this parade will include characters and stories from Monsters, Inc., Cars, The Little Mermaid, Beauty and the Beast, Toy Story, and Frozen to name a few. It will follow Mickey Mouse utilizing his dreams and Tinker Bell's pixie dust to bring magic and "Paint the Night" with Disney dreams.
The parade will showcase 76 performers in a brilliant way with new effects that are sure to dazzle guests along the parade route. There will be more information being released about this parade in the future so make sure to pay attention to dapsmagic.com for future updates!
Disneyland Forever Fireworks Spectacular
Disneyland Forever Fireworks Spectacular will also begin on May 22, 2015. This will be a first for the Disneyland Resort as this will offer guests a completely immersive fireworks viewing experience. This new show will include fireworks along with projection mapping technology. A demonstration was shared with guests at the Disneyland Resort Diamond Celebration Unveiling.
The new fireworks show will take guests into a world of dreams that will include flying over London as Peter Pan did and experience a dance with King Louie from The Jungle Book. There will also be many more magical moments shared throughout this show.
To top Disneyland Forever off, Richard Sherman has composed two songs that will be utilized. The theme song for this show will be a song entitled Live the Magic. A closing song called Kiss Goodnight will also be included.
Disneyland Forever will be 12-14 minutes long.
More information will be posted at dapsmagic.com/disneyland60 in the coming months as May 22nd draws near. The Disneyland Resort Diamond Celebration Unveiling is the first of many expected announcements about the Diamond Celebration as Disneyland celebrates 60 years of Disney magic.
Disneyland Resort Diamond Celebration Unveiling Details & Commentary – Geeks Corner Reports