Quick service dining at the Disneyland Resort is my favorite. You are able to order your food and it's ready within minutes. With a variety of locations for quick service dining, your options are endless. The same goes if you are a vegetarian. There are so many things to order even if you happen to have a specific dietary need.
This week, I would like to share one of my favorite meal options from Disney California Adventure Park. Located at Award Weiners in Hollywood Land, the Vegetarian Portobello-Mushroom Philly is so scrumptious. Some may think it's a hot dog of some sort with vegetables, but it's not. This Philly is pure vegetables and cheese. Just thinking about this is making me hungry.
When ordering a Vegetarian Portobello-Mushroom Philly, your taste buds better be ready for a hot Philly fresh from the grill. Inside this sandwich, there are a variety of textured vegetables. Grilled Portobello, onions and bell peppers are cooked to perfection. These veggies are sautéed in Karl Strauss Red Trolley Ale and the seasoning alone makes for those juicy Portobello bites and crunchy peppers. Once they are grilled, they are placed in a fluffy hot dog bun and topped with pepper jack cheese.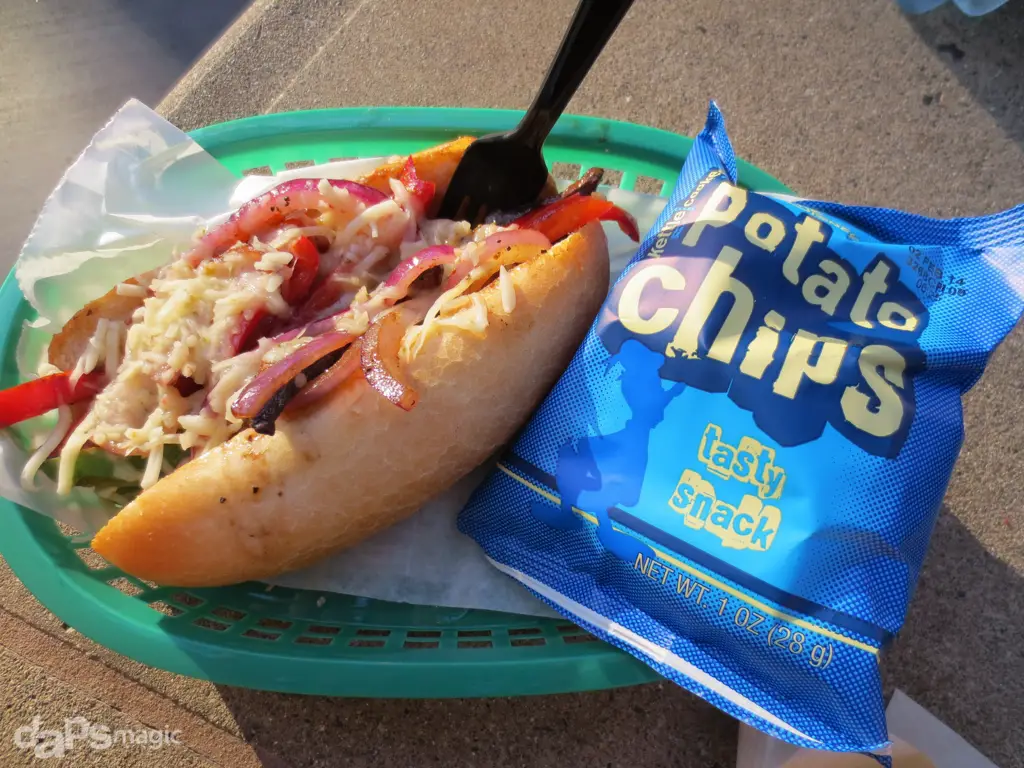 You are also given an option of either apples or chips. Normally, I'll get the chips and place them sometimes inside my sandwich. It's one of my weird habits.
Also note if you are on a gluten free diet, there are gluten free hot dog buns available. I have had their Vegetarian Portobello-Mushroom Philly in a gluten free bun and it is still really great. All you have to do is let the cast member assisting you know. The same goes for the cheese. You can either order no cheese or ask for it on the side if that fits you best.
When eating this, remember to have plenty of napkins nearby. You may make a mess because it's so good. Eating with a fork and knife helps too. This Philly is pretty large and will surely get you full.
If you would like to know more about vegetarian options at the Disneyland Resort, feel free to call Disney Dining at (714) 781-DINE or (714) 781-3463. And if you would like to view the menu of Award Wieners, please click here.
Be sure to stay tuned to DAPs Magic as I venture through the Disneyland Resort tasting other delicious vegetarian options. You never know what may appear on my plate next.
Hope you enjoyed this meal recap. If you have any suggestions, please let me know.