In celebration of National Hug Day, one of the most huggable characters of our time, Baymax, would like to share a hug. From the Oscar nominated film, "Big Hero 6," this guy is sure to be there when you need him most.
Kevin Zaborney, Ambassador of Hugs, has awarded Baymax with Most Huggable Character of 2015. Baymax has accepted this award at his residence in San Fransokyo. He looks forward to this year that will be filled with plenty of hugs.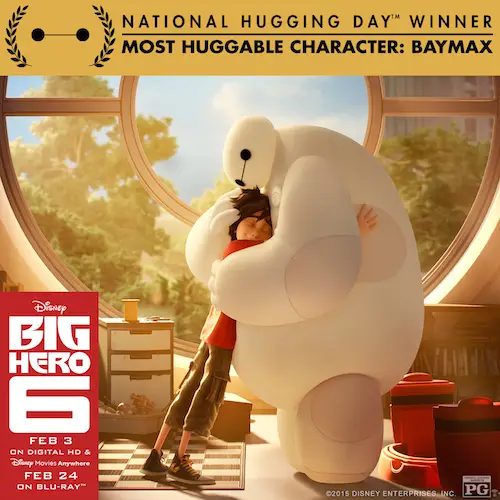 National Hug Day is a day in which we can show that we care for one another. This campaign was created so people could show more affection in public. All you have to do is give a hug to receive a hug.
Past winners of Most Huggable were awarded to Joan Rivers, Jeff Ondash and Tessla Queen.
If you need some extra hugs, Disney's "Big Hero 6" comes out on digital release February 3 and DVD release on February 24.
Also, if you are interested in learning more about National Hug Day, please visit http://www.nationalhuggingday.com/home.
Hugs!