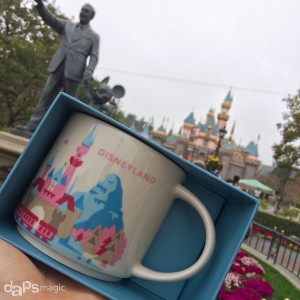 Star Wars is exploding all over lately. New movies, new tv shows, and a new half marathon at the Disneyland Resort have Star Wars fans geeking out all over the place. This week it seems only appropriate that we kick off and focus on the Star Wars explosion that is happening in the geek universe. Is this a new disturbance in the Force? How big of a disturbance will it be? Only time will tell. What we can tell now is it disturbed Geeks Corner enough this week to be discussed. Let's take a look at what happened on this week's Geeks Corner.
Before we fully get into the episode, we should take note that the Disneyland Resort started selling Starbucks mugs that are specific to the two parks. Notice Mr. DAPs' mug this week? What do you think of them?
You can read more about the new Disneyland and Disney California Adventure Starbucks mugs here.
Star Wars
First off, the Star Wars Half-Marathon took place at the Disneyland Resort over the course of the last weekend. It had quite a few events that began with the Wookie Welcome Party on Thursday night followed by a race each day. First was the Star Wars 5k, then the Star Wars 10k, and finally on Sunday was the Star Wars Half Marathon. There was also some kids races thrown in for some extra fun. Our very own Murray the Bellhop participated in the weekend fun and joins the show to share about his experience. There were new characters and old the appeared throughout the weekend, including some friends from Star Wars Rebels. Here are videos he shared from the events:
Star Wars: The Force Awakens vs Avengers: Age of Ultron
There will be at least two blockbusters hitting the big screens this year: Star Wars: The Force Awakens and also Avengers: Age of Ultron. The question that obviously must be asked is: Which movie will be bigger? The geeks discuss the potential for each movie and their strengths and weaknesses. Which one do you think will win the title of biggest movie for 2015?
Big Hero 6 Oscar Nomination
Big Hero 6 received an Oscar nomination in the Animated Feature Film category. While not a super competitive year in the world of animation, do you think it will win? The geeks weigh in on its chances.
Bob Iger Makes a Lot of Money
Bob Iger's compensation for 2014 was released this week. Let's face it, he made a lot of money when all forms of income are added up. The geeks discuss whether his compensation is ridiculously exorbitant or not in regards to the system that is in place the work he does to lead The Walt Disney Company. What do you think? Does Bob Iger get paid too much?
Meet Jurassic World's Indominous Rex
Finally, images of Jurassic World's villain was released this week (probably by accident). The Indominous Rex is the new super dinosaur that will give Johnny 5 nightmares after seeing it later this year. What do you think of this new hybrid dino? Are you excited for the movie? Can a movie like this still be made? That is all discussed by the geeks as they wrap up this week's Geeks Corner. For photos and spoilers about this dinosaur, check out Mr. DAPs' article here.
We hope you enjoy this week's Geeks Corner! We had a lot of fun filming it. If you liked it, please share it along with commenting and subscribing on the video channel. If you have ideas for future episodes or topics you'd like to hear the geeks talk about, let us know as well!
Let's go to the Corner!